Innovative Design hotels at european Hotspots
Experience the new way of stylish accommodation! H2 Hotel brings you to the hottest places to be. Innovative design and functional room concepts are combined to create a unique feel-good surrounding for globetrotters, city hoppers, family or business travelers. Topped by our superior service, the H2 Hotel is the place of inspiration and relaxation - at a fair price.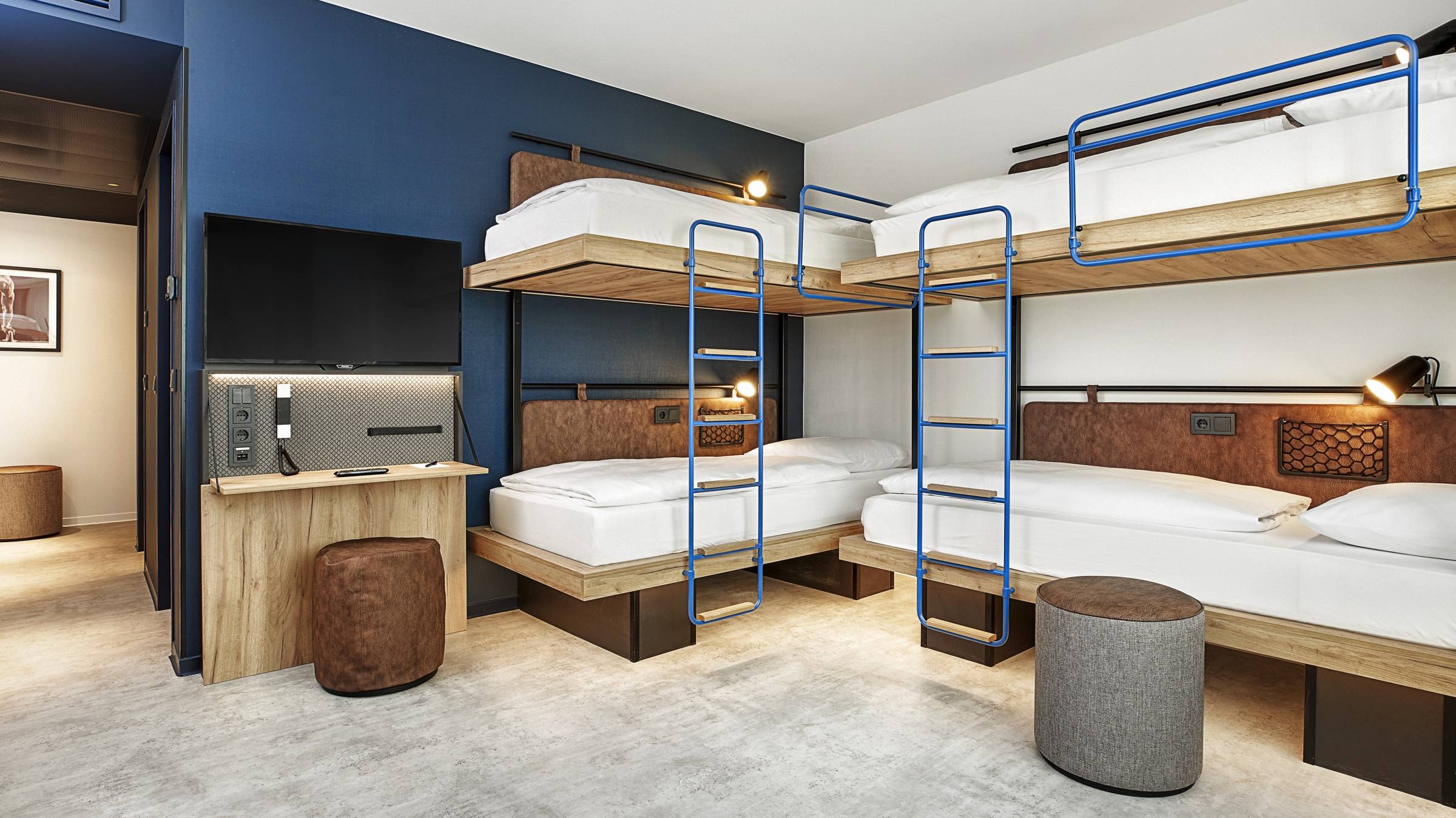 ---
Berlin
H2 Hotel Berlin-Alexanderplatz
An ideal base is our H2 Hotel at Alexanderplatz in Berlin. The sights of Berlin such as the TV tower, the red city hall, the Museum Island and "Unter den Linden" are easy to reach.
87% customer satisfaction
Budapest
H2 Hotel Budapest
The H2 Hotel Budapest is our first hotel outside the German-speaking area and invites you to explore the wonderful capital of Hungary. Thanks to its central location, the well-known sights such as the Chain Bridge or the Fishermen's Bastion are within walking distance. In total 157 two-bed and four-bed rooms are available in the H2 Hotel Budapest.
90% customer satisfaction
Düsseldorf
H2 Hotel Düsseldorf City
To be within 10 minutes of Düsseldorf Main Station, the Zoo or the city centre? This is possible with the new H2 Hotel Düsseldorf City, which opened its doors for you in 2022. With its 2-bed and 4-bed rooms, and design-oriented concept, H2 Hotel Düsseldorf City is an equal favourite with business travellers, tour groups and families.
89% customer satisfaction
Düsseldorf
H2 Hotel Düsseldorf Seestern
The H2 Hotel Düsseldorf Seestern is situated in the famous district ''Am Seestern'' and proves itself with its proximity to the Rhine, the Messe Düsseldorf and the inner city with its tourist attractions. 68 of the 300 rooms in the new H2 Hotel Düsseldorf Seestern have four beds and are therefore ideal for travelling families or a joint city break with friends.
91% customer satisfaction
Leipzig
H2 Hotel Leipzig
The H2 Hotel Leipzig impresses thanks to its central location at Leipzig main station and its appealing design. The city centre with its sights can be reached both by public transport and on foot. There are 337 rooms in total, which are divided into 2-bed and multi-bed rooms. Ideal for a trip with the whole family.
90% customer satisfaction
Mainz
H2 Hotel Mainz
The H2 Hotel Mainz is situated in the modern Mainzer customs port with a total of 195 rooms. 45 rooms have four beds, which are ideal for families or friends. The hotel's heart and stomping ground are to be found in the H2 Hub, which is open 24/7 and features freshness island and front cooking. The H2 Hotel Mainz may be characterized by its modern design and comfort.
97% customer satisfaction
München
H2 Hotel München Messe
H2 Hotel in Munich is located right at the Munich Trade Fair, making it ideal for trade fair and conference guests. Comfortable rooms, a good breakfast and friendly service - all at an attractive price! We'll help you feel right at home! In about half an hour you can reach the highlights of the Bavarian metropolis: the Hofbräuhaus, the Viktualienmarkt, the Allianz Arena or the Oktoberfest.
85% customer satisfaction
München
H2 Hotel München Olympiapark
H2 Hotel München Olympiapark offers its guests exceptional comfort in modern double and four-bed rooms. Thanks to its convenient location north of the Olympiapark and with a direct underground connection to the city, it is the perfect starting point for city tourists or those attending events. Semi-automatic check-in and check-out makes your arrival and departure easy. Look forward to a relaxed stay full of experiences!
88% customer satisfaction
Saarbrücken
H2 Hotel Saarbrücken
In March 2024, the new H2 Hotel in Saarbrücken will open. Located in the immediate vicinity of the main railway station, it is ideal for city tours and excursions of all kinds. This modern and design-orientated budget hotel is therefore perfect for tourists and families as well as those visiting the Saarland state capital for business reasons. We look forward to your visit!
Wien
H2 Hotel Wien
Welcome to H2 Hotel Wien, the perfect base for exploring Vienna! Our budget-friendly double and four-bed rooms are a stone's throw away from Schönbrunn Palace. Plus, the underground is right on our doorstep. Experience comfort at its best! All rooms have air conditioning, satellite TV and a bathroom with a vitality shower. In addition, the 24-hour-hub offers round-the-clock dining and beverages.