A convenient home from home – H4 Hotels
Comfortable, fully-equipped rooms, excellent food and friendly, personal service – H4 Hotels provide everything you need for a really relaxing stay. No matter if you're away on business or you're exploring the sights in your own time, the four-star and four-star superior hotels in Hanover, Mönchengladbach and Münster are the perfect starting point for whatever you're doing.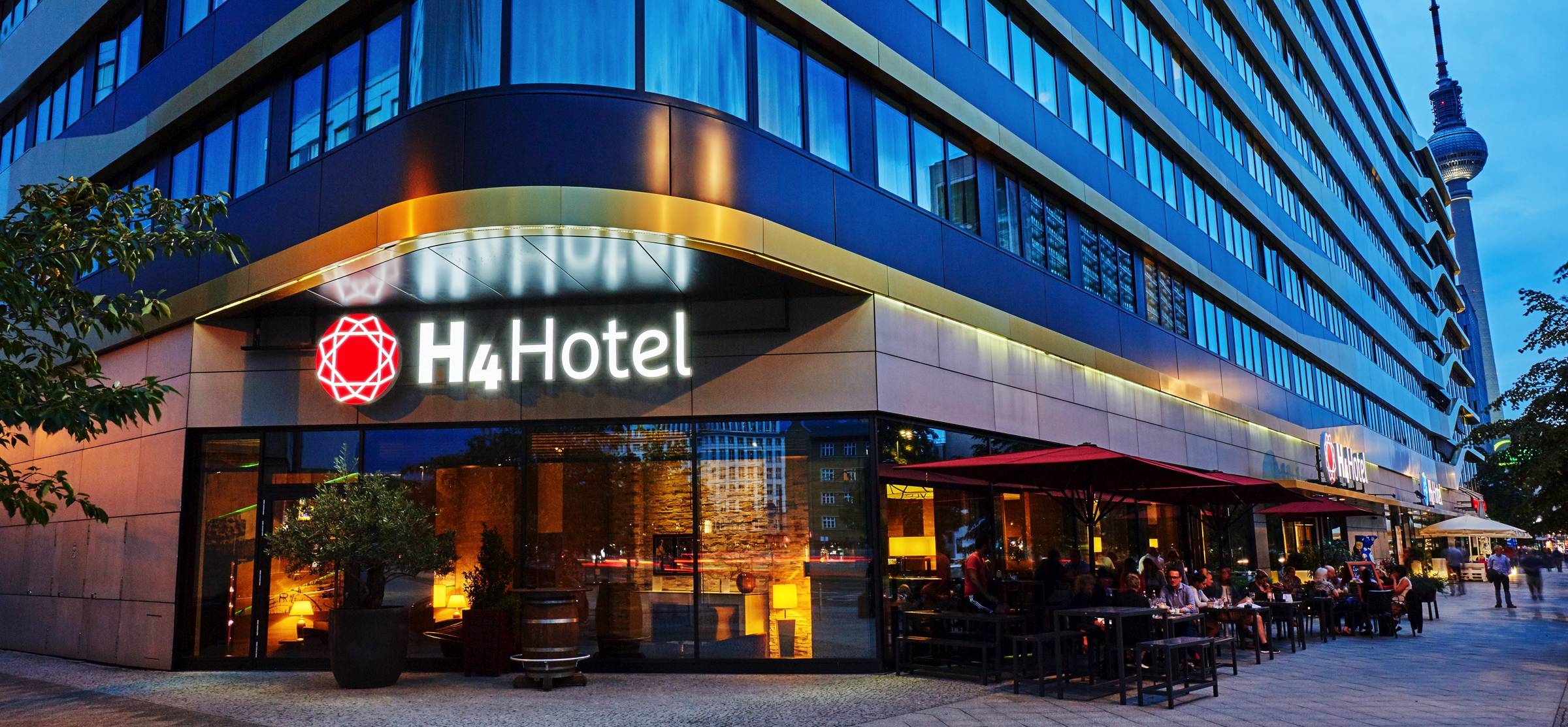 ---
---
Locarno
H4 Hotel Arcadia Locarno
Welcome to a children's paradise! Our 4 star hotel lies on the lake promenade in Locarno is only separated from Lake Maggiore by the lakeside road. Close by is the dock and the famous "piazza grande" as well as the centre of Locarno. This hotel for children has 90 bedrooms as well as one and two-room apartments. There is a pool in the garden...
84% customer satisfaction
Berlin
H4 Hotel Berlin Alexanderplatz
The heart of Berlin: We will spoil you with wonderful 4 star luxury and 337 comfortable bedrooms and suites right on Alexanderplatz square. Experience close up one of Berlin's most significant public spaces and discover all of the attractions on foot. The 1600 qm conference area is the largest on Alexanderplatz.
85% customer satisfaction
Frankfurt am Main
H4 Hotel Frankfurt Messe
236 comfortable bedrooms and studios right next to the Frankfurt Messe exhibition grounds: Our 4 star hotel is quietly located in the middle of a wood and is yet only 2 km away from the exhibition grounds. Excellent transport links and direct motorway access mean that the airport, Frankfurt city centre and the nearby towns...
82% customer satisfaction
Hamburg
H4 Hotel Hamburg Bergedorf
Hamburg, gateway to the world: This city offers something for everyone – ranging from the famous international port to the "Michel" church to first-class shopping. Our 4 star hotel lies in the south-east of the city in the lovely area of Bergedorf. 205 comfortable, modern bedrooms await you, a restaurant, bar and café garden. Relax in our "Aktivtreff" area with its sauna, steam bath and small fitness area.
82% customer satisfaction
Laatzen
H4 Hotel Hannover Messe
The H4 Hotel Hannover Messe is right next to the trade fair and Expo 2000 grounds. Our 221 well-equipped rooms and suites are relaxing spaces from which to start your city break or business trip. The hotel is not only ideal for visiting the trade fair or the TUI Arena, you can also easily reach the city centre using the excellent public transport connections.
Kassel
H4 Hotel Kassel
Our 4 star hotel in the middle of Germany: Follow in the footsteps of past documentas or take a walk through Europe's largest mountain park – Kassel combines culture and art. From Hercules' feet to the castle ponds the historical features are fantastic to look at all year round. Our hotel, with 169 comfortable bedrooms, an attractive bar and a hotel restaurant with a beer garden and views onto the City Hall gardens, is situated in the Brothers Grimm city right next to the City Hall.
83% customer satisfaction
Leipzig
H4 Hotel Leipzig
On the east side of the trade-fair city lies our hotel with 291 comfortable bedrooms. Enjoy culinary treats in our restaurant "Tiffany" with its winter garden. See the evening out with refreshing cocktails in our "sports bar". In summer you can also sit on our green terrace in the inner courtyard. Wellness fans will love the hotel's leisure area with its sauna.
Mönchengladbach
H4 Hotel Mönchengladbach im BORUSSIA-PARK
The newly built H4 Hotel Mönchengladbach at BORUSSIA-PARK is conveniently located next to the stadium of VfL Borussia Mönchengladbach and is perfect for football fans and stadium visitors. The 131 comfortably furnished rooms and suites, modern conference facilities and a wide gastronomic ranges leave nothing to be desired for business travellers.
91% customer satisfaction
München
H4 Hotel München Messe
Four star comfort at the Munich trade fair grounds: we welcome you to the Bavarian city with 330 comfortable, modern rooms. Let us spoil you in our generous restaurant area and turn your visit into a tasteful event in the truest sense with our "display cooking". Lovers of hearty snacks will really like the "Bayerischen Stube".
85% customer satisfaction
Münster
H4 Hotel Münster
A cultural stronghold, a city of bicycles and students and an episcopal see – that's Münster, a city full of history, with something for young and old alike. Münster has lots of culinary treats to offer too, with 900 restaurants, pubs and bars to linger in. Our hotel, centrally located in the Old Town right next to the pedestrian zone, has 140 modern, comfortable bedrooms. Start your day in Münster with our extensive H4 MORNINGS breakfast buffet; in fine weather you can enjoy it on the sun terrace looking out over beautiful Münster.
83% customer satisfaction
Bayreuth
H4 Hotel Residenzschloss Bayreuth
Known as the city of Wagner, the Franconian capital of Bayreuth offers numerous cultural highlights. With its central location on the edge of the old town, H4 Hotel Residenzschloss Bayreuth is ideal for discovering the many sights on a stroll. Enjoy the elegant flair with us and stay overnight in a modern and comfortable setting!
Solothurn
H4 Hotel Solothurn
Our hotel sits right on the banks of the River Aare in Solothurn, the most beautiful Baroque town in Switzerland. Solothurn, also called the "City of 11", offers numerous leisure activities: cycling and hiking, cultural excursions, museums, hot air balloon and boat trips, ferries, a nature reserve and numerous events. 100 modern, comfortable bedrooms and a wellness area of almost 400m² on the 7th floor invite you into the Baroque capital city of Switzerland. Our cooking in the "Schänzli" restaurant is fresh, healthy and sophisticated and you can look out from the terrace onto the River Aare.
84% customer satisfaction
Saint-Denis - Paris
H4 Hotel Paris Pleyel
The first Hotel of the H-Hotels Group will open in France in 2024. One of the most spectacular hotels in Paris, with 697 rooms on 40 floors and the highest swimming pool in the country, it is being built in the 140-meter-high Tour Pleyel in Saint-Denis. From the hotel, located right next to the Stade de France and the Olympic Village of the 2024 Summer Games, the center of Paris is just a short metro ride away.