Conference rooms in the H+ Hotel Erfurt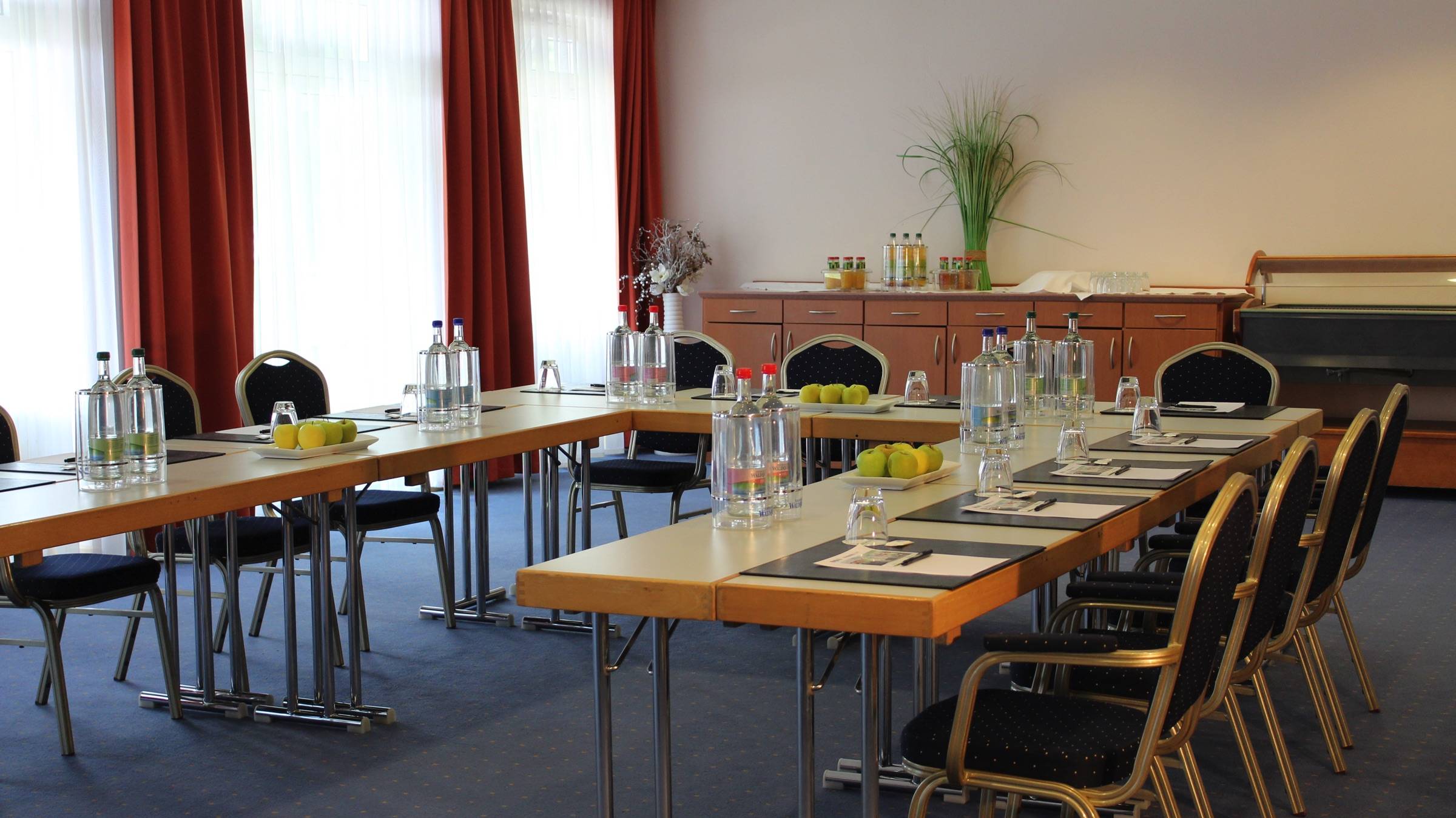 Our seminar rooms I and II on the ground floor both span 42 m2 and offer room for 10 people with a block seating layout, with room for 16 people when using a U-shaped seating layout. Parliamentary-style seating allows room for 20 people, while cinema seating can accommodate 30 people. A banquet seating layout offers room for 24 people.
When combined, the rooms can accommodate 25 people with a block seating arrangement, 32 people with U-shaped seating, 50 people with parliamentary-style seating, 60 people with cinema seating and 48 people with a banquet seating layout.
Seminar room III on the second floor spans 63 and features an air conditioning system. There is room here for 20 people with both block and U-shaped seating configurations, 30 people with parliamentary-style and banquet seating and 40 people with cinema seating.
With a surface area of 28 m2, our Seminar Room IV is well suited for smaller meetings. There is room here for 8 people with the block, U-shapes and banquet seating layouts. Parliamentary seating allows room for 16 people, while cinema-style seating can accommodate 20. Seminar Room IV is also located on the 2nd floor.
All conference rooms offer natural light and can be completely darkened.
Coffee breaks and group work can also be enjoyed outside on our summer terrace!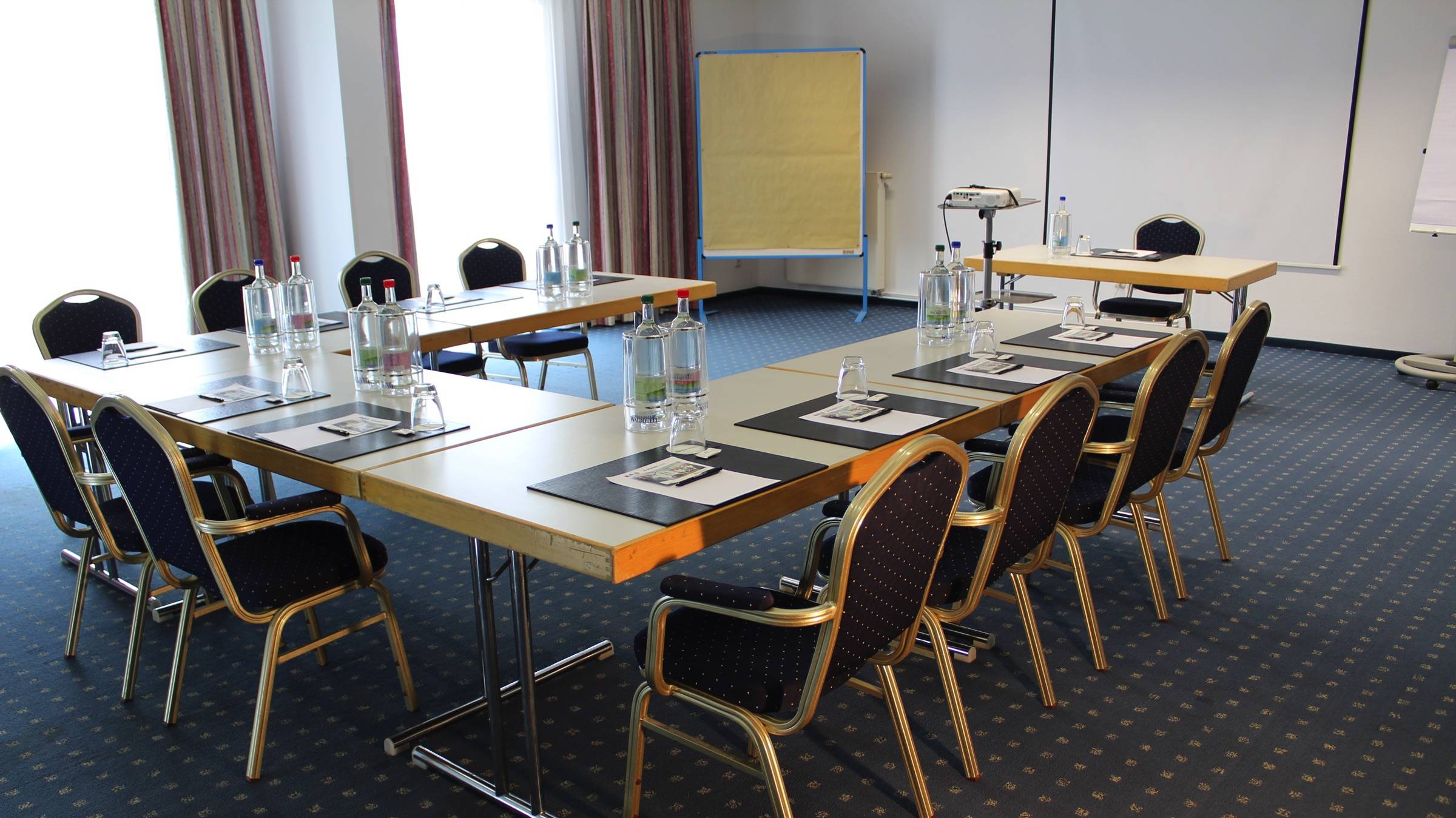 Meeting request in the hotel
---
Meeting room plan from H+ Hotel Hannover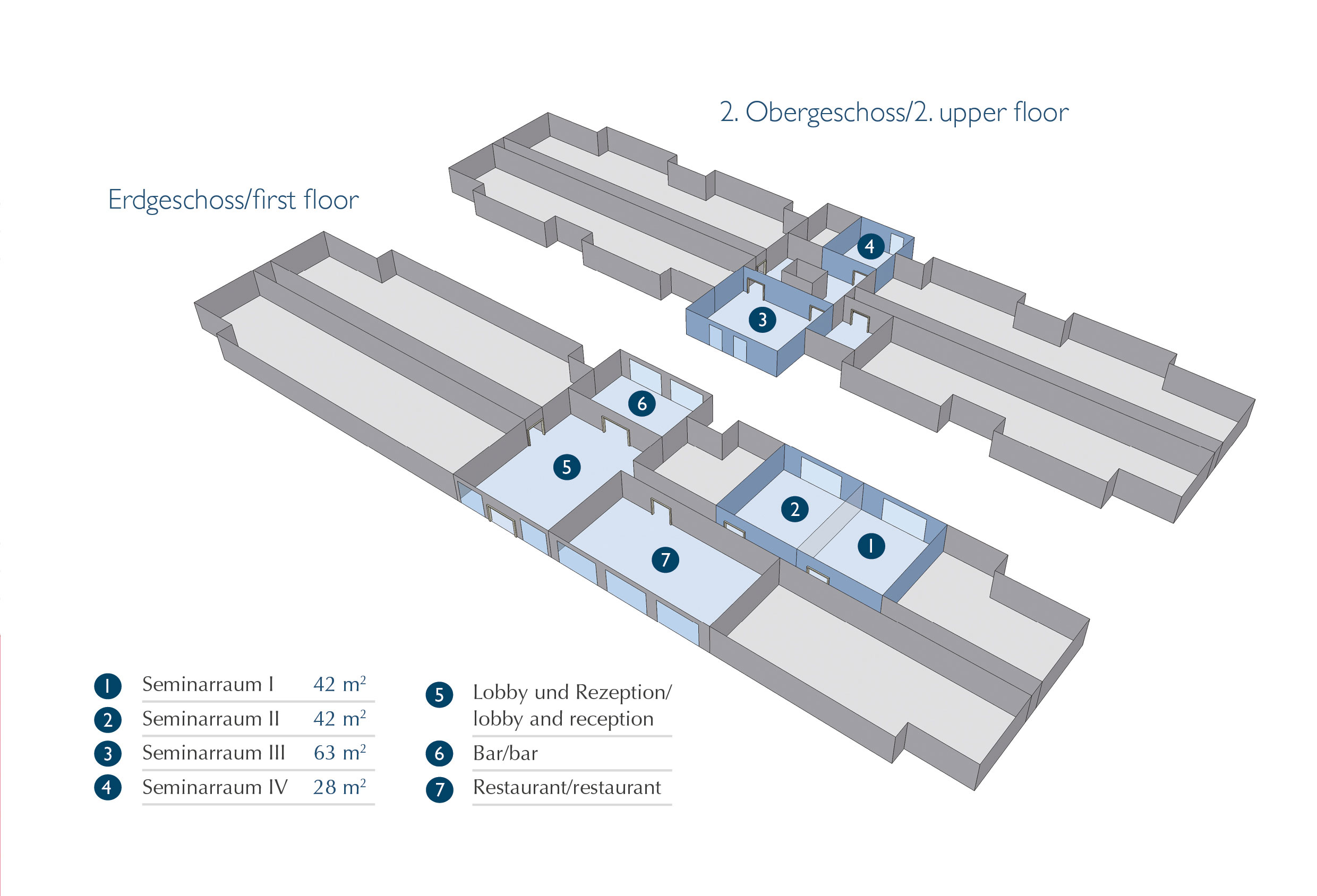 ---
Details of the meeting rooms
| | | | | | | |
| --- | --- | --- | --- | --- | --- | --- |
| BL = Block | U = U-Form | P = Parlament | S = Stuhlreihen | Ba = Bankett | TL = Tageslicht | VD = verdunkelbar |
| | | | | | | | | | | | | |
| --- | --- | --- | --- | --- | --- | --- | --- | --- | --- | --- | --- | --- |
| Raumname | Länge | Breite | Fläche | Höhe | BL | U | P | S | Ba | TL | VD | Etage |
| Seminarraum 4 | 5,60 m | 5,00 m | 28,00 m² | 2,80 m | 8 | 8 | 16 | 20 | 8 | ja | ja | 2 |
| Seminarraum 1 | 7,00 m | 6,00 m | 42,00 m² | 2,80 m | 10 | 16 | 20 | 30 | 24 | ja | ja | 0 |
| Seminarraum 2 | 7,00 m | 6,00 m | 42,00 m² | 2,80 m | 10 | 16 | 20 | 30 | 24 | ja | ja | 0 |
| Seminarraum 3 | 9,00 m | 7,00 m | 63,00 m² | 2,80 m | 20 | 20 | 30 | 40 | 30 | ja | ja | 2 |
| | | | | | | | | | | | | |
| --- | --- | --- | --- | --- | --- | --- | --- | --- | --- | --- | --- | --- |
| Kombinationsmöglichkeiten | Länge | Breite | Fläche | Höhe | BL | U | P | S | Ba | TL | VD | Etage |
| Seminarraum 1+2 | 14,00 m | 6,00 m | 84,00 m² | 2,80 m | 25 | 32 | 50 | 60 | 48 | ja | ja | 0 |