Individual designs possible
Thanks to its 6 varied function rooms, the H+ Hotel Frankfurt Airport West has the capacity to host a wide range of events; from a small 13 sqm meeting room, to a hall covering 172 square metres. A small service meeting, a banquet for 100 guests, or a presentation for 160 people - no problem. When combined with other rooms, the hall can be extended to an area covering 314 square metres, offering capacity for row seating for up to 300 people or banquet tables for up to 200 people. The foyer offers an additional 80 square metres, ideal for event breaks or receptions. All function rooms are located on the same floor as the bar and restaurant, and some even offer direct access.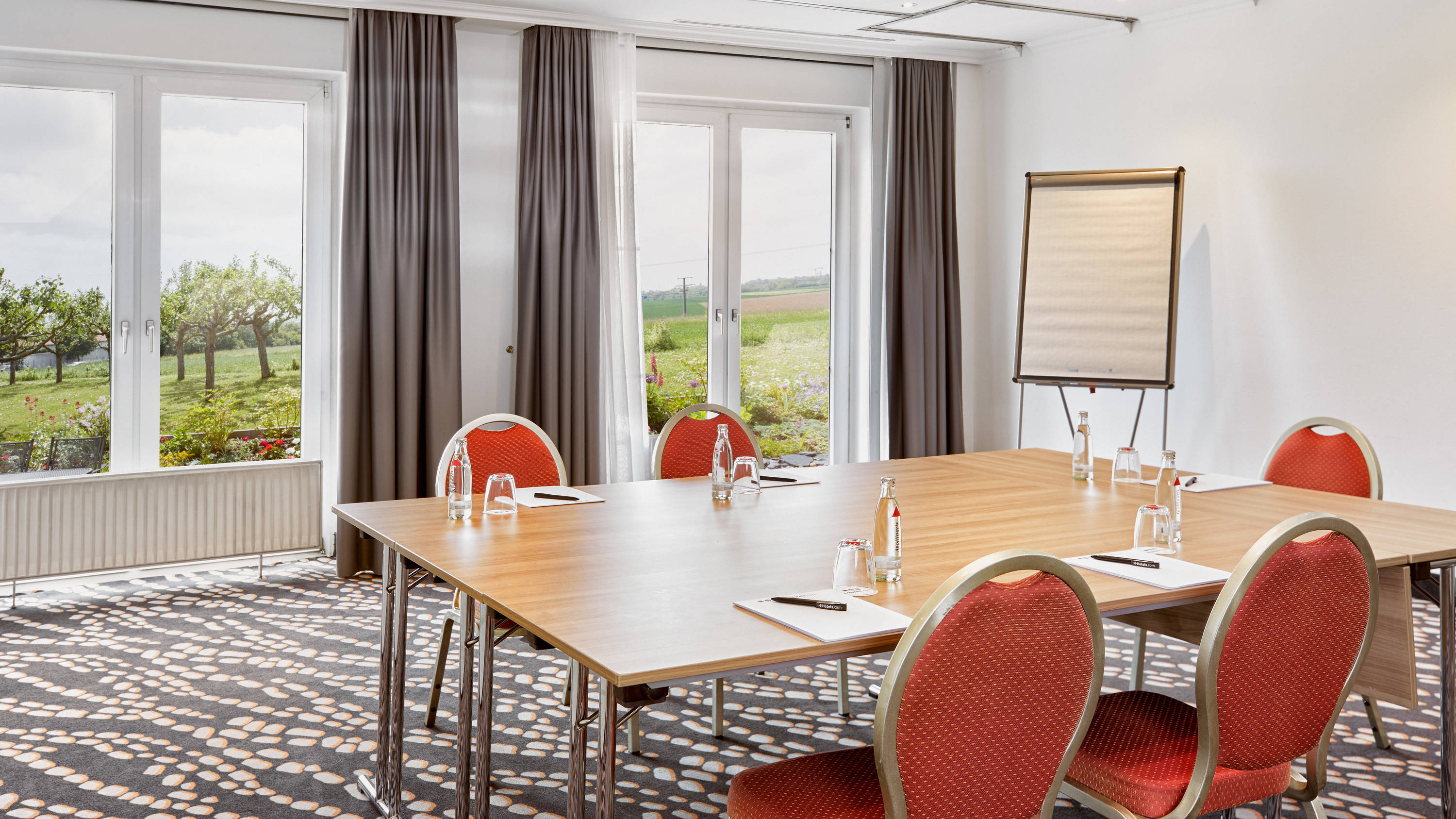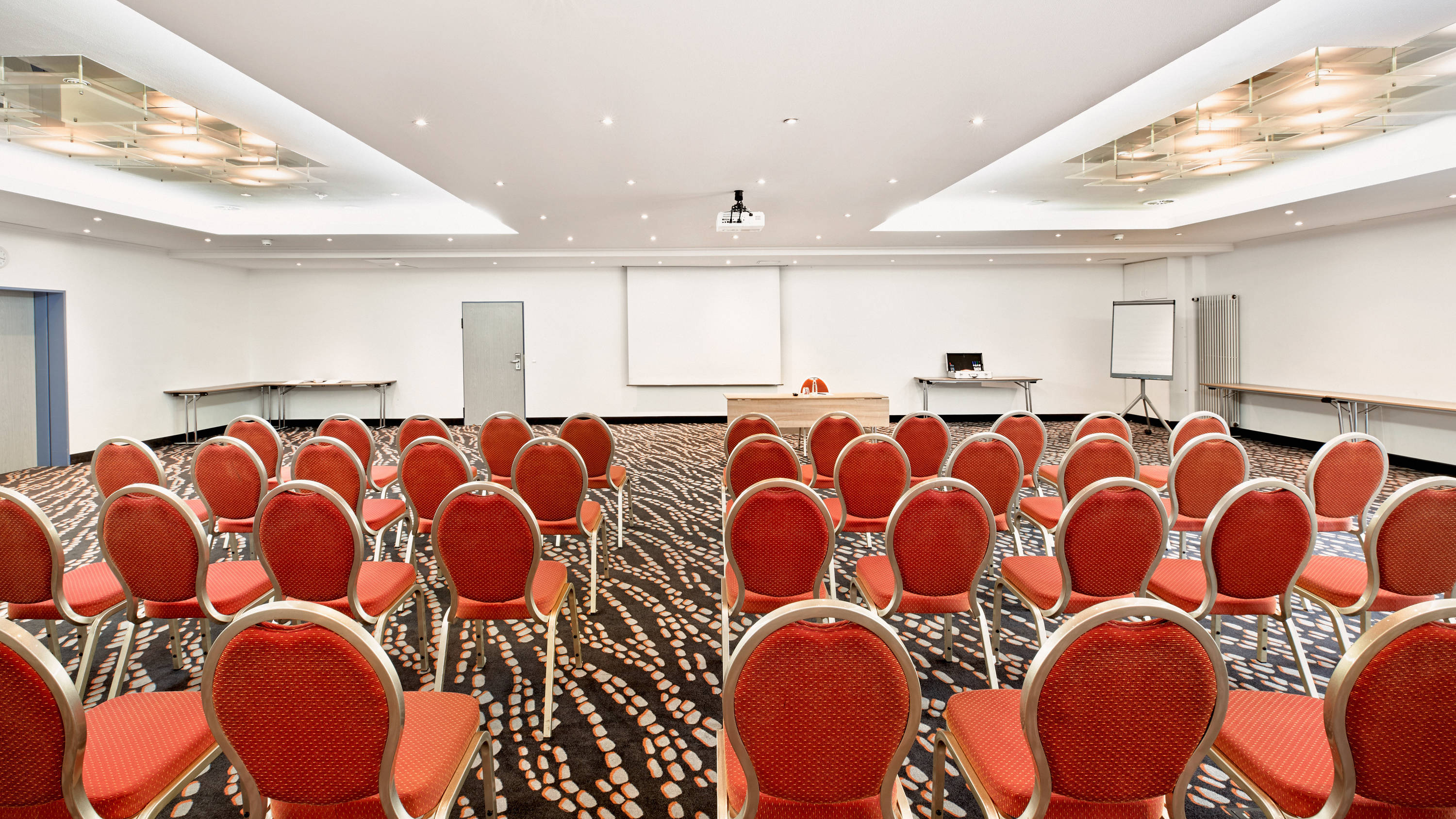 All rooms are equipped with air conditioning, have natural daylight, and can be darkened if required. Three of the rooms are accessible by car, meaning that delivery of materials is easy and convenient. Soundproofed walls and variable partition walls prevent any disturbance from parallel events, and also allow for individual designs.
Naturally, modern conference technology is also available, as well as business facilities including WiFi and DSL Internet access, and a fax, photocopying and printing service.
Meeting request in the hotel
---
Meeting room plan from H+ Hotel Frankfurt Airport West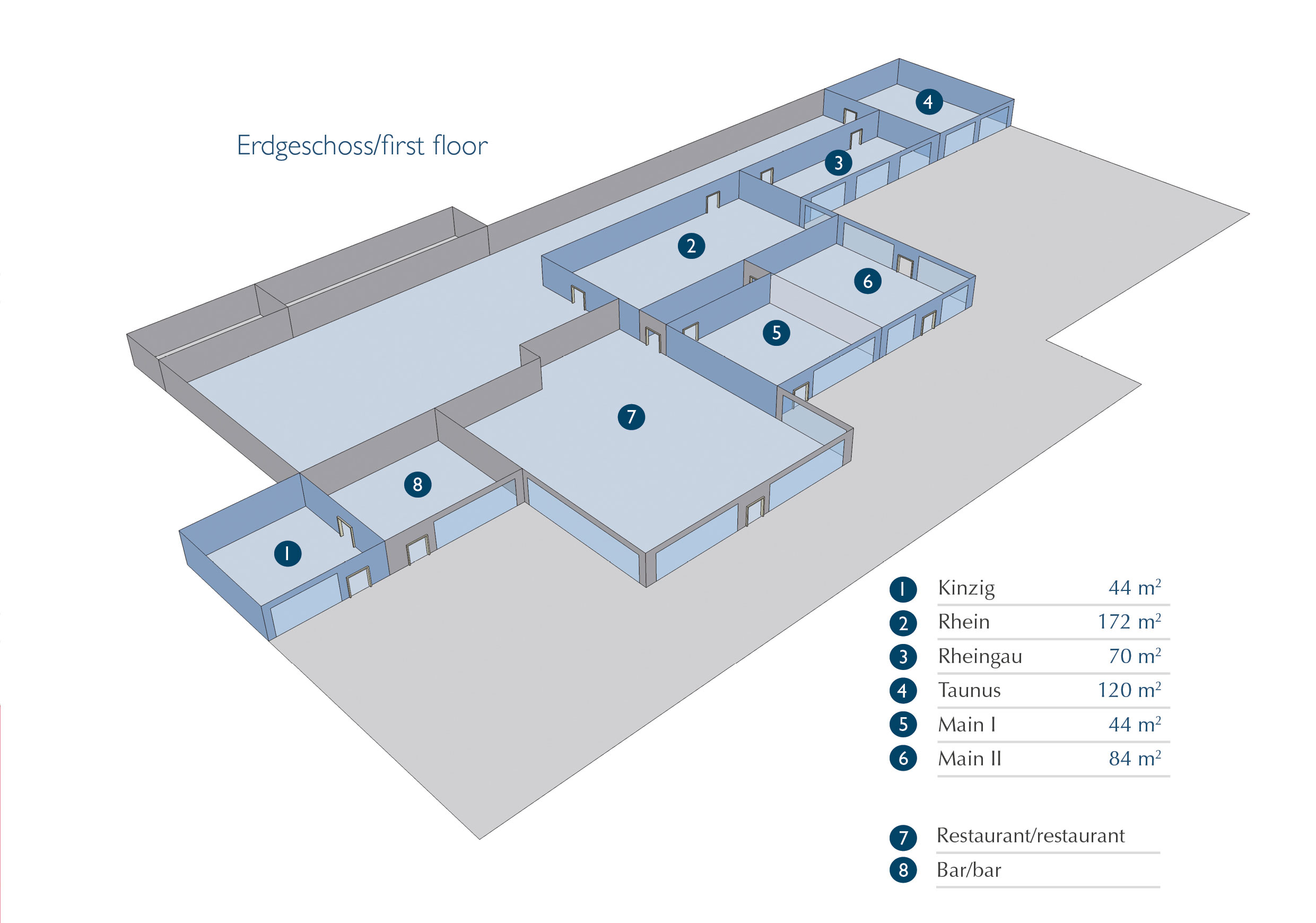 ---
Details of the meeting rooms
| | | | | | | |
| --- | --- | --- | --- | --- | --- | --- |
| BL = Block | U = U-shape | P = Parliament | C = Cinema | Ba = Banquet | DL = Daylight | DD = Darkening devices |
| | | | | | | | | | | | | |
| --- | --- | --- | --- | --- | --- | --- | --- | --- | --- | --- | --- | --- |
| Rooms | Length | Width | Area | Height | BL | U | P | C | Ba | DL | DD | Floor |
| Tagungszimmer | 4,30 m | 3,00 m | 13,00 m² | 2,65 m | 5 | - | - | - | - | yes | yes | 0 |
| Kinzig | 7,40 m | 5,90 m | 44,00 m² | 2,65 m | 20 | 15 | 20 | 25 | 20 | yes | yes | 0 |
| Main I | 7,20 m | 6,10 m | 44,00 m² | 2,65 m | 15 | 15 | 20 | 35 | - | yes | yes | 0 |
| Main II | 9,50 m | 8,80 m | 84,00 m² | 2,65 m | 25 | 25 | 40 | 65 | 50 | yes | yes | 0 |
| Rheingau | 12,00 m | 5,80 m | 70,00 m² | 2,65 m | 30 | 25 | 35 | 50 | - | yes | yes | 0 |
| Taunus | 13,50 m | 8,90 m | 120,00 m² | 2,65 m | 38 | 38 | 65 | 100 | 70 | yes | yes | 0 |
| Rhein | 11,50 m | 14,90 m | 172,00 m² | 2,65 m | 45 | 45 | 100 | 160 | 100 | yes | yes | 0 |
| | | | | | | | | | | | | |
| --- | --- | --- | --- | --- | --- | --- | --- | --- | --- | --- | --- | --- |
| Combinations | Length | Width | Area | Height | BL | U | P | C | Ba | DL | DD | Floor |
| Rhein/ Main 1+2) | 14,90 m | 21,10 m | 314,00 m² | 2,65 m | 70 | 70 | 200 | 300 | 200 | yes | yes | 0 |
| Main 1+2 | 14,90 m | 9,50 m | 142,00 m² | 2,65 m | 40 | 35 | 80 | 130 | 70 | yes | yes | 0 |