16 modern rooms with natural daylight and good ceiling height
The H4 Hotel Hamburg Bergedorf has rooms for every occasion. The rooms on the second floor measure 28 to 32 square metres, and are particularly suitable for meetings and workshops. Congresses and banquets can be held in one of the larger rooms on the ground floor. These measure between 50 and 125 square metres, and some of them can be combined to create larger spaces. The largest hall together with the foyer covers 640 square metres. In total, our conference centre can accommodate up to 1000 people. Another room measuring 80 square metres is available in an adjacent building.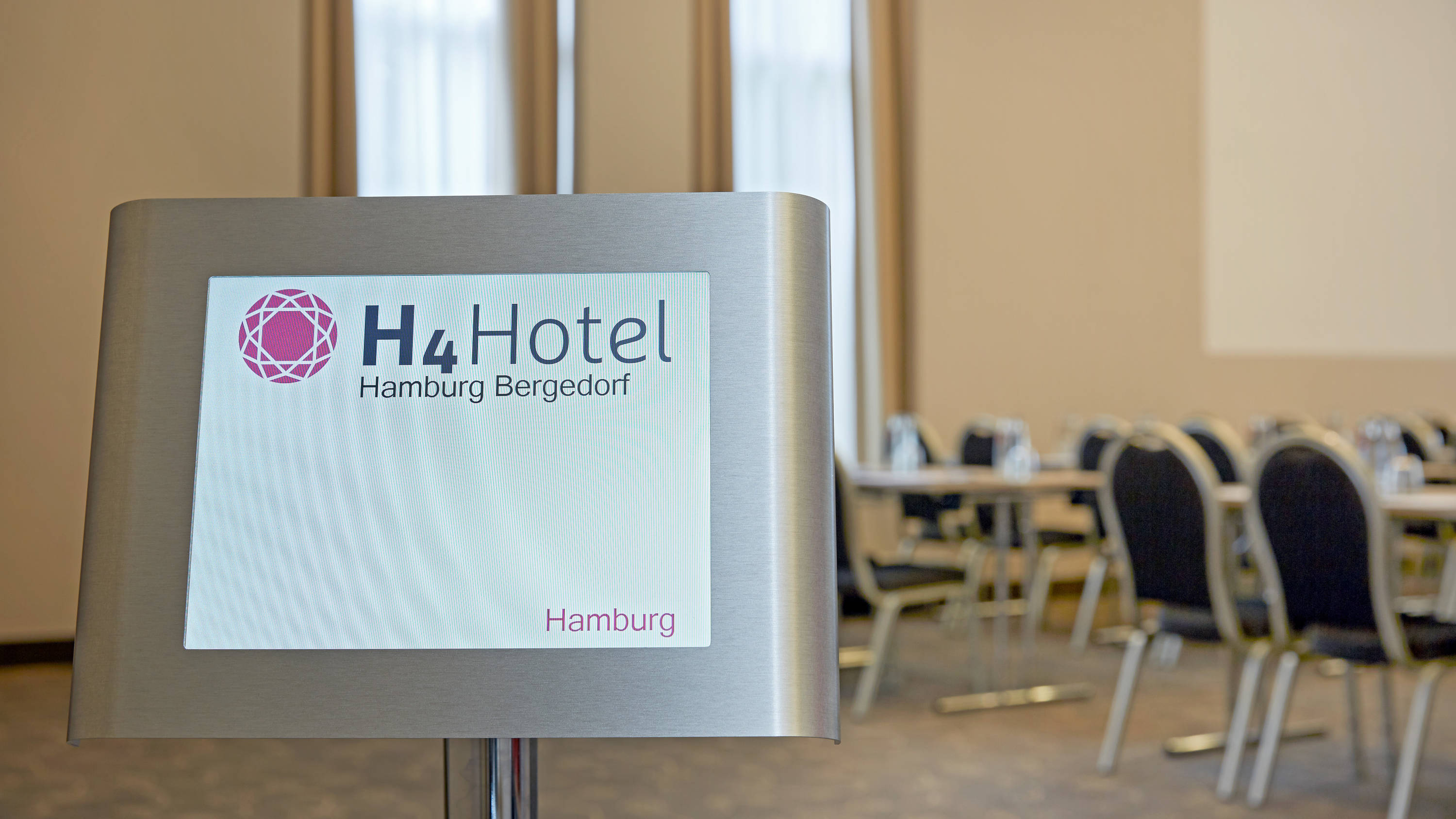 All event rooms in the H4 Hotel Hamburg Bergedorf have large windows, and can be darkened on request. Ceiling height is up to 4.2 metres, and many of the rooms can accommodate cars. As far as seating is concerned, various arrangements are possible, ranging from simple row seating to banquet or conference table seating. Naturally, state-of-the-art presentation and communications technology is also provided.
Meeting request in the hotel
---
Meeting room plan from H4 Hotel Hamburg Bergedorf
---
Details of the meeting rooms
| | | | | | | |
| --- | --- | --- | --- | --- | --- | --- |
| BL = Block | U = U-shape | P = Parliament | C = Cinema | Ba = Banquet | DL = Daylight | DD = Darkening devices |
| | | | | | | | | | | | | |
| --- | --- | --- | --- | --- | --- | --- | --- | --- | --- | --- | --- | --- |
| Rooms | Length | Width | Area | Height | BL | U | P | C | Ba | DL | DD | Floor |
| Köln | 7,00 m | 4,00 m | 28,00 m² | 2,50 m | 12 | 12 | - | 20 | - | yes | yes | 2 |
| Arolsen | 7,00 m | 4,00 m | 28,00 m² | 2,50 m | 12 | 12 | - | 20 | - | yes | yes | 2 |
| Goslar | 7,50 m | 4,00 m | 30,00 m² | 2,50 m | 12 | 12 | - | 20 | - | yes | yes | 2 |
| Bamberg | 7,50 m | 4,00 m | 30,00 m² | 2,50 m | 12 | 12 | - | 20 | - | yes | yes | 2 |
| Hannover | 8,00 m | 4,00 m | 32,00 m² | 2,50 m | 14 | 14 | - | 24 | - | yes | yes | 2 |
| Locarno | 8,00 m | 4,00 m | 32,00 m² | 2,50 m | 14 | 14 | - | 24 | - | yes | yes | 2 |
| Vierlanden | 7,10 m | 7,10 m | 50,00 m² | 3,40 m | 18 | 18 | 30 | 40 | 24 | yes | yes | 0 |
| Stralsund | 9,00 m | 7,20 m | 65,00 m² | 4,20 m | 24 | 20 | 36 | 50 | 40 | yes | yes | 0 |
| Wismar | 10,50 m | 7,20 m | 75,00 m² | 4,20 m | 32 | 28 | 45 | 70 | 48 | yes | yes | 0 |
| Lüneburg | 10,50 m | 7,10 m | 75,00 m² | 3,40 m | 34 | 34 | 70 | 100 | 48 | yes | yes | 0 |
| Rostock | 11,10 m | 7,20 m | 80,00 m² | 4,20 m | 38 | 34 | 50 | 80 | 48 | yes | yes | 0 |
| Usedom (Nebengebäude) | 9,00 m | 8,00 m | 80,00 m² | 3,40 m | 34 | 28 | 40 | 80 | 48 | yes | yes | 0 |
| Lübeck | 12,50 m | 7,20 m | 90,00 m² | 4,20 m | 38 | 34 | 60 | 110 | 64 | yes | yes | 0 |
| Bremen | 13,50 m | 7,20 m | 100,00 m² | 4,20 m | 50 | 46 | 80 | 160 | 72 | yes | yes | 0 |
| Hamburg | 17,50 m | 7,20 m | 125,00 m² | 4,20 m | 58 | 54 | 100 | 180 | 80 | yes | yes | 0 |
| | | | | | | | | | | | | |
| --- | --- | --- | --- | --- | --- | --- | --- | --- | --- | --- | --- | --- |
| Combinations | Length | Width | Area | Height | BL | U | P | C | Ba | DL | DD | Floor |
| Raum Arolsen + Raum Bamberg | 7,25 m | 8,00 m | 58,00 m² | 2,50 m | 18 | 18 | - | 40 | - | yes | yes | 2 |
| Raum Lüneburg + Raum Vierlanden | 17,60 m | 7,10 m | 125,00 m² | 3,40 m | 54 | 54 | 100 | 150 | 72 | yes | yes | 0 |
| Raum Stralsund + Raum Wismar | 9,00 m | 14,40 m | 140,00 m² | 4,20 m | 48 | 48 | 80 | 120 | 60 | yes | yes | 0 |
| Raum Rostock + Raum Hamburg | 28,80 m | 17,20 m | 500,00 m² | 4,20 m | 0 | 120 | 420 | 720 | 450 | yes | yes | 0 |
| Saal mit Foyer | 43,20 m | 17,20 m | 640,00 m² | 4,20 m | - | - | 540 | 1000 | 550 | yes | yes | 0 |