Conference area with 7 multi-functional event rooms
The conference area on the ground floor of the H+ Hotel Limes Thermen Aalen is comprised of 7 variable event rooms over 363 square metres, all of which are equipped with the latest technology. The rooms vary in size from 44 to 71 square metres, and depending on seating can accommodate anything from 10 to 40 guests. The smallest hall measures 44 square metres, and can be further divided if required. For smaller meetings, there are an additional 5 rooms measuring from 15 square metres.
All the meeting rooms enjoy natural daylight. Various seating arrangements are possible, for example U-shaped or row seating, or group tables. The rooms are also equipped with sub-floor electricity sockets and WiFi Internet access. Two of the rooms also offer access to cars.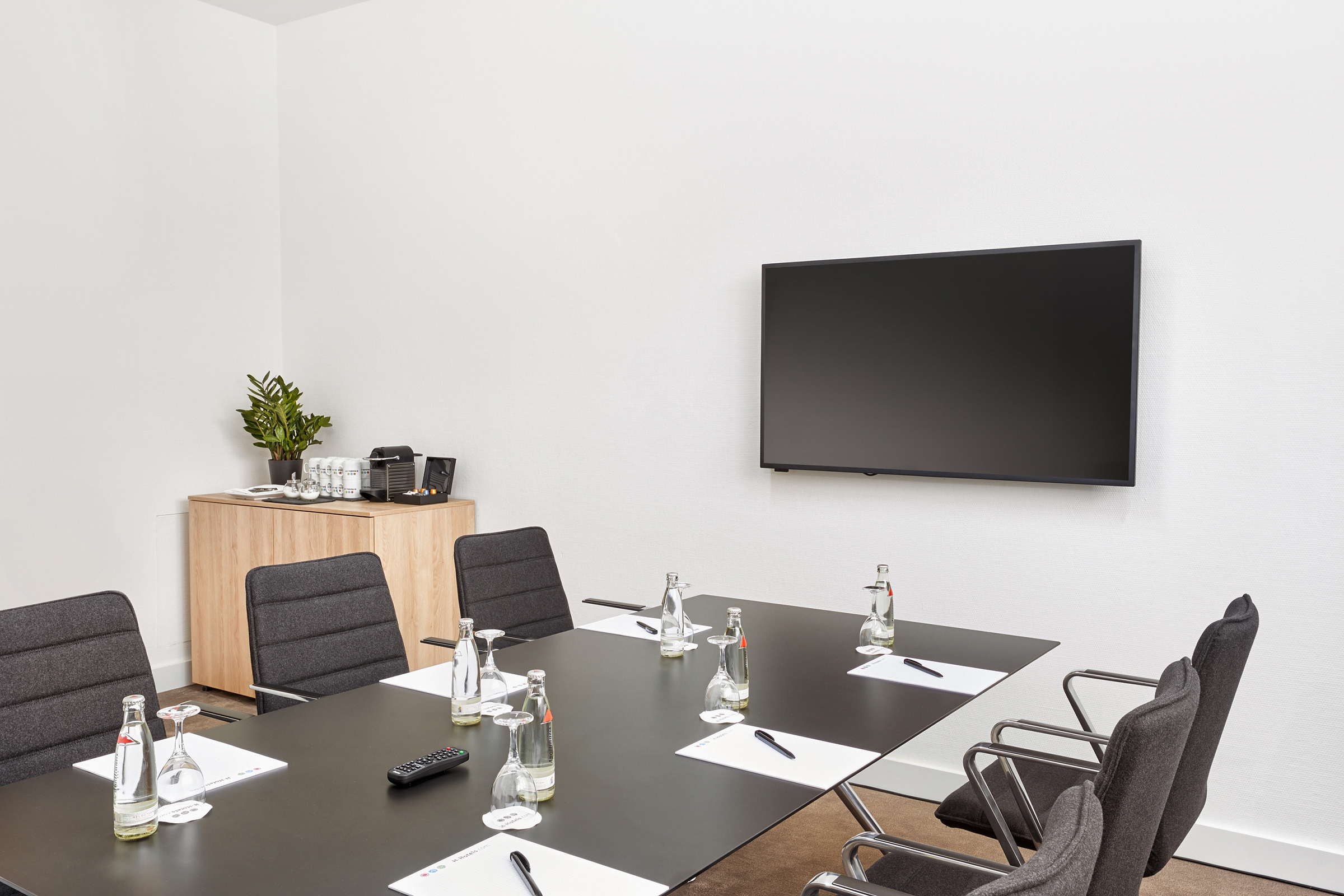 Meeting request in the hotel
---
Meeting room plan from H+ Hotel Limes Thermen Aalen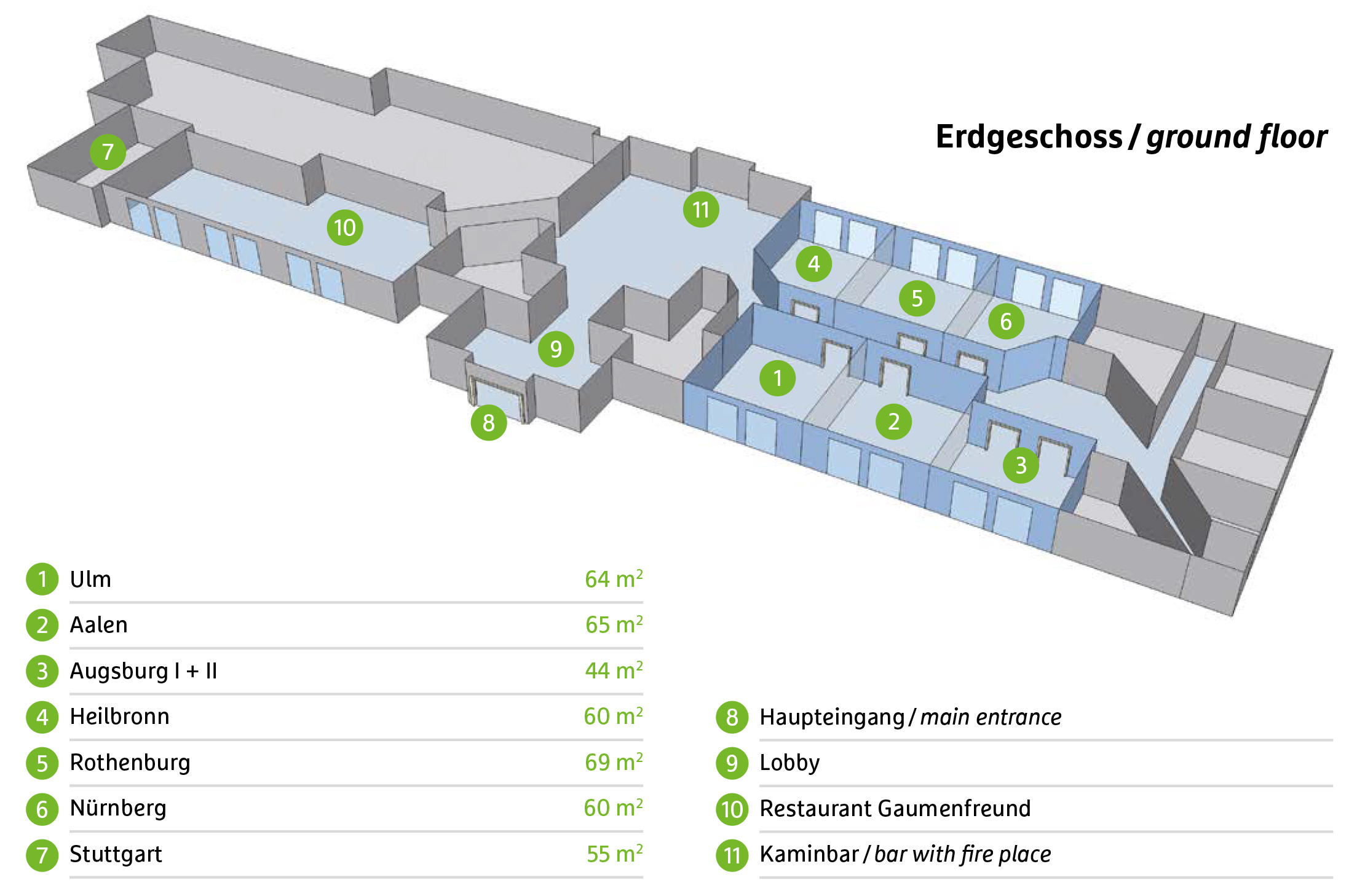 ---
Details of the meeting rooms
| | | | | | | |
| --- | --- | --- | --- | --- | --- | --- |
| BL = Block | U = U-shape | P = Parliament | C = Cinema | Ba = Banquet | DL = Daylight | DD = Darkening devices |
| | | | | | | | | | | | | |
| --- | --- | --- | --- | --- | --- | --- | --- | --- | --- | --- | --- | --- |
| Rooms | Length | Width | Area | Height | BL | U | P | C | Ba | DL | DD | Floor |
| Heilbronn | 7,20 m | 9,00 m | 60,00 m² | 3,00 m | 20 | 20 | 28 | 30 | 20 | ja | ja | 0 |
| Nürnberg | 9,00 m | 7,20 m | 60,00 m² | 3,00 m | 20 | 20 | 28 | 30 | 20 | ja | ja | 0 |
| Ulm | 8,00 m | 8,00 m | 64,00 m² | 3,00 m | 20 | 20 | 27 | 30 | 20 | ja | ja | 0 |
| Aalen | 8,10 m | 8,00 m | 64,80 m² | 3,00 m | 20 | 20 | 27 | 30 | 20 | ja | ja | 0 |
| Rothenburg | 7,95 m | 9,00 m | 71,50 m² | 3,00 m | 26 | 26 | 30 | 40 | 26 | ja | ja | 0 |
| Stuttgart | 6,90 m | 9,30 m | 55,00 m² | 3,00 m | - | 15 | 20 | 30 | - | ja | nein | 0 |
| | | | | | | | | | | | | |
| --- | --- | --- | --- | --- | --- | --- | --- | --- | --- | --- | --- | --- |
| Combinations | Length | Width | Area | Height | BL | U | P | C | Ba | DL | DD | Floor |
| Augsburg 1 + 2 (Combination can be divided) | 7,00 m | 6,10 m | 42,70 m² | 3,00 m | 10 | 10 | 18 | 20 | - | ja | ja | 0 |
| Heilbronn + Rothenburg + Nürnberg | 22,30 m | 9,20 m | 191,00 m² | 3,00 m | - | 65 | 100 | 150 | 96 | ja | ja | 0 |
| Limes Saal (1-2 + 4-6) | 20,80 m | 21,00 m | 320,30 m² | 3,00 m | - | - | 180 | 250 | 220 | ja | ja | 0 |
| Ulm + Aalen | 16,10 m | 8,00 m | 128,80 m² | 3,00 m | - | 40 | 70 | 100 | 80 | ja | ja | 0 |