Ideal conditions for meetings, seminars and banquets
The meeting rooms at the H+ Hotel Bad Soden are spread out over the ground and first floors. The smallest room measures 16 square metres, while the largest covers 440 square metres, providing the necessary flexibility for a wide range of events.
The rooms can be partially combined, allowing for the creation of a maximum area covering 734 square metres with capacity for up to 950 people. The bar and restaurant can also be included.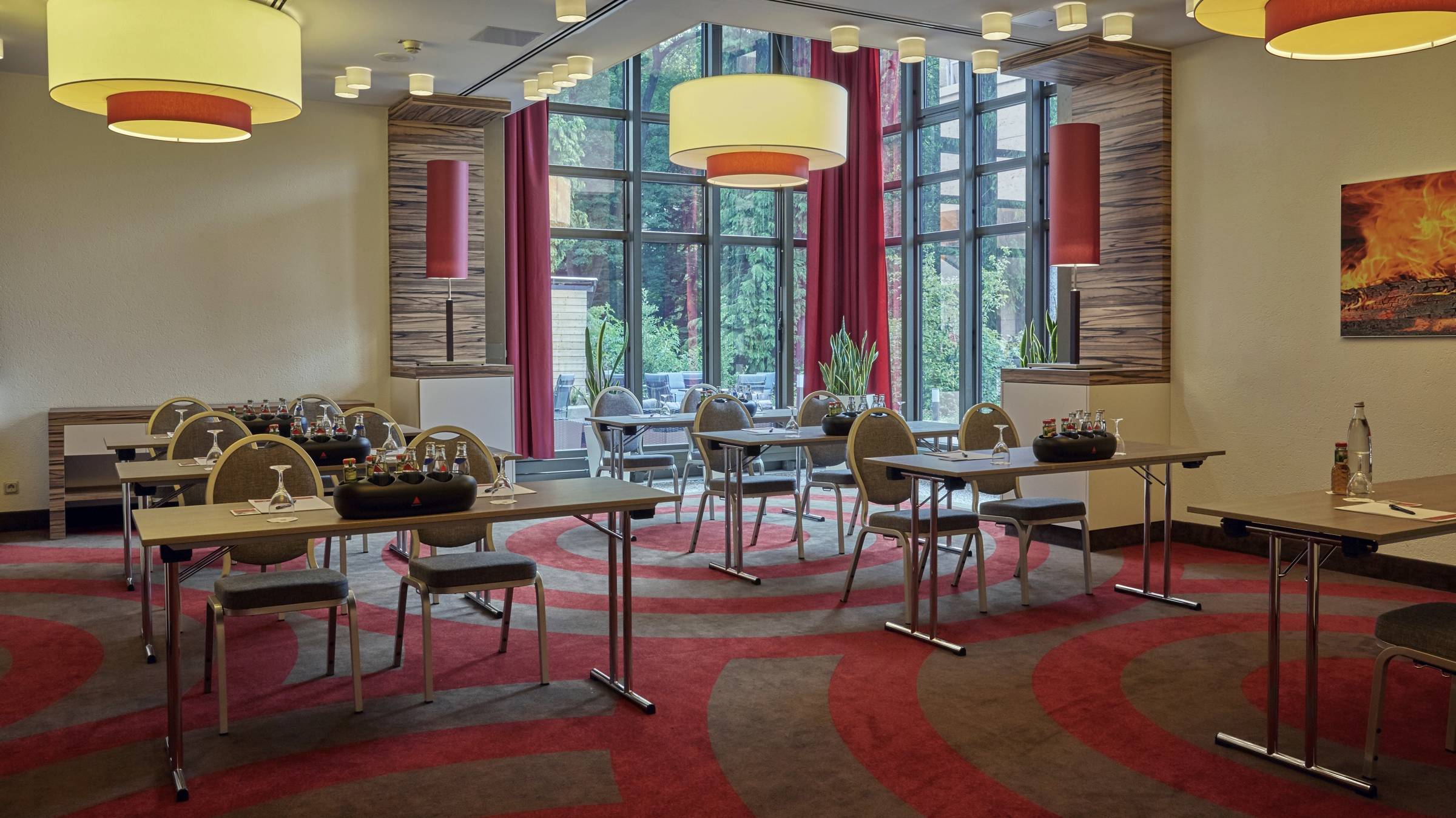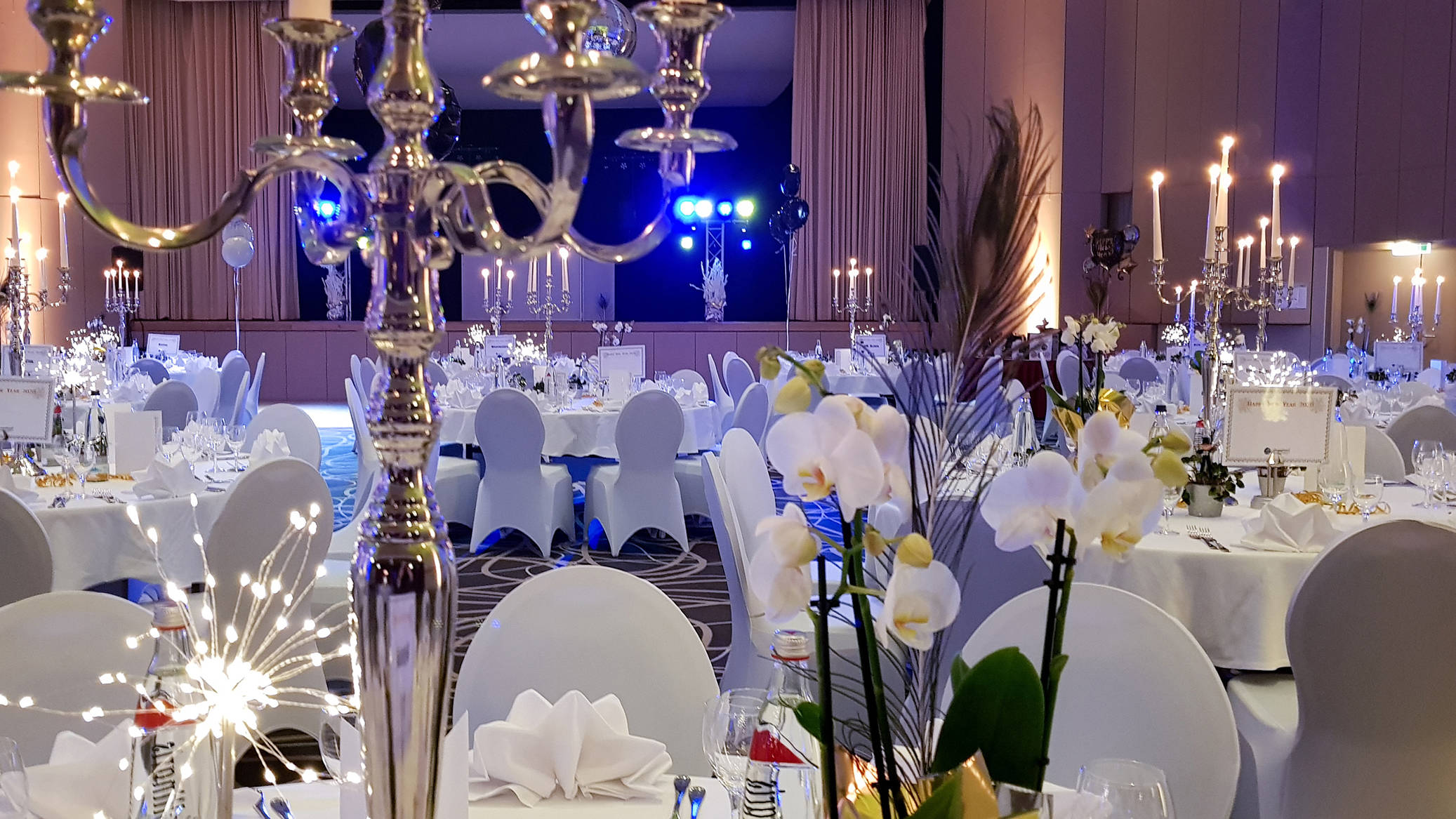 Various seating layouts are possible, from simple rows to parliamentary seating or banquet style.
The "Mendelssohn-Bartholdy" has an integrated, retractable stage which can be directly accessed from outside the building, and which has its own sound/lighting system and control room. Lorry access is also possible. Spread out over two floors, the 600 square metre foyer offers the perfect space for exhibitions, trade fairs and receptions.
Meeting request in the hotel
---
Meeting room plan from H+ Hotel Bad Soden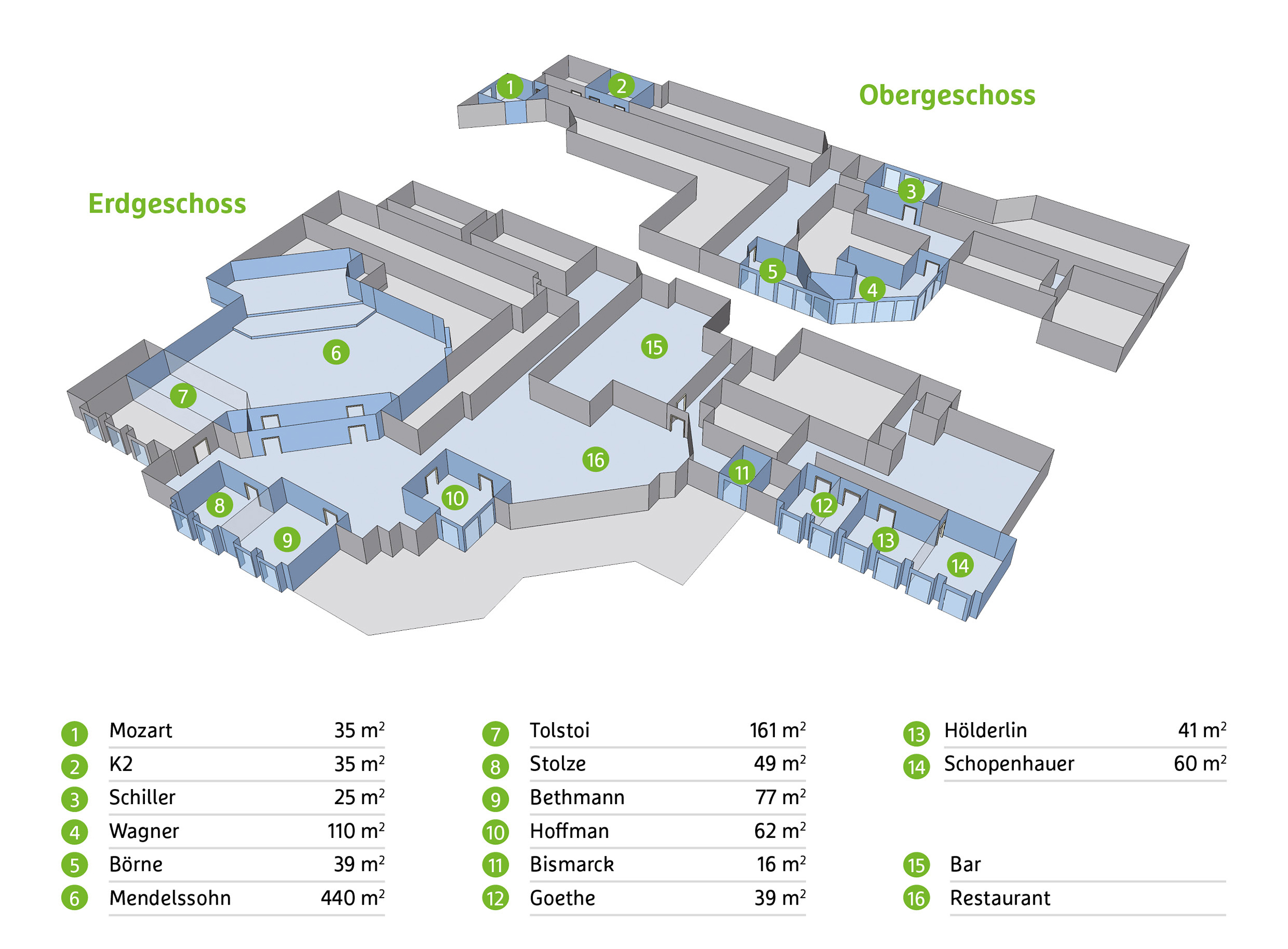 ---
Details of the meeting rooms
| | | | | | | |
| --- | --- | --- | --- | --- | --- | --- |
| BL = Block | U = U-shape | P = Parliament | C = Cinema | Ba = Banquet | DL = Daylight | DD = Darkening devices |
| | | | | | | | | | | | | |
| --- | --- | --- | --- | --- | --- | --- | --- | --- | --- | --- | --- | --- |
| Rooms | Length | Width | Area | Height | BL | U | P | C | Ba | DL | DD | Floor |
| Bismarck | 4,60 m | 3,40 m | 15,00 m² | 3,00 m | 6 | - | - | - | - | yes | yes | 0 |
| K2 | 7,00 m | 5,00 m | 35,00 m² | 3,00 m | 14 | 14 | 16 | 25 | 16 | yes | yes | 1 |
| Goethe | 7,00 m | 5,50 m | 39,00 m² | 3,00 m | 16 | 18 | 18 | 35 | 16 | yes | yes | 0 |
| Börne | 7,20 m | 6,00 m | 43,00 m² | 3,00 m | 15 | 15 | 20 | 30 | 24 | yes | yes | 1 |
| Hölderin | 7,50 m | 5,50 m | 41,00 m² | 3,00 m | 16 | 18 | 18 | 35 | 16 | yes | yes | 0 |
| Stolze | 7,50 m | 6,50 m | 49,00 m² | 3,00 m | 18 | 16 | 24 | 40 | 32 | yes | yes | 0 |
| Schopenhauer | 7,00 m | 8,50 m | 60,00 m² | 3,00 m | 20 | 22 | 24 | 50 | 24 | yes | yes | 0 |
| Hoffman | 8,00 m | 7,80 m | 62,00 m² | 3,00 m | 28 | 24 | 24 | 50 | 32 | yes | yes | 0 |
| Bethmann | 8,50 m | 9,00 m | 76,00 m² | 3,00 m | 22 | 30 | 32 | 60 | 48 | yes | yes | 0 |
| Wagner | 17,90 m | 6,10 m | 110,00 m² | 3,00 m | 25 | 25 | 30 | 40 | 56 | yes | yes | 1 |
| Tolstoi | 14,00 m | 11,50 m | 161,00 m² | 7,50 m | 44 | 60 | 100 | 170 | 96 | yes | yes | 0 |
| Mendelssohn | 0,00 m | 0,00 m | 440,00 m² | 7,50 m | - | 140 | 350 | 750 | 450 | no | yes | 0 |
| Mozart | 7,00 m | 5,00 m | 35,00 m² | 3,00 m | 14 | 14 | 16 | 25 | 16 | yes | yes | 1 |
| Schiller | 5,90 m | 4,25 m | 25,00 m² | 2,75 m | 8 | 8 | 8 | 10 | - | yes | yes | 1 |
| | | | | | | | | | | | | |
| --- | --- | --- | --- | --- | --- | --- | --- | --- | --- | --- | --- | --- |
| Combinations | Length | Width | Area | Height | BL | U | P | C | Ba | DL | DD | Floor |
| Schopenhauer + Hölderlin | 12,60 m | 8,00 m | 100,00 m² | 3,00 m | 40 | 42 | 52 | 100 | 48 | yes | yes | 0 |
| Bethmann + Stolze | 14,00 m | 9,00 m | 125,00 m² | 3,00 m | 44 | 50 | 80 | 100 | 80 | yes | yes | 0 |
| Wagner + Börne | 0,00 m | 0,00 m | 149,00 m² | 3,00 m | - | - | - | - | 70 | yes | yes | 1 |
| Mendelssohn + Tolstoi | 0,00 m | 0,00 m | 734,00 m² | 7,50 m | - | - | 700 | 950 | 650 | yes | yes | 0 |