9 flexible rooms with natural daylight and variable seating
The H+ Hotel Köln Hürth offers 9 different meeting rooms ranging in size from 20 to 120 square metres. All conference rooms are located on the ground floor and thus in easy reach of the foyer, bar and restaurant. Some of the rooms can be combined to create a hall with a total area of approximately 360 square metres. Depending on the seating configuration, this can accommodate up to 300 people.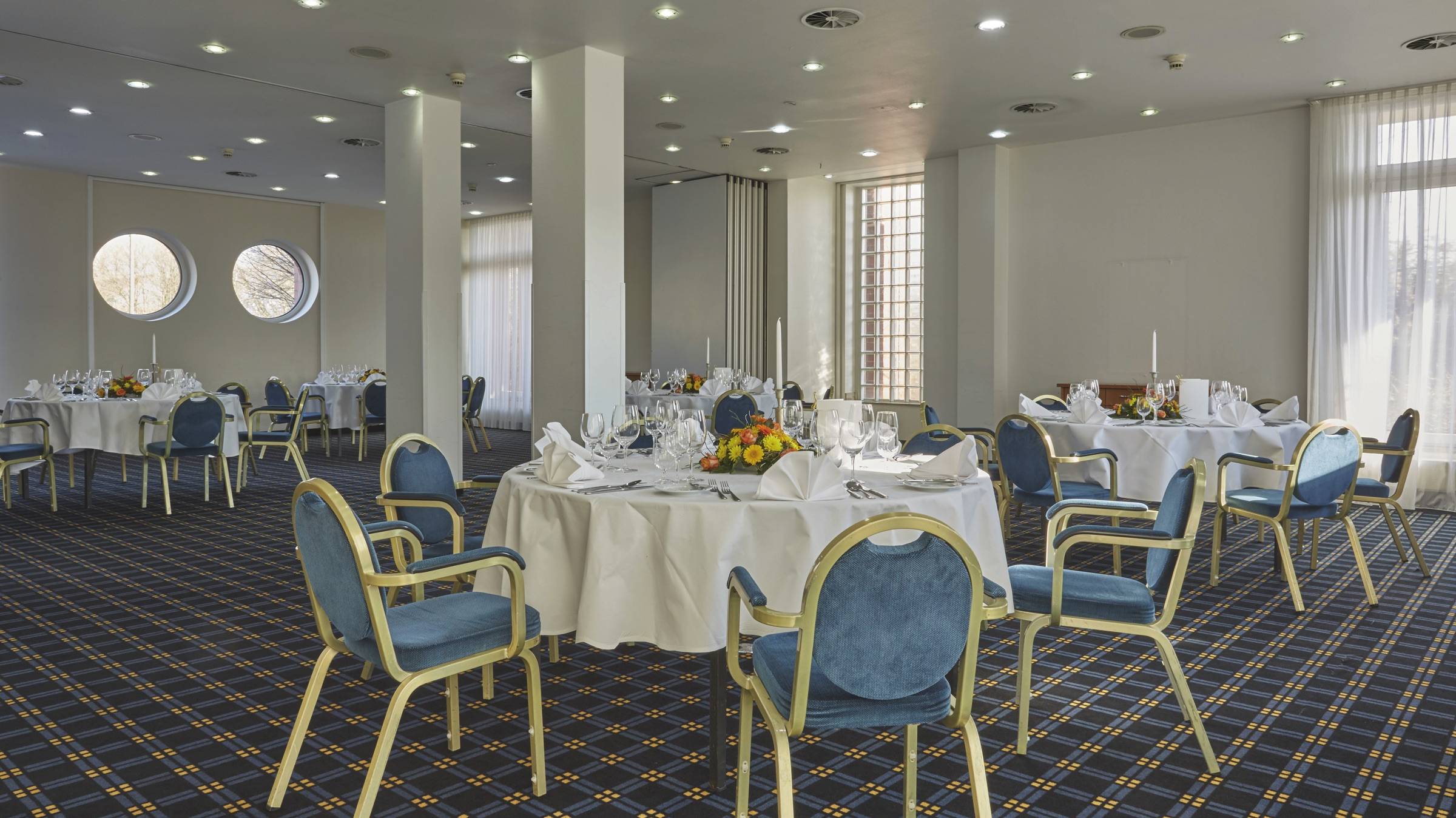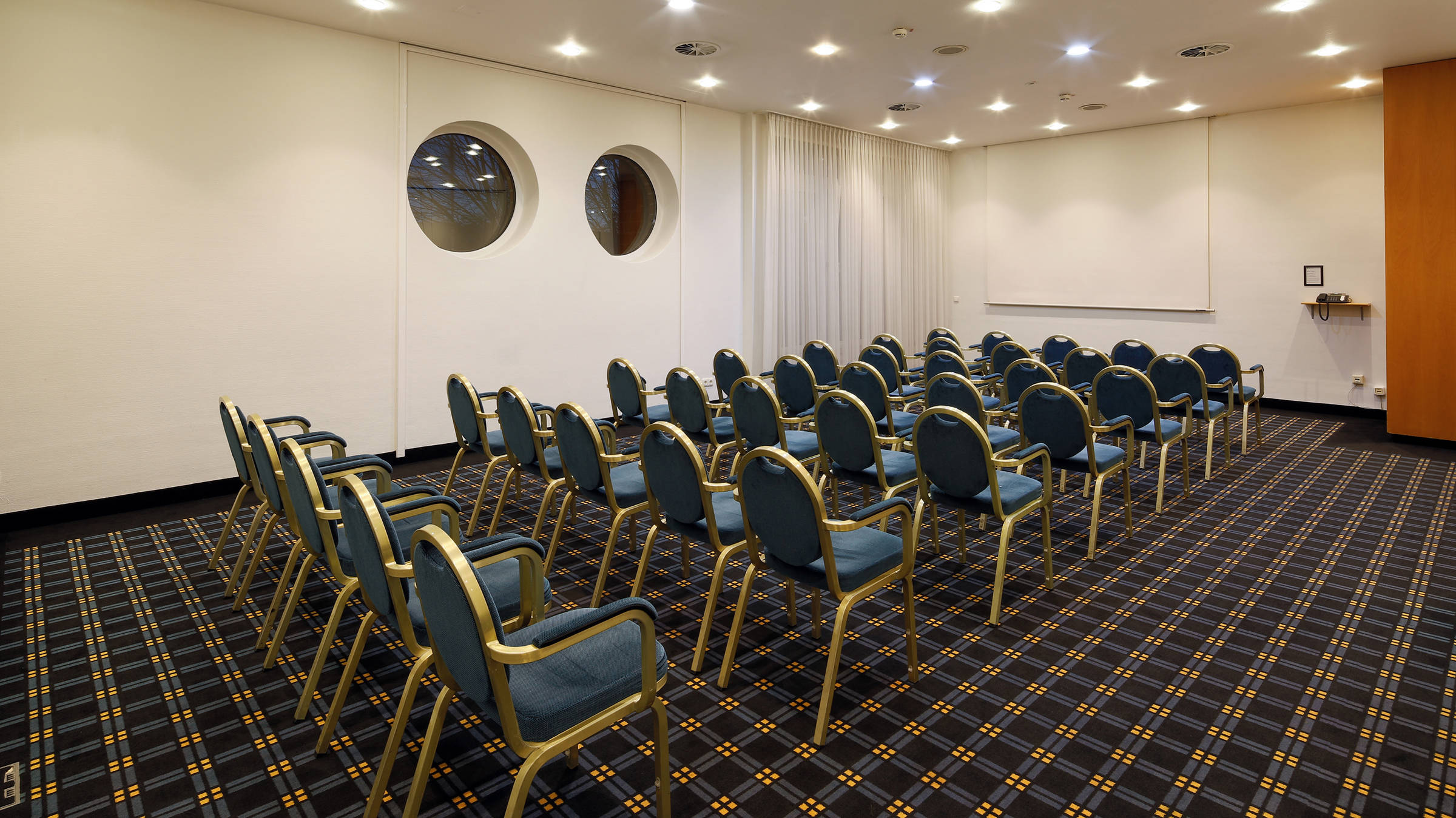 Possible seating arrangements include row seating, parliamentary-style seating, and table seating in banquet, U-shaped, or group form. Naturally, all the rooms enjoy natural daylight. In addition, they are equipped with air conditioning, and can be completely darkened for presentations or film presentations.
Meeting request in the hotel
---
Meeting room plan from H+ Hotel Köln Hürth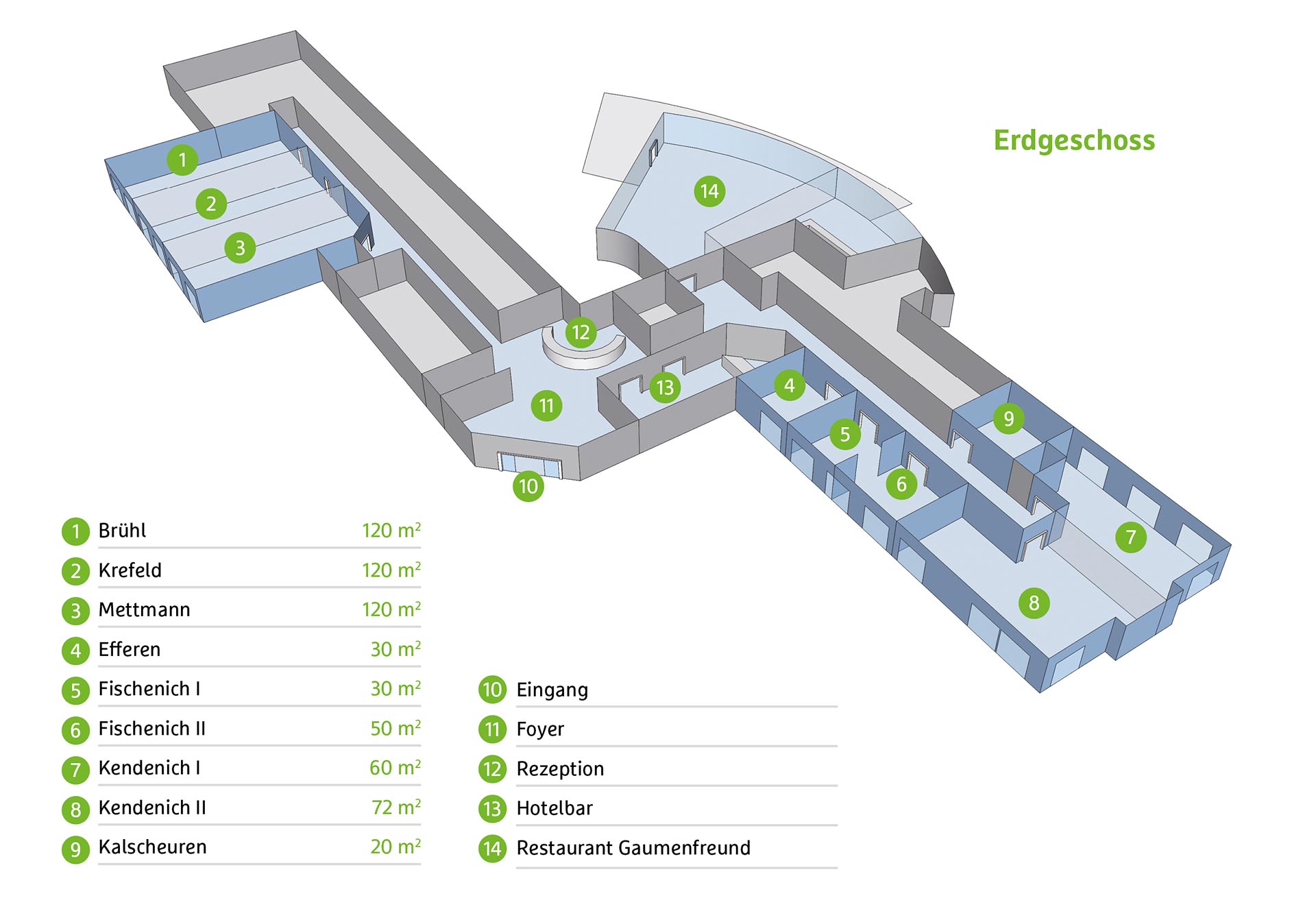 ---
Details of the meeting rooms
| | | | | | | |
| --- | --- | --- | --- | --- | --- | --- |
| BL = Block | U = U-shape | P = Parliament | C = Cinema | Ba = Banquet | DL = Daylight | DD = Darkening devices |
| | | | | | | | | | | | | |
| --- | --- | --- | --- | --- | --- | --- | --- | --- | --- | --- | --- | --- |
| Rooms | Length | Width | Area | Height | BL | U | P | C | Ba | DL | DD | Floor |
| Brühl | 15,00 m | 8,00 m | 120,00 m² | 3,00 m | 0 | 36 | 70 | 120 | 50 | yes | yes | 0 |
| Krefeld | 15,00 m | 8,00 m | 120,00 m² | 3,00 m | 0 | 36 | 70 | 120 | 50 | yes | yes | 0 |
| Mettmann | 15,00 m | 8,00 m | 120,00 m² | 3,00 m | 0 | 36 | 70 | 120 | 50 | yes | yes | 0 |
| Efferen | 6,70 m | 4,00 m | 30,00 m² | 3,00 m | 10 | 12 | 16 | 25 | 18 | yes | yes | 0 |
| Fischenich I | 6,70 m | 4,00 m | 30,00 m² | 3,00 m | 0 | 24 | 30 | 40 | 27 | yes | yes | 0 |
| Fischenich II | 11,00 m | 4,00 m | 50,00 m² | 3,00 m | 0 | 20 | 26 | 45 | 40 | yes | yes | 0 |
| Kendenich I | 11,30 m | 5,00 m | 60,00 m² | 3,00 m | 0 | 24 | 30 | 45 | 27 | yes | yes | 0 |
| Kendenich II | 8,00 m | 9,00 m | 75,00 m² | 3,00 m | 0 | 24 | 24 | 50 | 27 | yes | yes | 0 |
| Kalscheuren | 5,45 m | 3,70 m | 20,00 m² | 3,00 m | 8 | 0 | 0 | 0 | 0 | yes | yes | 0 |
| | | | | | | | | | | | | |
| --- | --- | --- | --- | --- | --- | --- | --- | --- | --- | --- | --- | --- |
| Combinations | Length | Width | Area | Height | BL | U | P | C | Ba | DL | DD | Floor |
| Fischenich I+II | 14,50 m | 4,00 m | 80,00 m² | 3,00 m | 0 | 32 | 50 | 60 | 40 | yes | yes | 0 |
| Kendenich I+II | 18,00 m | 14,00 m | 135,00 m² | 3,00 m | 50 | 0 | 0 | 54 | 40 | yes | yes | 0 |
| Mettmann/Krefeld oder Krefeld/Brühl | 15,00 m | 16,00 m | 240,00 m² | 3,00 m | 0 | 0 | 140 | 200 | 110 | yes | yes | 0 |
| Hansa Saal (Mettmann/Krefeld/Brühl) | 15,00 m | 24,00 m | 360,00 m² | 3,00 m | 0 | 0 | 210 | 350 | 180 | yes | yes | 0 |