5 meeting rooms with daylight in Lübeck
H+ Hotel Lübeck has five rooms available to host your event. Four of the rooms are between 25 and 28 square metres and are located on the ground floor, as are the restaurant and bar. These rooms can be combined to create a larger space up to 103 square metres for up to 120 people. The fifth room, a lounge measuring 37 square metres, is located at basement level.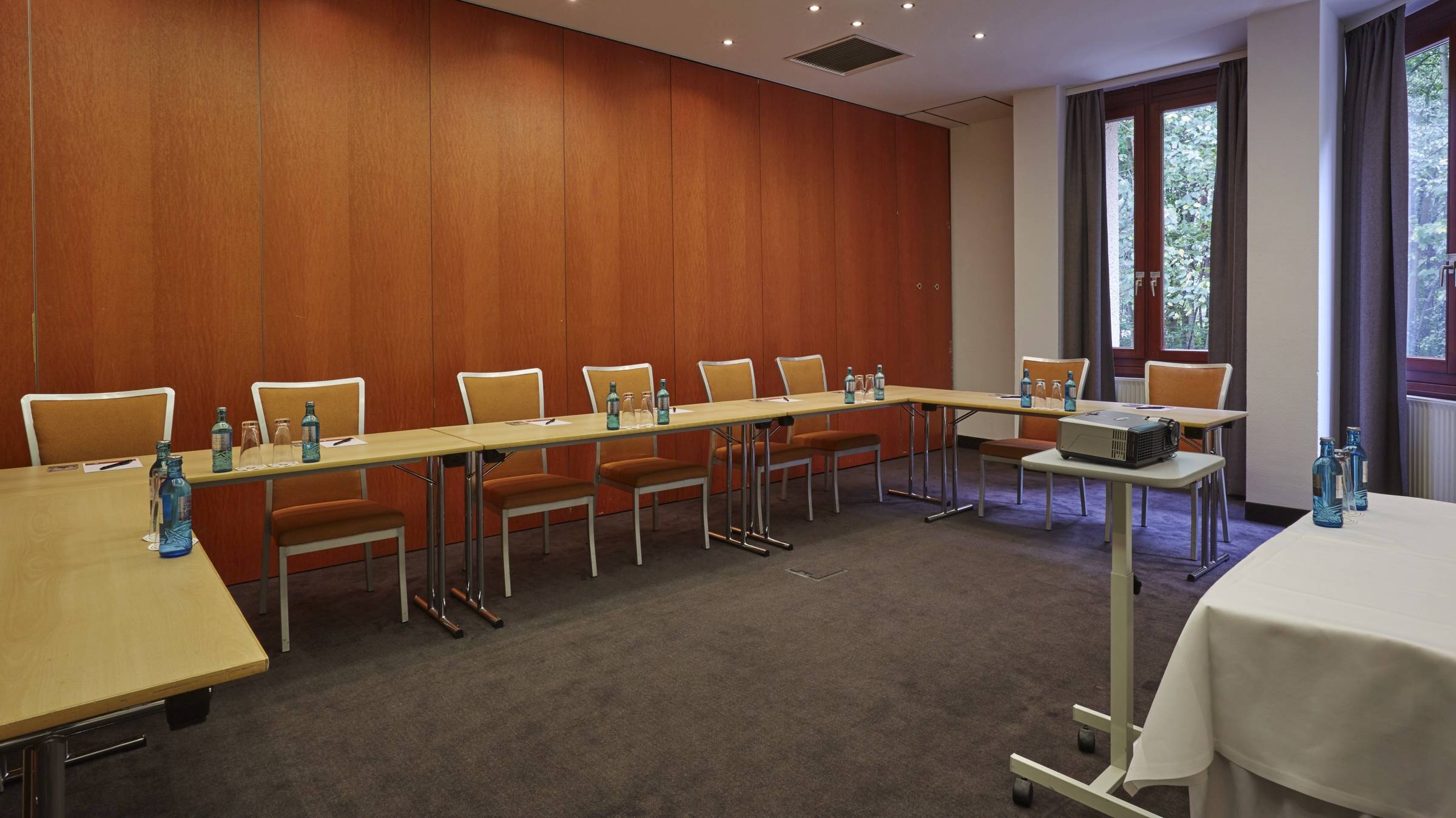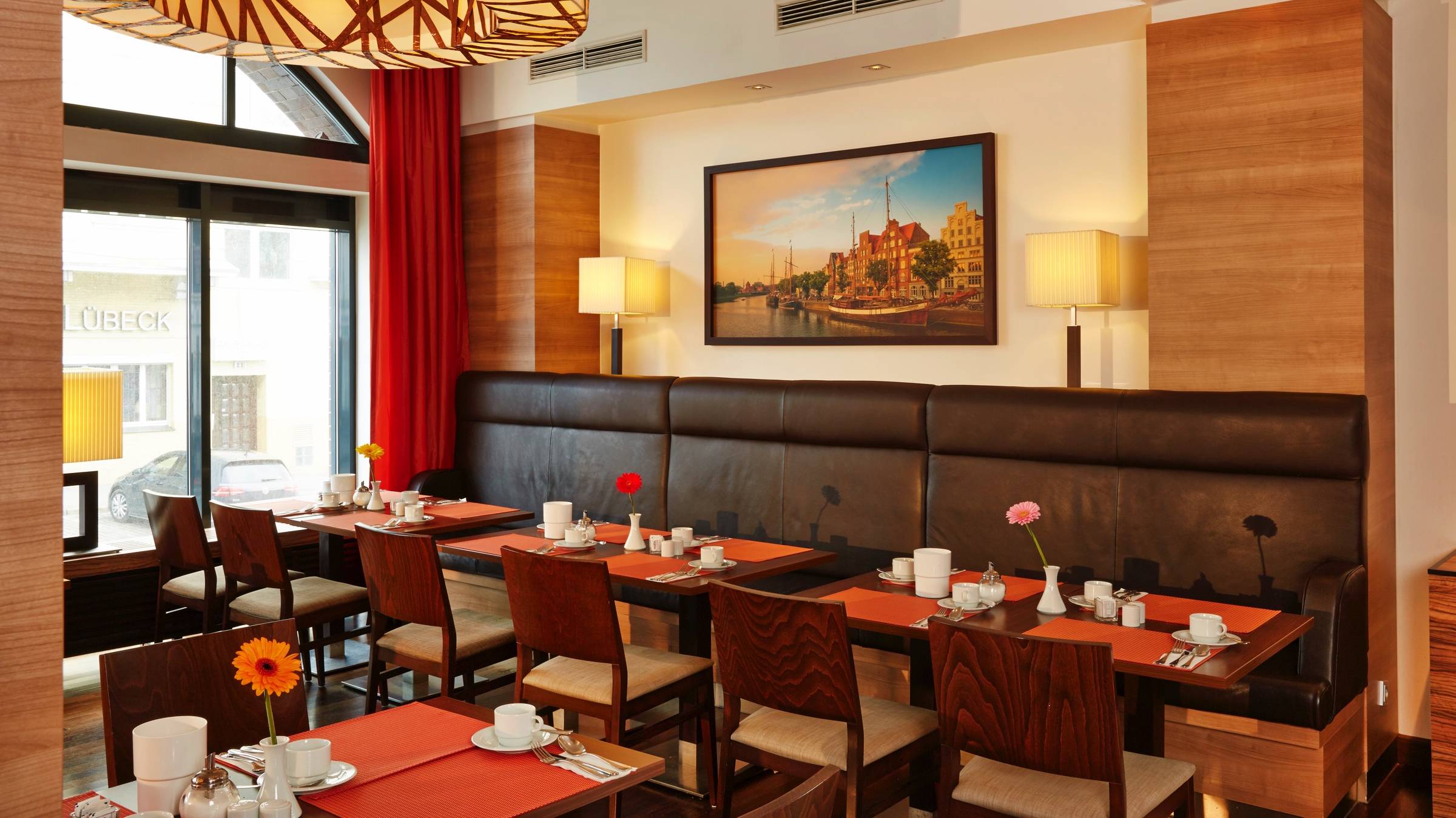 All the meeting rooms have access to daylight and are equipped with air conditioning. The lighting can be dimmed to allow presentations or to show a film. Modern conference equipment and free high-speed internet with a telecom hotspot are also available.
Additional areas that can be included when planning your event are the restaurant and bar at H+ Hotel Lübeck plus a generous lobby. Just get in touch and we can discuss the best way to facilitate your event. From room planning to catering and sightseeing: we would be delighted to help you make your event happen!
Meeting request in the hotel
---
Meeting room plan from H+ Hotel Lübeck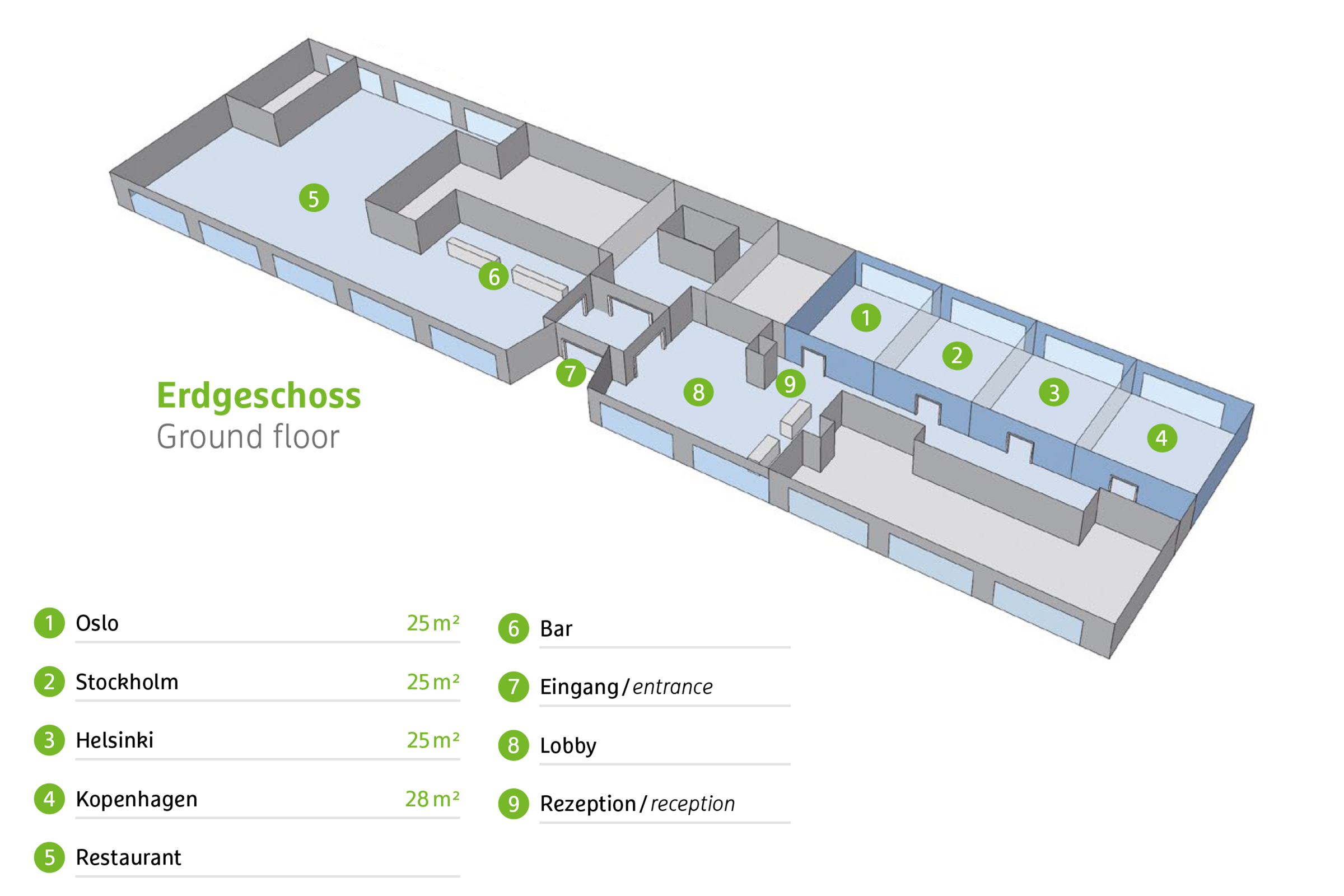 ---
Details of the meeting rooms
| | | | | | | |
| --- | --- | --- | --- | --- | --- | --- |
| BL = Block | U = U-shape | P = Parliament | C = Cinema | Ba = Banquet | DL = Daylight | DD = Darkening devices |
| | | | | | | | | | | | | |
| --- | --- | --- | --- | --- | --- | --- | --- | --- | --- | --- | --- | --- |
| Rooms | Length | Width | Area | Height | BL | U | P | C | Ba | DL | DD | Floor |
| Kopenhagen | 5,70 m | 4,90 m | 28,00 m² | 3,90 m | 12 | 10 | 12 | 20 | 8 | yes | yes | 0 |
| Helsinki | 5,70 m | 4,30 m | 25,00 m² | 3,90 m | 12 | 10 | 12 | 20 | 8 | yes | yes | 0 |
| Stockholm | 5,70 m | 4,30 m | 25,00 m² | 3,90 m | 12 | 10 | 12 | 20 | 8 | yes | yes | 0 |
| Oslo | 5,70 m | 4,30 m | 25,00 m² | 3,90 m | 12 | 10 | 17 | 20 | 8 | yes | yes | 0 |
| | | | | | | | | | | | | |
| --- | --- | --- | --- | --- | --- | --- | --- | --- | --- | --- | --- | --- |
| Combinations | Length | Width | Area | Height | BL | U | P | C | Ba | DL | DD | Floor |
| Kopenhagen + Helsinki | 5,70 m | 9,20 m | 53,00 m² | 3,90 m | 30 | 12 | 18 | 20 | 16 | yes | yes | 0 |
| Kopenhagen - Oslo | 5,70 m | 17,80 m | 103,00 m² | 3,90 m | 50 | 36 | 54 | 60 | 40 | yes | yes | 0 |
| Stockholm + Oslo | 5,70 m | 9,20 m | 50,00 m² | 3,90 m | 30 | 12 | 18 | 20 | 16 | yes | yes | 0 |
| Kopenhagen - Stockholm | 5,70 m | 13,50 m | 78,00 m² | 3,90 m | 45 | 24 | 36 | 40 | 24 | yes | yes | 0 |