Modern, fully equipped rooms to suit every purpose
The event area in the H+ Hotel Stuttgart Herrenberg is located on the ground floor, and offers rooms measuring from 26 to 93 square metres. Some of these rooms can be combined to create a larger space. The largest possible combination of rooms measures over 409 square metres, and is thus also suitable for conferences and banquets with a large number of guests. If required, the bar and restaurant are also at your disposal.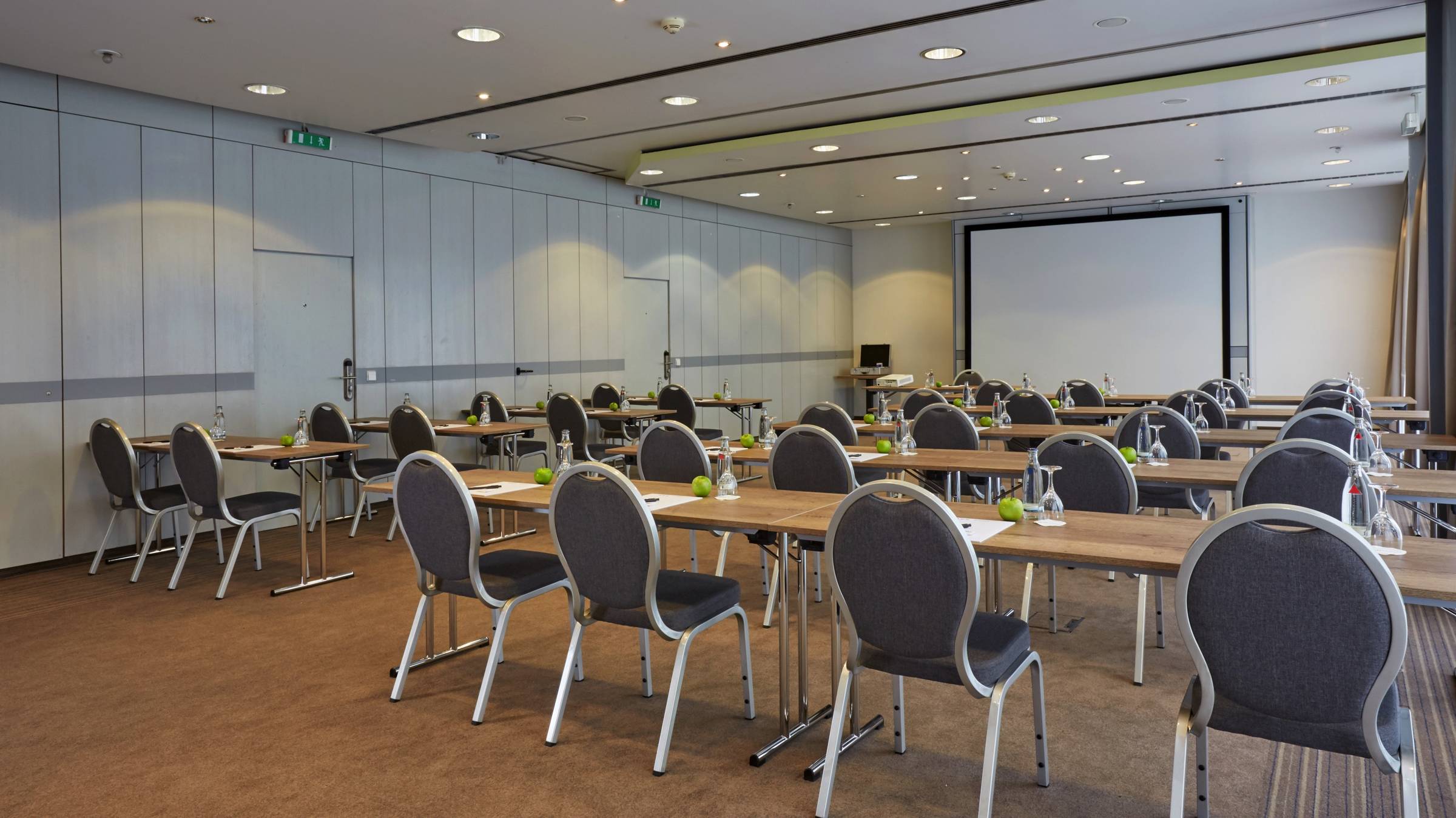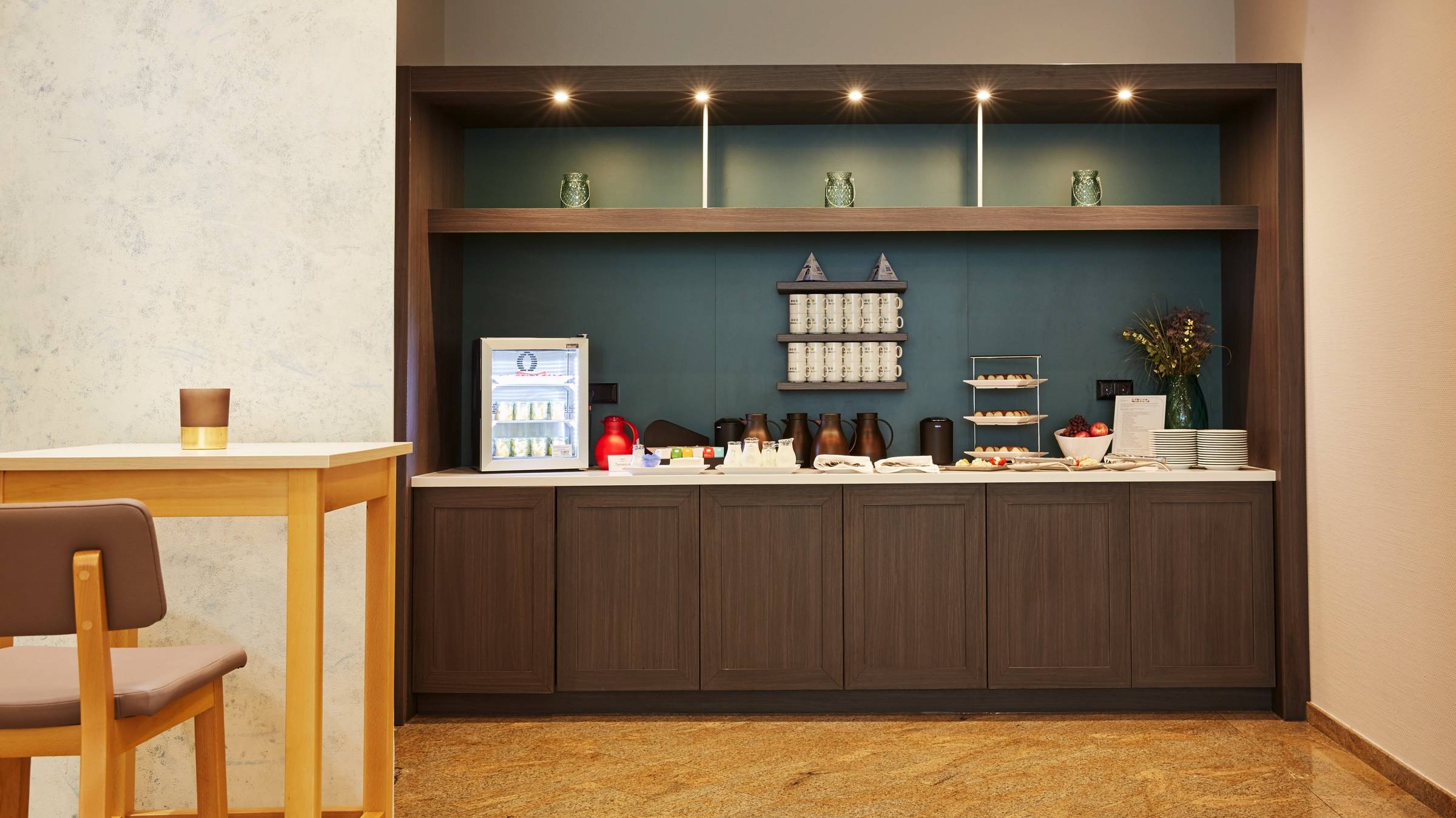 All 8 event rooms enjoy natural daylight, although they can also be darkened if required. Professional meeting accessories such as flip charts, projectors and screens are provided. Seating is adapted to your requirements; in addition to simple row seating, you can also request seating around circular or rectangular tables.
Meeting request in the hotel
---
Meeting room plan from H+ Hotel Stuttgart Herrenberg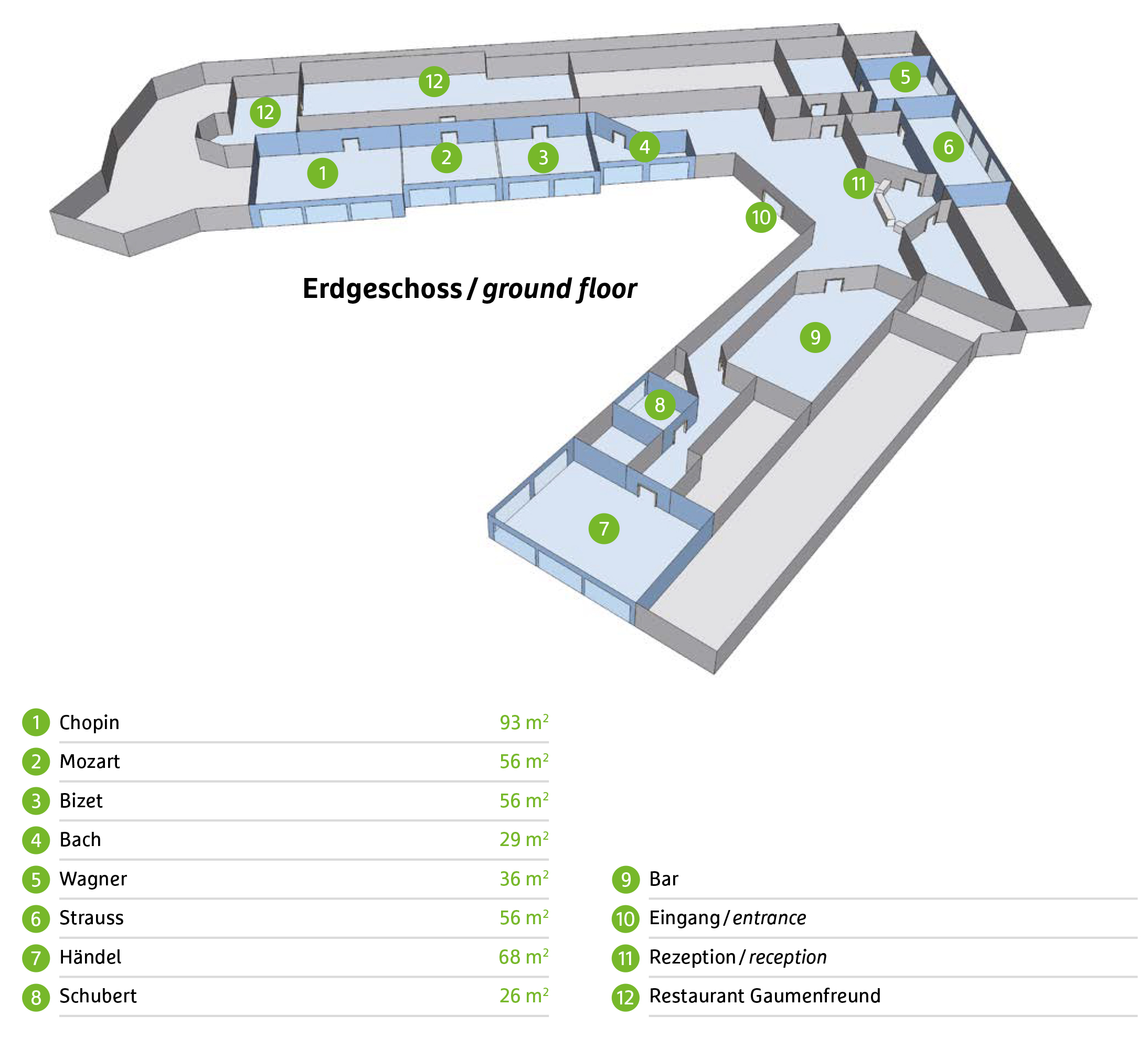 ---
Details of the meeting rooms
| | | | | | | |
| --- | --- | --- | --- | --- | --- | --- |
| BL = Block | U = U-shape | P = Parliament | C = Cinema | Ba = Banquet | DL = Daylight | DD = Darkening devices |
| | | | | | | | | | | | | |
| --- | --- | --- | --- | --- | --- | --- | --- | --- | --- | --- | --- | --- |
| Rooms | Length | Width | Area | Height | BL | U | P | C | Ba | DL | DD | Floor |
| Schubert | 7,10 m | 3,60 m | 26,00 m² | 3,00 m | 9 | - | - | - | - | yes | yes | 0 |
| Wagner | 6,00 m | 5,90 m | 36,00 m² | 3,00 m | - | 10 | 12 | 20 | 12 | yes | yes | 0 |
| Strauss | 12,00 m | 4,70 m | 56,00 m² | 3,00 m | - | 15 | 25 | 40 | 22 | yes | yes | 0 |
| Mozart | 7,40 m | 7,50 m | 56,00 m² | 3,00 m | - | 13 | 13 | 30 | 14 | yes | yes | 0 |
| Bizet | 7,40 m | 7,50 m | 56,00 m² | 3,00 m | - | 13 | 13 | 30 | 14 | yes | yes | 0 |
| Händel | 9,50 m | 7,20 m | 68,00 m² | 3,00 m | - | 20 | 30 | 50 | 30 | yes | yes | 0 |
| Chopin | 10,90 m | 8,50 m | 93,00 m² | 3,00 m | - | 25 | 40 | 80 | 40 | yes | yes | 0 |
| | | | | | | | | | | | | |
| --- | --- | --- | --- | --- | --- | --- | --- | --- | --- | --- | --- | --- |
| Combinations | Length | Width | Area | Height | BL | U | P | C | Ba | DL | DD | Floor |
| Puccini (Mozart + Bizet) | 14,70 m | 7,50 m | 110,00 m² | 3,00 m | - | 25 | 50 | 90 | 48 | yes | yes | 0 |
| Verdi (Mozart + Chopin) | 17,30 m | - | 148,00 m² | 3,00 m | - | 35 | 70 | 130 | 60 | yes | yes | 0 |
| Beethoven (Bizet + Mozart + Chopin) | 25,60 m | - | 204,00 m² | 3,00 m | - | 60 | 100 | 180 | 120 | yes | yes | 0 |