6 rooms for various events
As a high-standard business hotel Hyperion Hotel München has a generous events area to offer covering 700 square metres. The 7 conference rooms on the first floor provide space for up to 290 participants, depending on preferred seating and layout, and cover a total area of about 440 square metres. It goes without saying that that the facility is fitted with state-of-the-art conference equipment and has catering options which can be tailored for your event, ranging from light refreshments to a fully-fledged menu.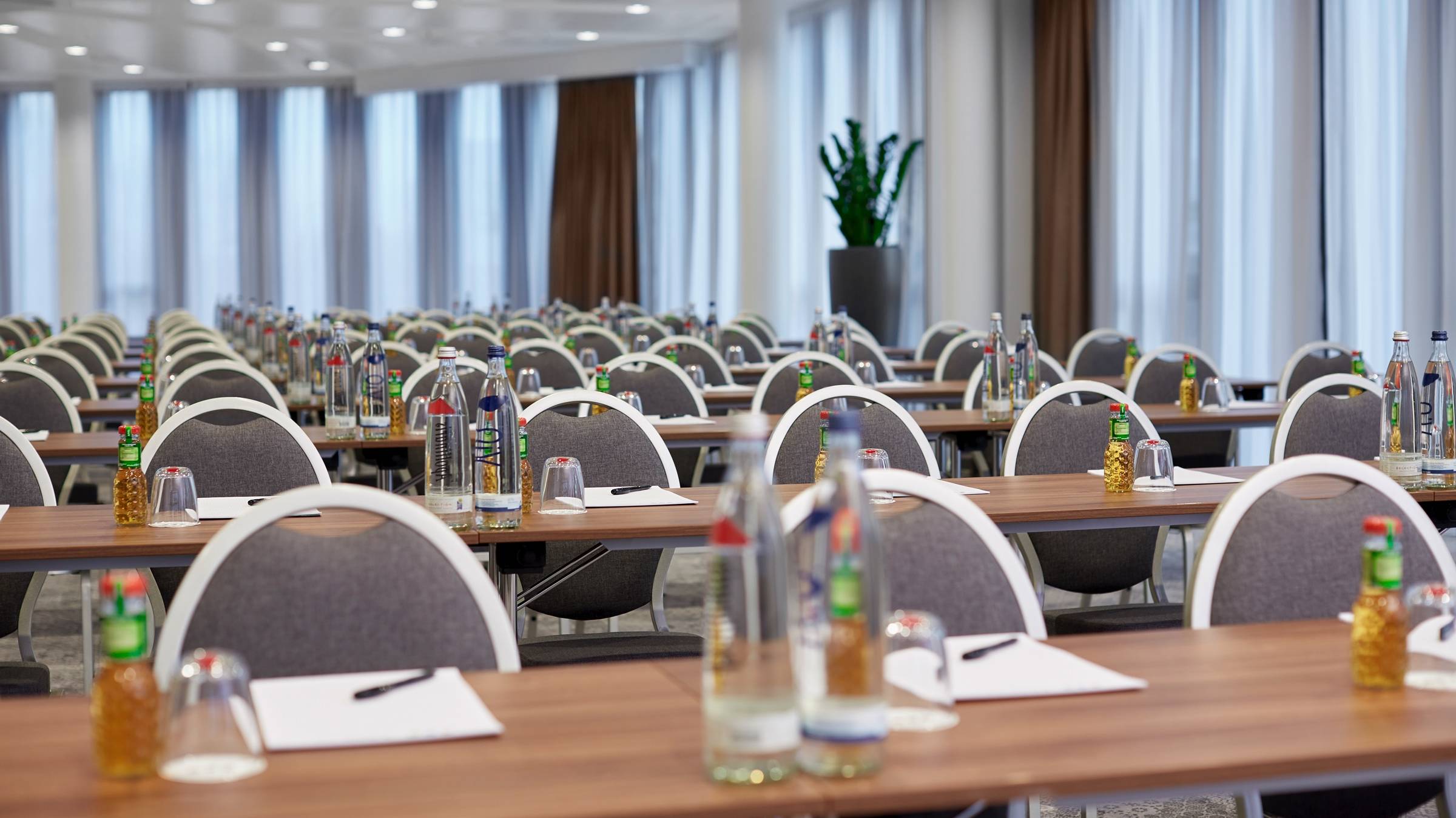 ---

Conferences, meetings and events with H-Hotels
✓ 10 to 1,500 people: tailor-made for you
✓ Planning & Implementation: all-round carefree from A to Z
✓ Top price-performance: low-priced offers with the highest quality
---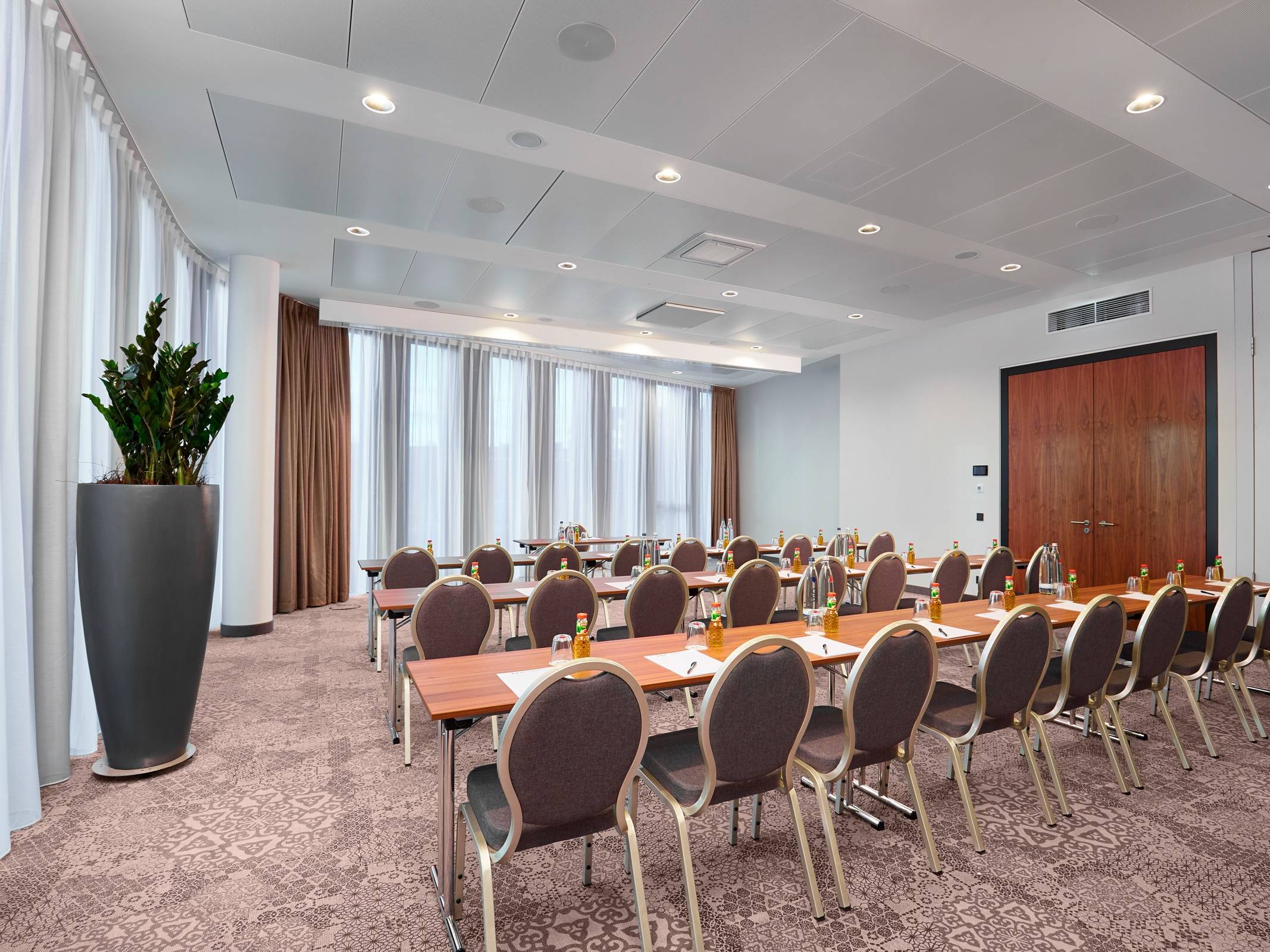 You will be able to consult the expert Hyperion Hotel München team about everything to discuss your wishes, ideas and the program for the event: This way your event will be a success!
At the same time you can reserve a room in the Hyperion Hotel Munich, to allow them to have a stress-free time during the conference.
It is particularly important to us that your colleagues and clients feel happy with us. For this reason, things like good transport connections to our business hotel as well as quick routes between our function rooms are crucial for us. In addition to the good accessibility by public transport, the Hyperion Hotel München provides more than 130 parking spaces.
Meeting request in the hotel
---
Meeting room plan of Hyperion Hotel München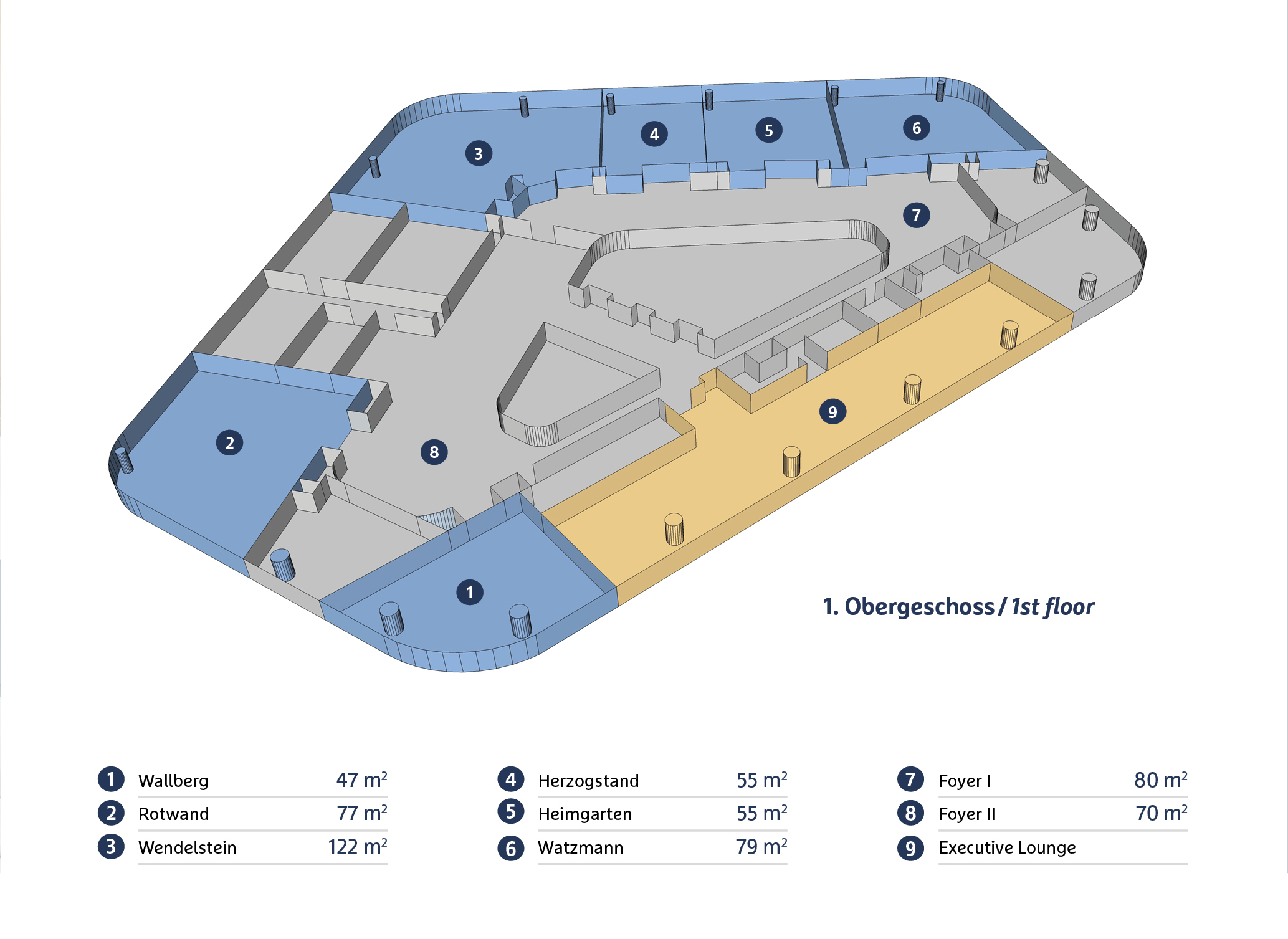 ---
Details of the meeting rooms
| | | | | | | |
| --- | --- | --- | --- | --- | --- | --- |
| BL = Block | U = U-shape | P = Parliament | S = Cinema | Ba = Banquet | TL = Daylight | VD = Darkening devices |
| | | | | | | | | | | | | |
| --- | --- | --- | --- | --- | --- | --- | --- | --- | --- | --- | --- | --- |
| Rooms | Length | Width | Area | Height | BL | U | P | S | Ba | DL | DD | Floor |
| Wallberg | 8,50 m | 6,20 m | 47,00 m² | 3,40 m | 16 | 10 | 15 | 30 | 16 | ja | ja | 1 |
| Rotwand | 7,90 m | 9,70 m | 77,00 m² | 3,40 m | 26 | 26 | 36 | 48 | 32 | ja | ja | 1 |
| Wendelstein | 8,00 m | 9,20 m | 122,00 m² | 3,40 m | 30 | 40 | 64 | 98 | 64 | ja | ja | 1 |
| Herzogstand | 8,00 m | 6,60 m | 55,00 m² | 3,40 m | 18 | 16 | 18 | 36 | 24 | ja | ja | 1 |
| Heimgarten | 8,00 m | 6,60 m | 55,00 m² | 3,40 m | 18 | 16 | 18 | 36 | 24 | ja | ja | 1 |
| Watzmann | 8,00 m | 10,50 m | 79,00 m² | 3,40 m | 30 | 20 | 24 | 48 | 32 | ja | ja | 1 |
| Foyer I | 20,00 m | 4,00 m | 80,00 m² | 3,40 m | 16 | - | - | - | - | - | - | 1 |
| Foyer II | 17,50 m | 4,00 m | 70,00 m² | 3,40 m | - | - | - | - | - | - | - | 1 |
| | | | | | | | | | | | | |
| --- | --- | --- | --- | --- | --- | --- | --- | --- | --- | --- | --- | --- |
| Combinations | Length | Width | Area | Height | BL | U | P | S | Ba | DL | DD | Floor |
| Wendelstein + Herzogstand | 8,00 m | 15,80 m | 177,00 m² | 3,40 m | 46 | 56 | 104 | 146 | 96 | ja | ja | 1 |
| Wendelstein + Heimgarten | 8,00 m | 9,50 m | 232,00 m² | 3,40 m | 62 | 68 | 154 | 200 | 128 | ja | ja | 1 |
| Wendelstein + Watzmann | 8,00 m | 9,50 m | 310,00 m² | 3,40 m | 84 | 80 | 220 | 280 | 168 | ja | ja | 1 |