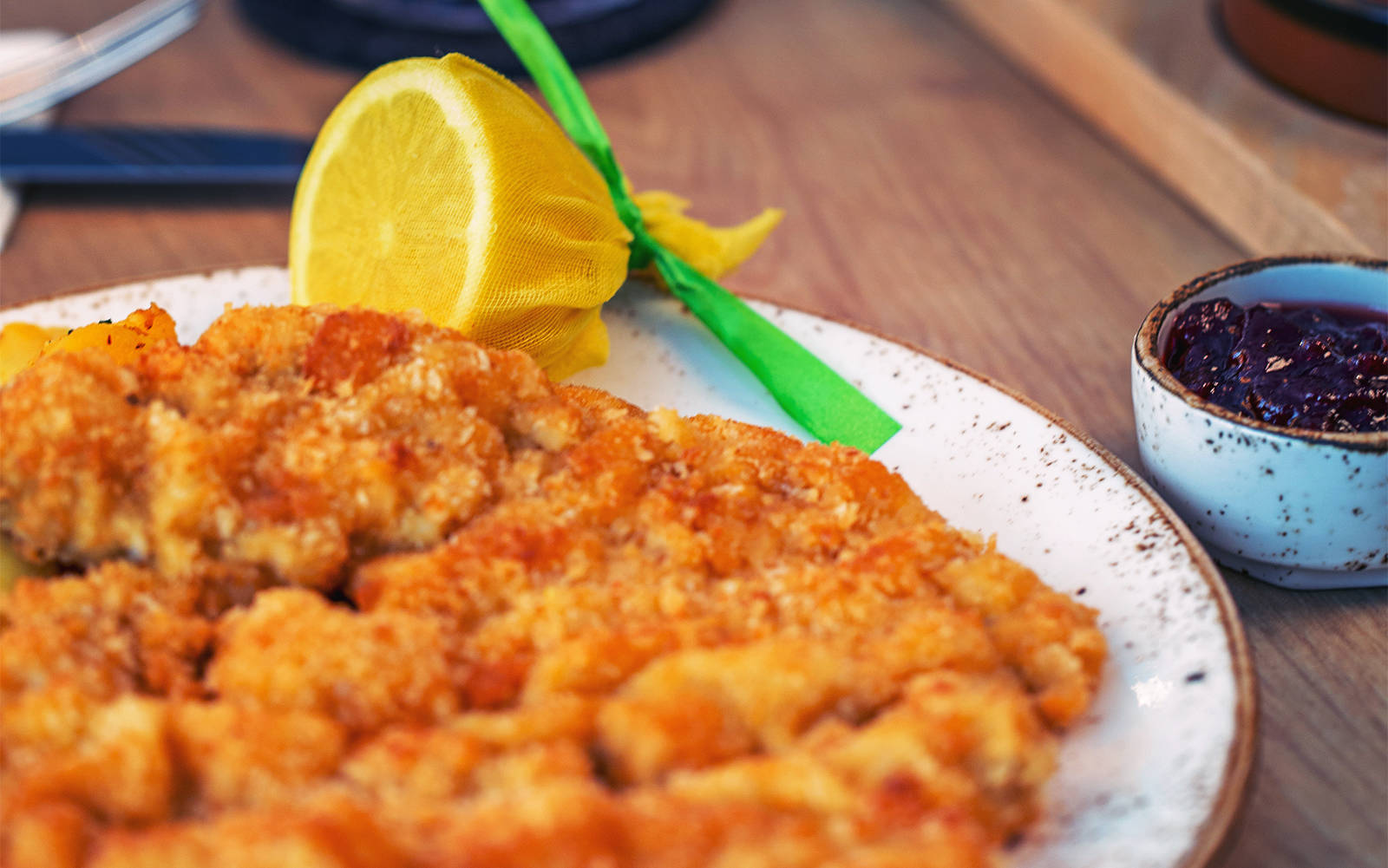 The Wiener schnitzel and Milanese-style cutlet are both made in the classic manner using veal. The veal comes from calves, which means by law in Germany from young cows that are no more than eight months old. The flesh is paler and more tender than from mature cows. The colour of the meat depends in part on diet and the way the cattle are reared: for stable-reared animals the colour is pale, for those given access to pasture grazing and herbage, the meat acquires a red shade.
To make a veal schnitzel, a roughly four millimetre thick slice of meat is carefully bashed, butterflied, lightly salted and optionally coated in breadcrumbs. The best cuts of meat for schnitzel are topside or rump. Since veal is naturally low in fat, it is important to cook it carefully so it doesn't dry out.
The Wiener schnitzel is first tossed in flour, then in beaten egg and finally in breadcrumbs. However, to make sure the coating covers the meat loosely, the breadcrumbs should not be pressed on. Before starting to cook, it is important to preheat the fat — ideally lard or clarified butter — to 160–170 °C, otherwise the breadcrumb coating will soak up too much fat. The schnitzels should be moved around in the hot fat and turned over when the bottom is golden. For Milanese-style schnitzels, the coating is made using parmesan and egg. The veal schnitzel is tossed in flour before being dipped in the egg and cheese mixture. This coating of egg and strong cheese gives the schnitzel a hearty Mediterranean flavour.
The Landuro pig from Thuringia is a cross between the French Duroc and German Edelschwein breeds. These animals have a distinctive genetic trait that allows them to store intramuscular fat. The result is a unique quality of meat. As with all breeds of pig, meat from the Landuro pig contains white streaks of fat. This marbling makes it exceptionally succulent.
The tender meat for schnitzel usually comes from the shoulder or leg. After the bone is removed from the meat, it is sliced into roughly eight millimetre thick pieces. By bashing the meat with a tenderizer or using a spiked roller, the muscle fibres are broken down, which makes the meat even more tender. A good schnitzel steak should be pink with a slightly matte surface and a fine marbling of fat.
Landuro pigs are given an exclusively vegetarian diet and their food contains a high proportion of grain. The animals come from certified farmers and are reared on domestic farms. This means you can be sure they have not been transported over long distances. There is also an emphasis on animal welfare at the abattoir and on the very latest processing methods and high standards of hygiene.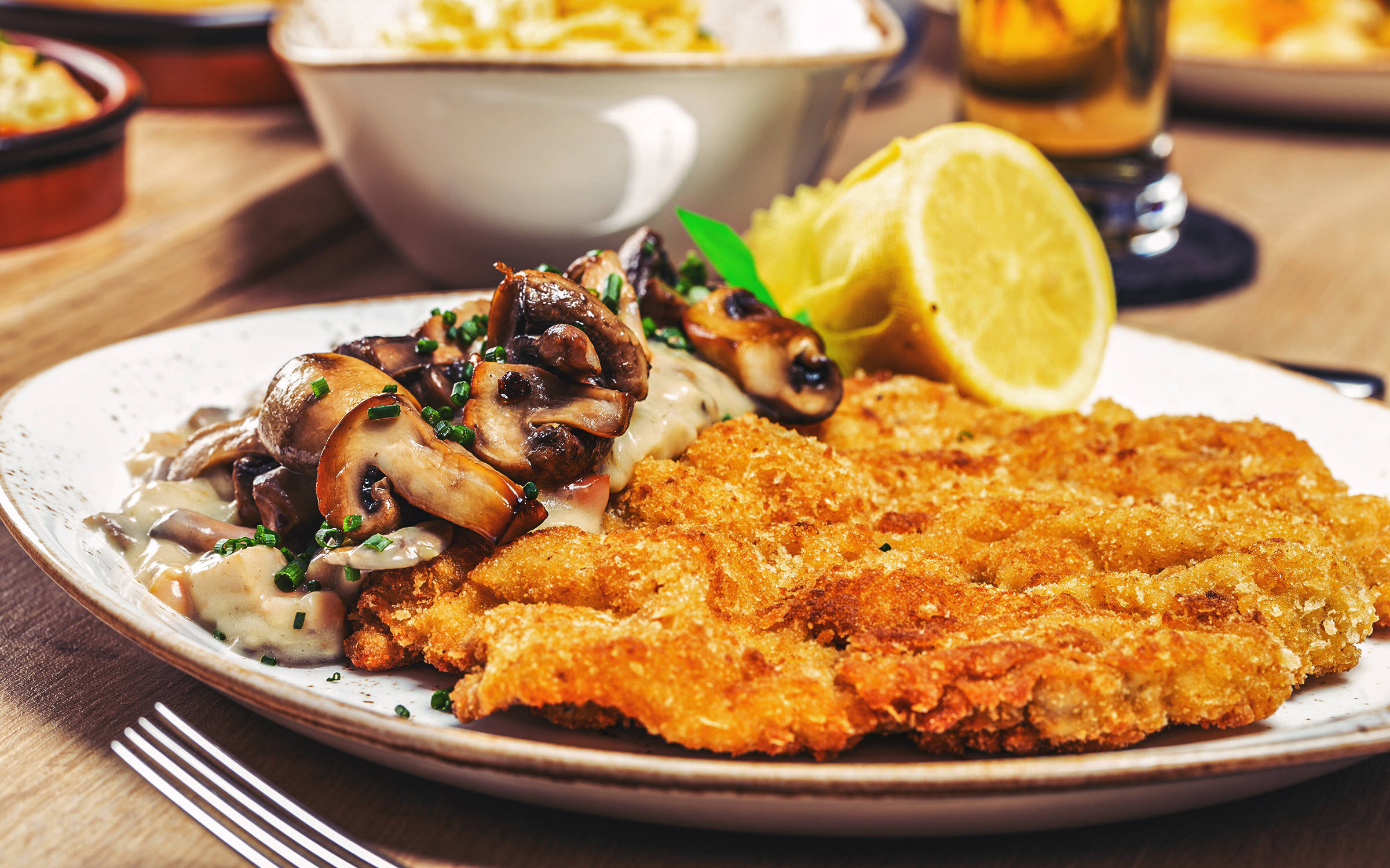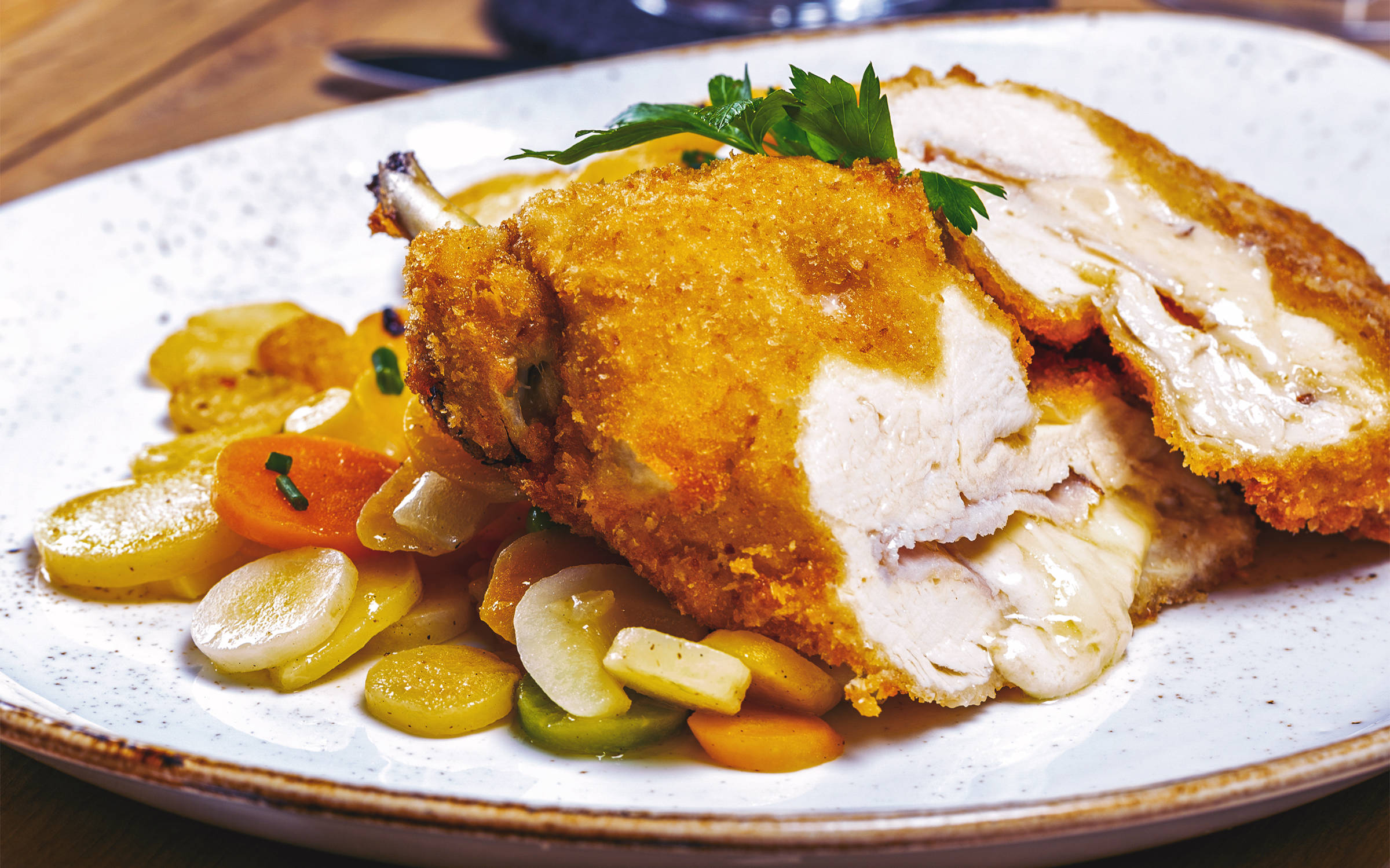 Kikok is an invented name derived from the German word for cock-a-doodle-doo "Kikeriki" and the French word for cock "Coq". Since 1994, brothers Heiner and Werner Borgmeier have been dedicated to the idea that there must be an alternative to mass production of chicken with its emphasis on ever faster growth. After all, quality takes time. Slower growth improves the quality of the meat in terms of taste, aroma and texture. For example, when fried the meat is significantly juicier.
That's why Kikok chicken comes from a slower growing breed that is reared in accordance with strict Kikok criteria. These include more space than in conventional poultry breeding and opportunities for the chickens to move around and occupy themselves, for example with alfalfa bales, stones to peck, tubes of pellets and perches.
Another special feature is the feed. Kikok chickens are fed an exclusively vegetarian diet. The proportion of corn in the feed is usually at least 50 percent. This allows Kikok chicken to be retailed as "corn-fed chicken". Furthermore, the soy meal and corn used are sourced from non-genetically modified crops. All Kikok feed is certified by VLOG (the German Association of non-GM Food). No antibiotics at all are used. Chickens that are unwell and require treatment with antibiotics prescribed by a vet are removed from the Kikok scheme.
Particular attention is paid to ensuring short transportation distances. The targeted selection of regional Kikok breeders guarantees a reliable source and an average transport time of roughly 1 hour. Kikok — chicken that tastes like it used to.
---