Adjustable rooms and halls for any occasion
Facilities at the H4 Hotel Kassel include a restaurant and bar, as well as 9 pillarless, air-conditioned meeting rooms. Some of these rooms also offer vehicle access, enabling more complex event set-ups. All meeting rooms have natural daylight and can be darkened automatically. Included in the standard price is modern conference technology including projectors. With a range of spaces from 48 to 230 square metres, we can host events for up to 200 people. By combining some of the spaces, we can offer a maximum area of 340 square metres with capacity for up to 290 people.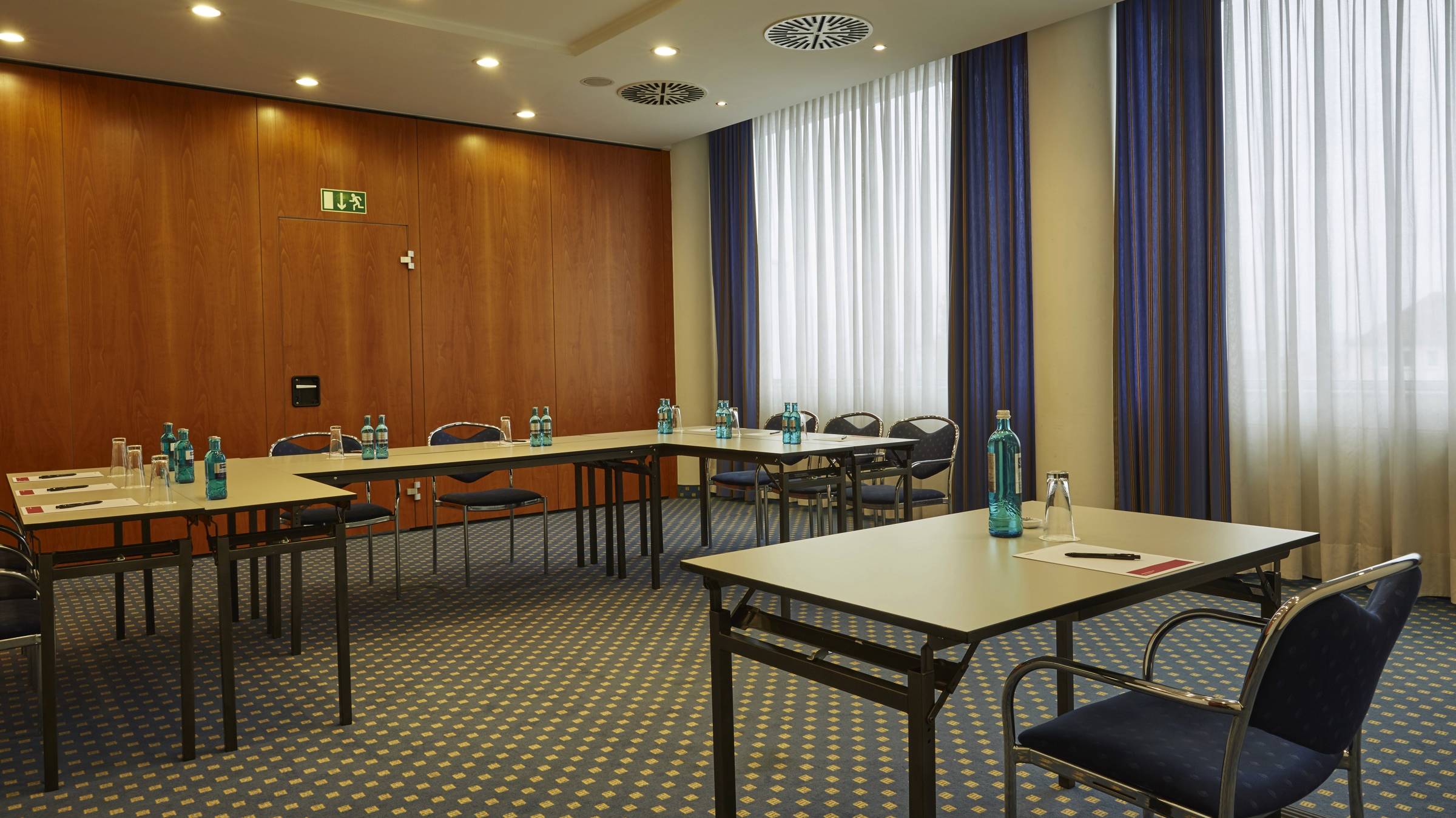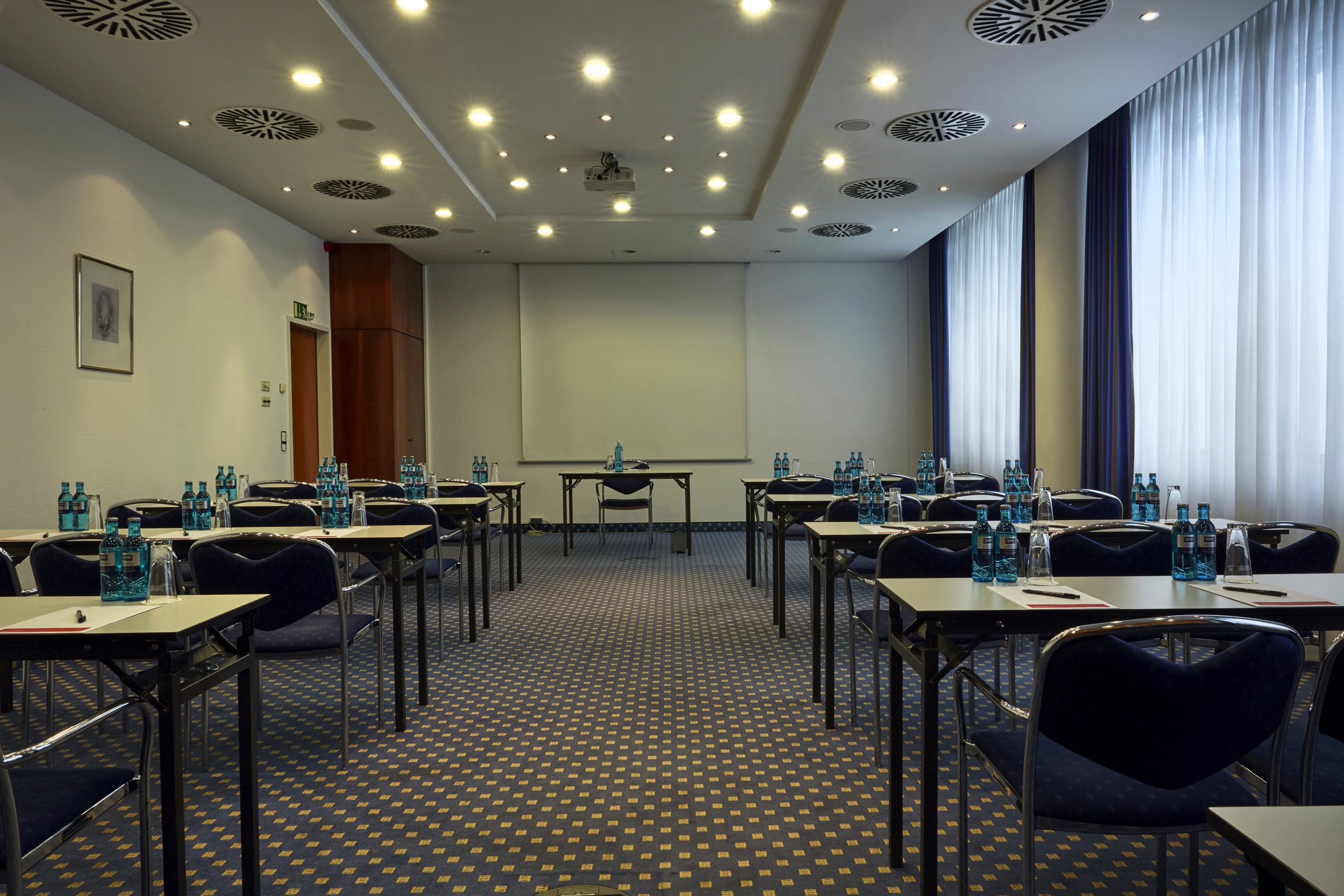 Directly connected to the H4 Hotel Kassel is the Kongress Palais Kassel. This offers a further 11 rooms, including two halls covering more than 700 square metres. These spaces can be combined in a variety of ways, allowing for flexible venue design. The largest possible space available is a ballroom measuring 911 square metres which can accommodate up to 1,400 people in row seating. Other seating arrangements are also possible, such as banquet tables, parliament-style seating or conference tables in block or U-shape.
The concert garden, an outdoor exhibition area covering 4,700 square metres, can also be used for events.
Meeting request in the hotel
---
Meeting room plan from H4 Hotel Kassel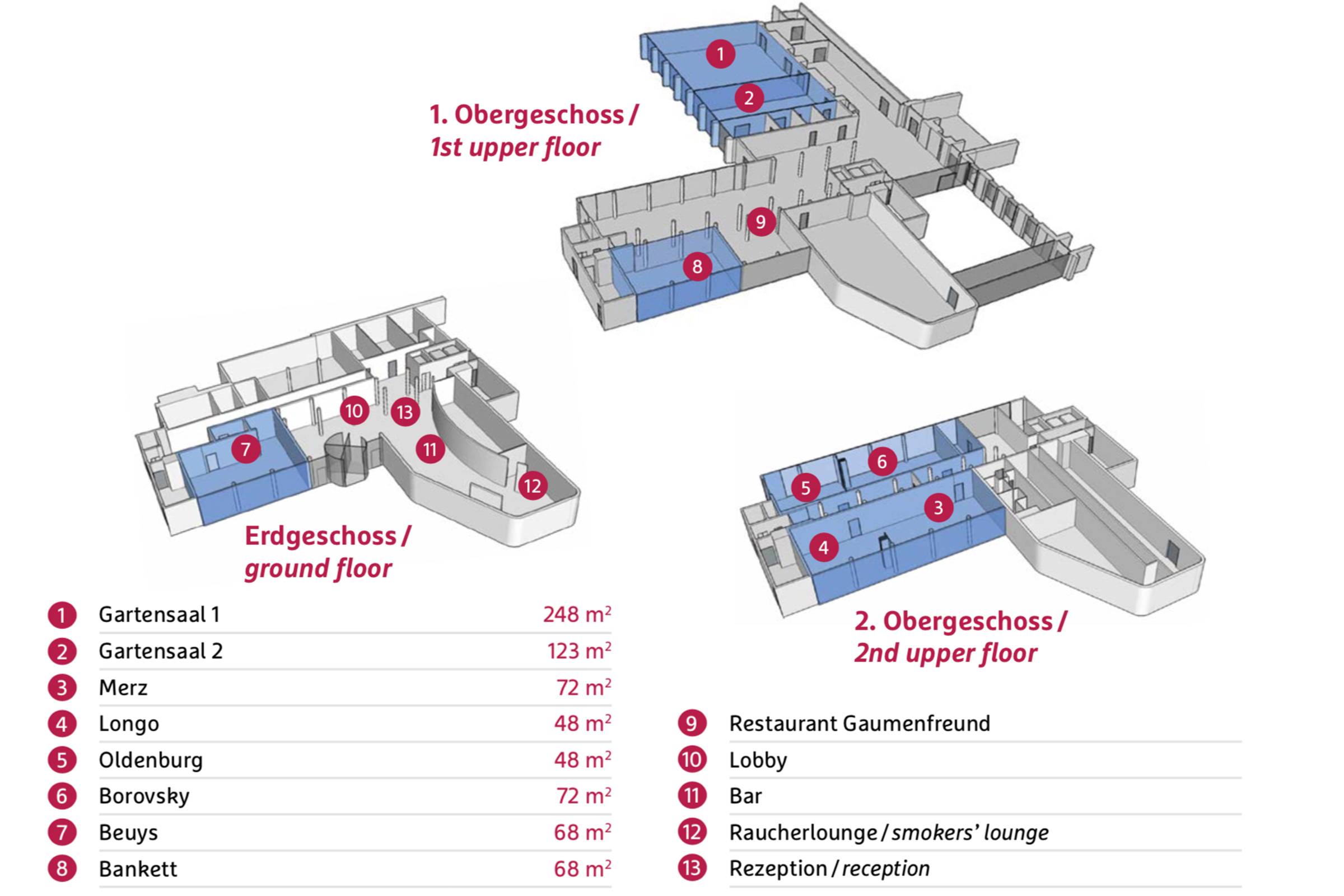 ---
Details of the meeting rooms
| | | | | | | |
| --- | --- | --- | --- | --- | --- | --- |
| BL = Block | U = U-shape | P = Parliament | C = Cinema | Ba = Banquet | DL = Daylight | DD = Darkening devices |
| | | | | | | | | | | | | |
| --- | --- | --- | --- | --- | --- | --- | --- | --- | --- | --- | --- | --- |
| Rooms | Length | Width | Area | Height | BL | U | P | C | Ba | DL | DD | Floor |
| Gartensaal 1 | 16,30 m | 15,30 m | 248,00 m² | 4,60 m | 60 | 44 | 120 | 180 | 102 | yes | yes | 1 |
| Gartensaal 2 | 16,30 m | 7,60 m | 123,00 m² | 4,60 m | 36 | 32 | 56 | 90 | 60 | yes | yes | 1 |
| Merz | 11,00 m | 6,50 m | 72,00 m² | 3,00 m | 27 | 24 | 30 | 50 | 34 | yes | yes | 2 |
| Longo | 7,30 m | 6,50 m | 48,00 m² | 3,00 m | 18 | 15 | 15 | 20 | 16 | yes | yes | 2 |
| Oldenburg | 7,30 m | 6,50 m | 48,00 m² | 3,00 m | 16 | 14 | 16 | 20 | 14 | yes | yes | 2 |
| Borovsky | 11,00 m | 6,50 m | 72,00 m² | 3,00 m | 28 | 24 | 30 | 50 | 44 | yes | yes | 2 |
| Beuys | 10,50 m | 7,00 m | 68,00 m² | 3,00 m | 30 | 24 | 30 | 45 | 34 | yes | yes | 0 |
| Bankett | 10,50 m | 7,00 m | 68,00 m² | 3,00 m | 20 | 15 | 24 | 60 | 48 | yes | yes | 1 |
| | | | | | | | | | | | | |
| --- | --- | --- | --- | --- | --- | --- | --- | --- | --- | --- | --- | --- |
| Combinations | Length | Width | Area | Height | BL | U | P | C | Ba | DL | DD | Floor |
| Gartensaal 1 + 2 | 22,90 m | 16,30 m | 371 m² | 4,60 m | - | - | 180 | 290 | 240 | yes | yes | 1 |
| Borovsky + Oldenburg | 18,30 m | 6,50 m | 120,00 m² | 3,00 m | 36 | 30 | 56 | 100 | 58 | yes | yes | 2 |
| Merz - Longo | 18,30 m | 6,50 m | 120,00 m² | 3,00 m | 36 | 33 | 51 | 100 | 50 | yes | yes | 2 |