Combinable rooms of various sizes
If you are planning an event in the H+ Hotel & SPA Friedrichroda, you have the choice of 7 meeting rooms, some of which can be combined to create a larger space. The individual rooms offer between 42 and 135 square metres; combined, the largest possible surface area covers 525 square metres and can accommodate events of up to 380 people (depending on the tye of seating).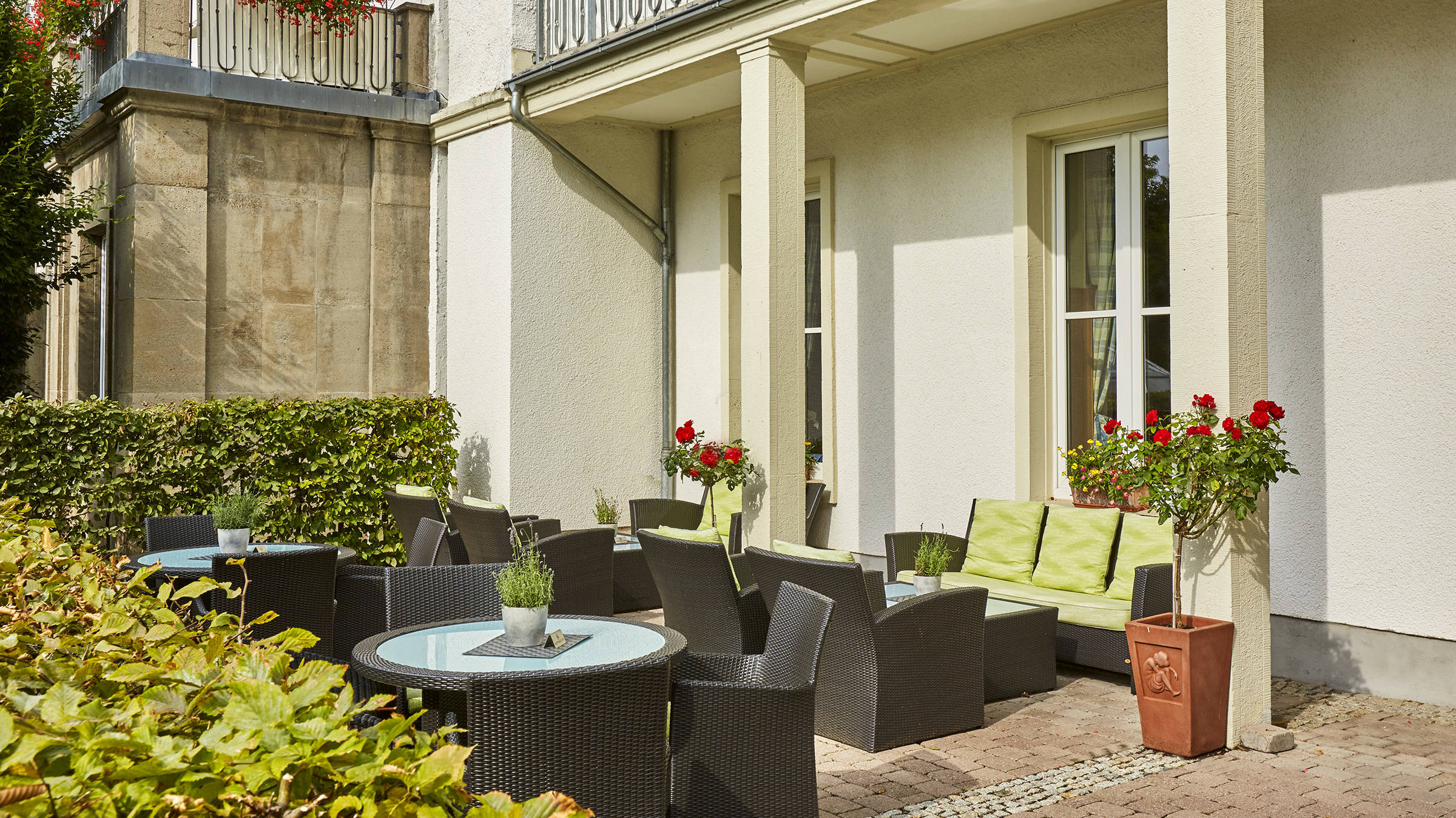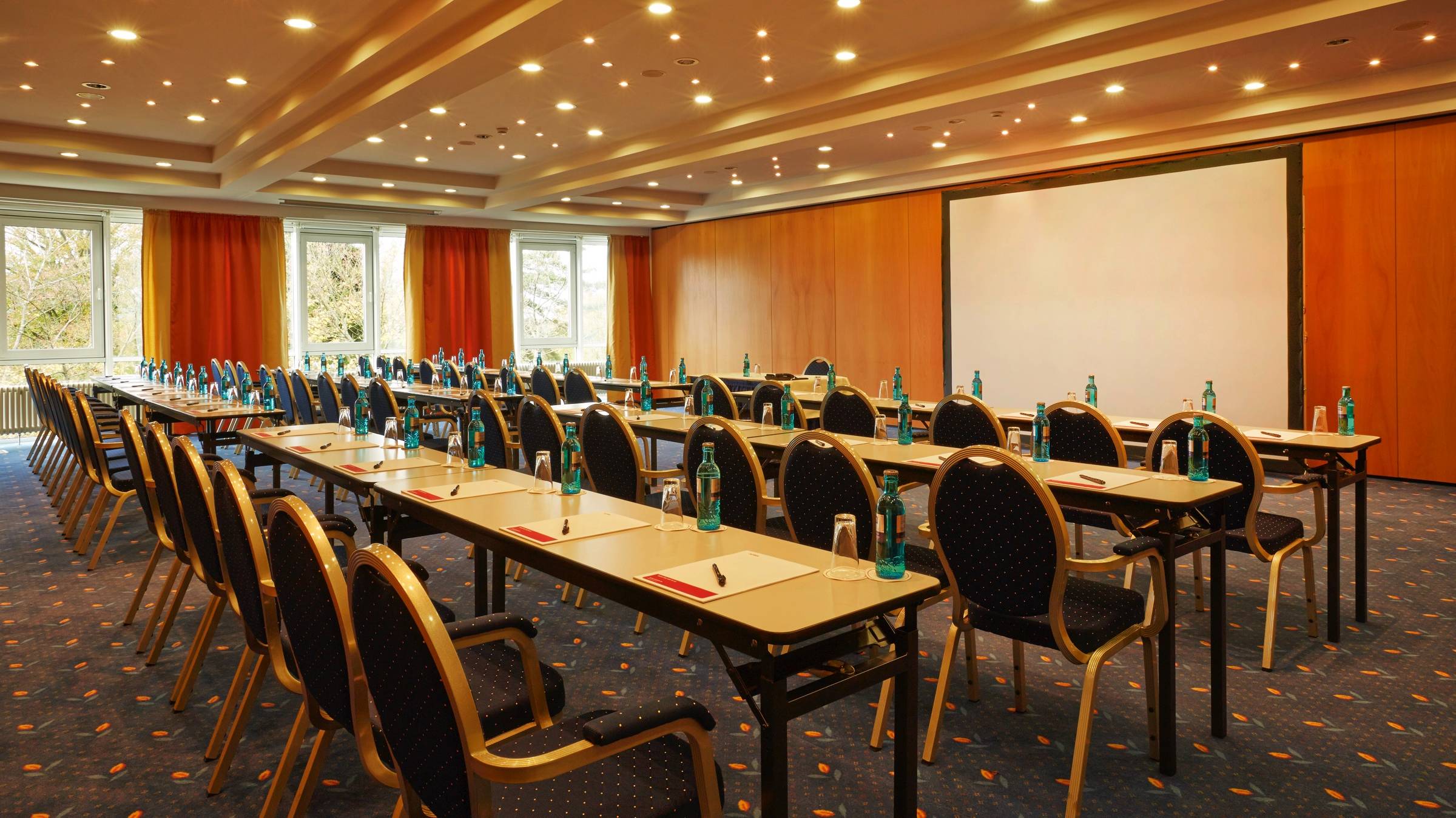 All rooms enjoy natural daylight, and can be darkened for presentations or film screenings. Conference technology and equipment includes projectors, TV monitors, DVD players, flip charts and pin boards. Additional equipment and business services are available on request. Naturally, DSL and WiFi Internet access are provided.
The outdoor area at the H+ Hotel & SPA Friedrichroda can be used for team events, and the terrace can also be hired for celebrations or barbecues.
Meeting request in the hotel
---
Meeting room plan from H+ Hotel & SPA Friedrichroda
---
Details of the meeting rooms
| | | | | | | |
| --- | --- | --- | --- | --- | --- | --- |
| BL = Block | U = U-shape | P = Parliament | C = Cinema | Ba = Banquet | DL = Daylight | DD = Darkening devices |
| | | | | | | | | | | | | |
| --- | --- | --- | --- | --- | --- | --- | --- | --- | --- | --- | --- | --- |
| Rooms | Length | Width | Area | Height | BL | U | P | C | Ba | DL | DD | Floor |
| Reinhardsberg | 10,00 m | 7,50 m | 75,00 m² | 3,00 m | 20 | 24 | 40 | 60 | 45 | yes | yes | 1 |
| Kiefernkopf | 13,00 m | 9,00 m | 120,00 m² | 3,00 m | 30 | 30 | 57 | 70 | 80 | yes | yes | 1 |
| Inselberg | 15,00 m | 9,00 m | 135,00 m² | 3,00 m | 33 | 33 | 84 | 80 | 90 | yes | yes | 1 |
| Gänsekuppe | 13,00 m | 9,00 m | 120,00 m² | 3,00 m | 30 | 30 | 57 | 70 | 80 | yes | yes | 1 |
| Gottlob | 10,00 m | 7,50 m | 75,00 m² | 3,00 m | 20 | 24 | 40 | 60 | 45 | yes | yes | 1 |
| Klosterberg | 7,50 m | 6,50 m | 46,00 m² | 3,00 m | 10 | - | - | - | - | yes | yes | 1 |
| Rennsteig | 8,00 m | 6,50 m | 52,00 m² | 3,00 m | 20 | 20 | 36 | 36 | 30 | yes | yes | 1 |
| | | | | | | | | | | | | |
| --- | --- | --- | --- | --- | --- | --- | --- | --- | --- | --- | --- | --- |
| Combinations | Length | Width | Area | Height | BL | U | P | C | Ba | DL | DD | Floor |
| Inselsberg + Gänsekuppe | 28,00 m | 9,00 m | 255,00 m² | 3,00 m | 63 | 63 | 141 | 180 | 180 | yes | yes | 1 |
| Inselsberg + Kiefernkopf | 28,00 m | 9,00 m | 255,00 m² | 3,00 m | 63 | 63 | 141 | 180 | 180 | yes | yes | 1 |
| Kiefernkopf - Gänsekuppe | 41,00 m | 9,00 m | 375,00 m² | 3,00 m | 83 | 83 | 181 | 220 | 180 | yes | yes | 1 |