Conference rooms for up to 350 people
The H+ Hotel Hannover has 13 conference rooms for events, seminars or meetings. The conference rooms range from 28 to 200 square metres in size. By combining the rooms, we can create a large hall covering 400 square metres, which is suitable for events for up to 350 participants. In addition, the foyer can be used for events such as exhibitions.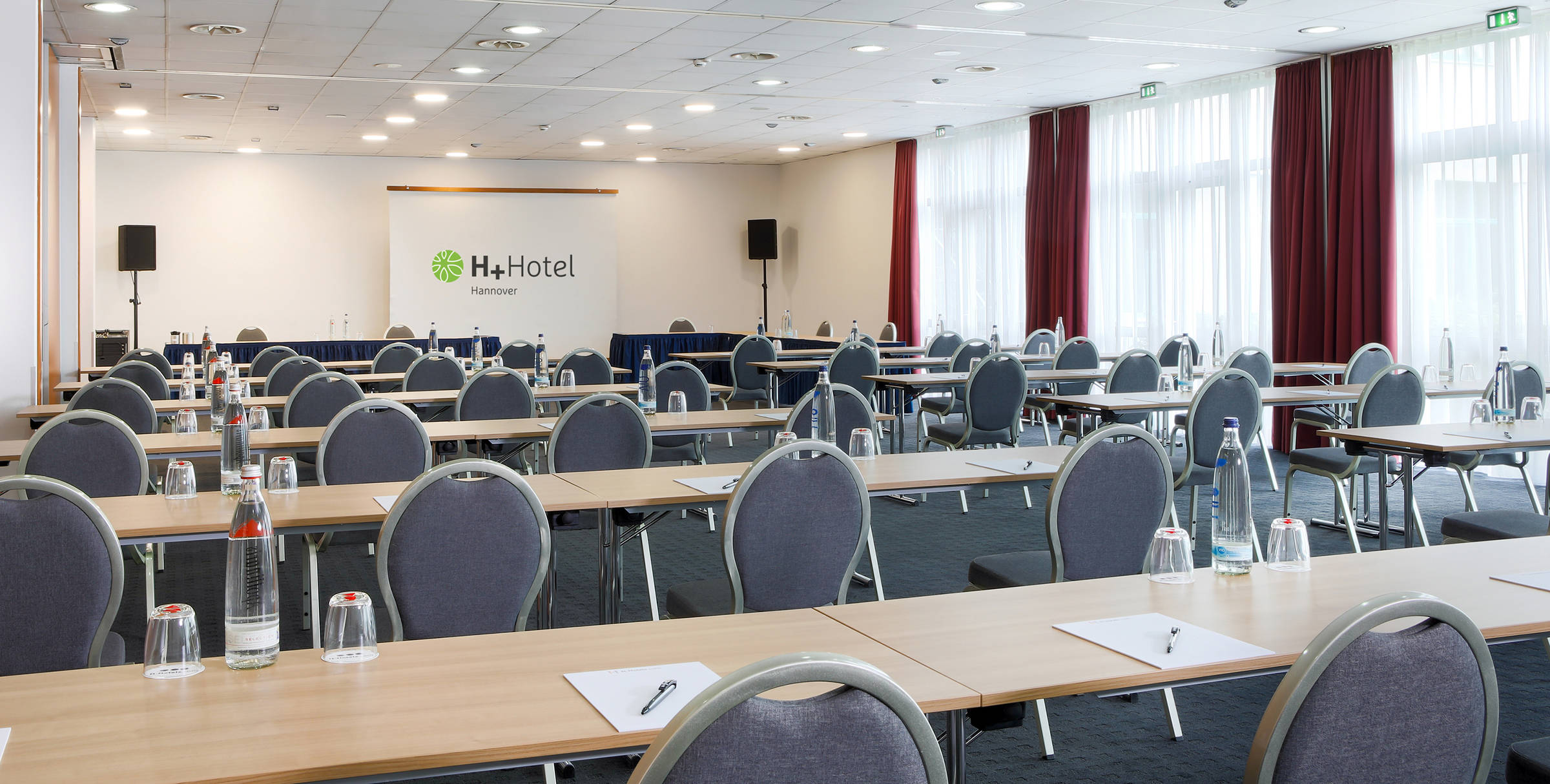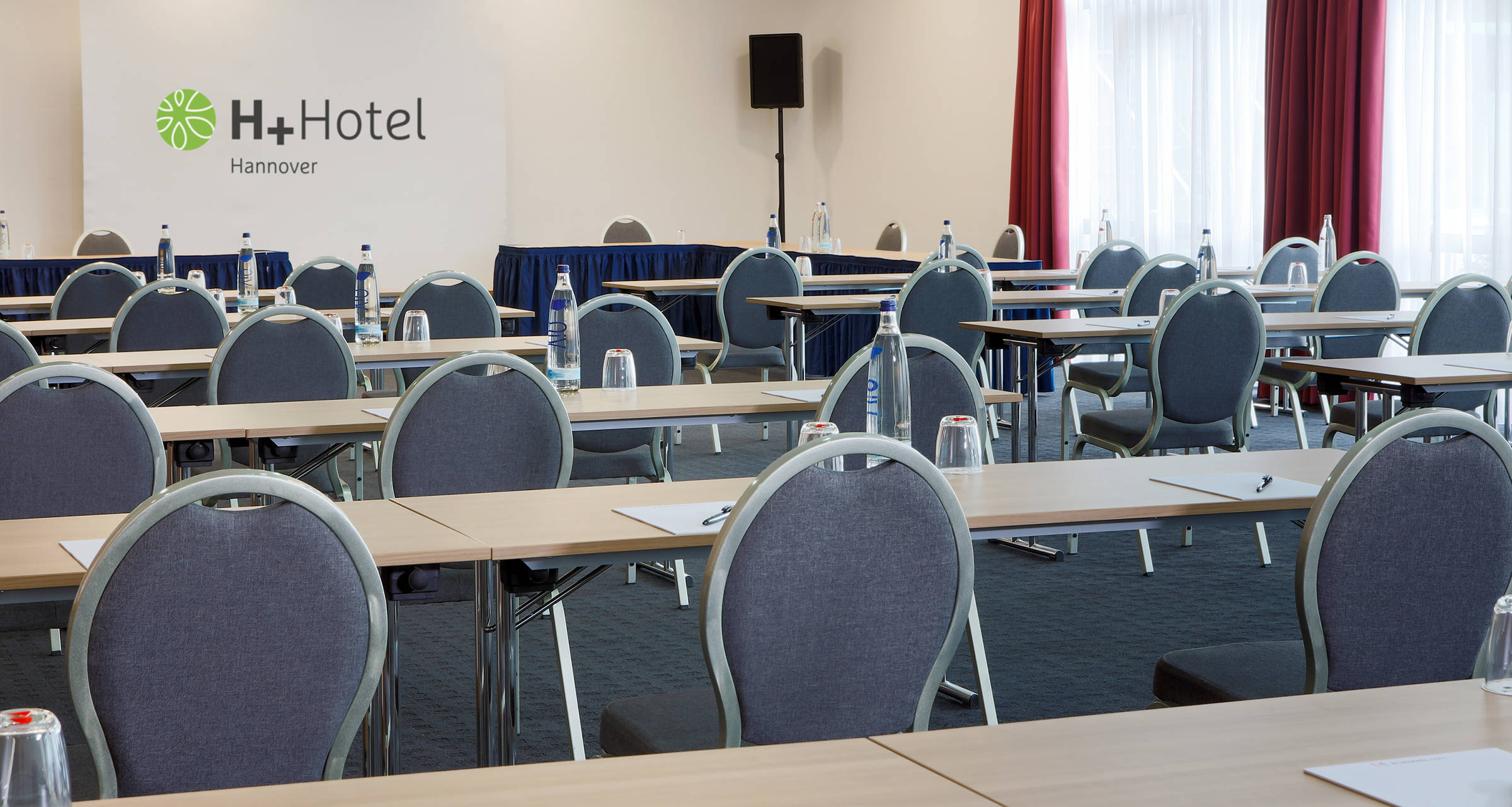 All rooms are situated on the ground floor, which means they are near our Business Centre, restaurant, foyer, entrance area and the hotel bar. The events rooms in the H+ Hotel Hannover all have natural light, but can also be darkened for presentations or film screenings. Some rooms can be approached by car, which makes more elaborate room layouts easier to set up, and makes delivery of equipment easier.
Technical equipment includes modern conference technology such as DSL and wifi. On request, we can also provide a 100 Mbit line with its own network.
Meeting request in the hotel
---
Meeting room plan from H+ Hotel Hannover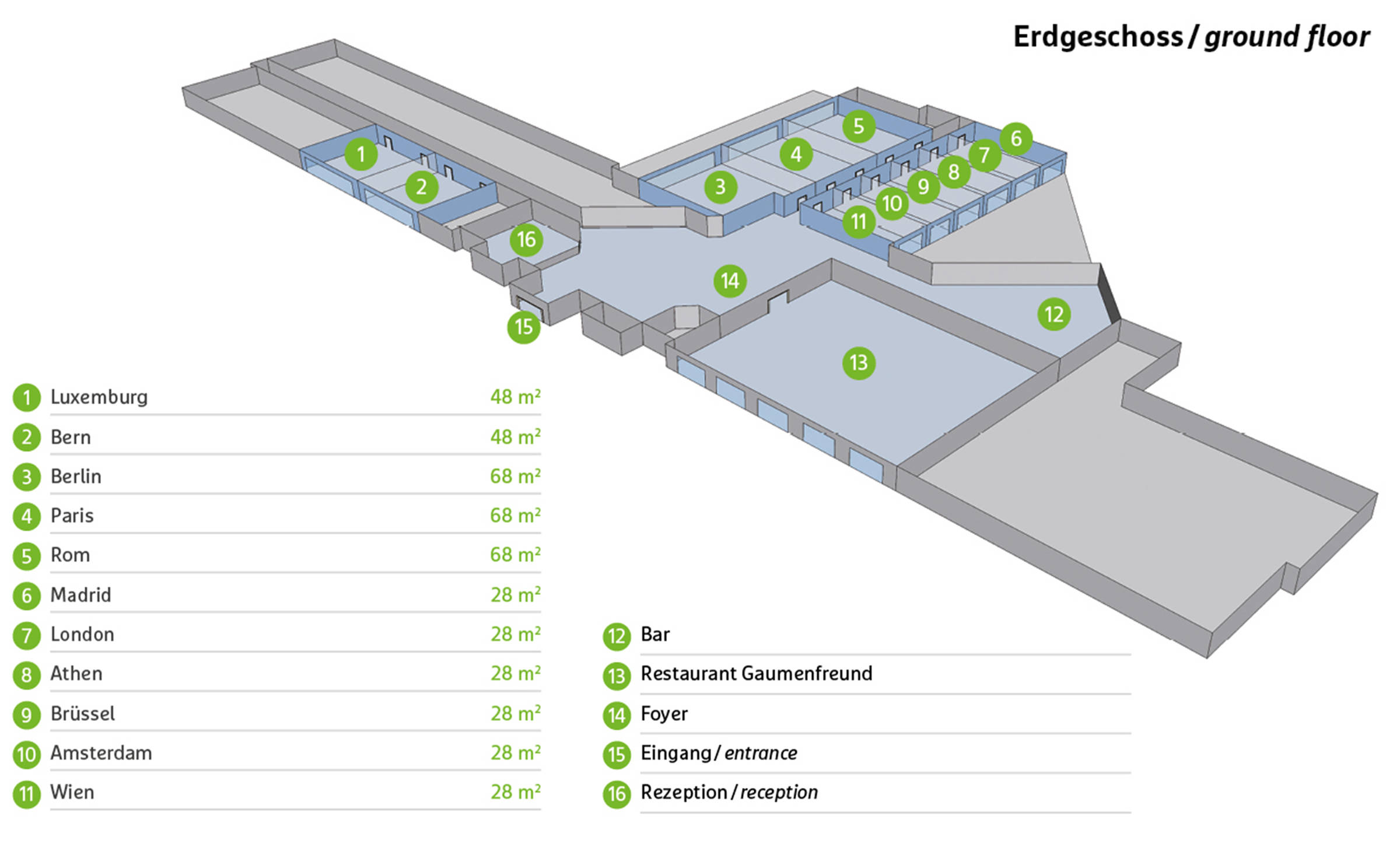 ---
Details of the meeting rooms
| | | | | | | |
| --- | --- | --- | --- | --- | --- | --- |
| BL = Block | U = U-shape | P = Parliament | C = Cinema | Ba = Banquet | DL = Daylight | DD = Darkening devices |
| | | | | | | | | | | | | |
| --- | --- | --- | --- | --- | --- | --- | --- | --- | --- | --- | --- | --- |
| Rooms | Length | Width | Area | Height | BL | U | P | C | Ba | DL | DD | Floor |
| Wien | 3,60 m | 7,80 m | 27,90 m² | 3,00 m | 10 | - | 8 | 15 | 10 | yes | yes | 0 |
| Amsterdam | 3,60 m | 7,80 m | 27,90 m² | 3,00 m | 10 | - | 8 | 15 | 10 | yes | yes | 0 |
| Brüssel | 3,60 m | 7,80 m | 27,90 m² | 3,00 m | 10 | - | 8 | 15 | 10 | yes | yes | 0 |
| Athen | 3,60 m | 7,80 m | 27,90 m² | 3,00 m | 10 | - | 8 | 15 | 10 | yes | yes | 0 |
| London | 3,60 m | 7,80 m | 27,90 m² | 3,00 m | 10 | - | 8 | 15 | 10 | yes | yes | 0 |
| Madrid | 3,60 m | 7,80 m | 27,90 m² | 3,00 m | 10 | - | 8 | 15 | 10 | yes | yes | 0 |
| Berlin | 7,30 m | 9,10 m | 66,40 m² | 3,00 m | 22 | 18 | 32 | 60 | 40 | yes | yes | 0 |
| Paris | 7,30 m | 9,80 m | 71,50 m² | 3,00 m | 26 | 21 | 34 | 70 | 40 | yes | yes | 0 |
| Rom | 7,30 m | 9,80 m | 71,50 m² | 3,00 m | 26 | 21 | 34 | 70 | 40 | yes | yes | 0 |
| Bern | 7,20 m | 6,30 m | 45,40 m² | 3,00 m | 12 | 12 | 16 | 30 | 20 | yes | yes | 0 |
| Luxemburg | 7,20 m | 6,30 m | 45,40 m² | 3,00 m | 12 | 12 | 16 | 30 | 20 | yes | yes | 0 |
| | | | | | | | | | | | | |
| --- | --- | --- | --- | --- | --- | --- | --- | --- | --- | --- | --- | --- |
| Combinations | Length | Width | Area | Height | BL | U | P | C | Ba | DL | DD | Floor |
| Berlin + Paris | 14,60 m | 9,10 m | 132,90 m² | 3,00 m | 48 | 39 | 66 | 130 | 80 | yes | yes | 0 |
| Paris + Rom | 14,60 m | 9,80 m | 143,10 m² | 3,00 m | 52 | 42 | 68 | 140 | 80 | yes | yes | 0 |
| Europasaal I (Berlin - Rom) | 21,90 m | 9,80 m | 214,60 m² | 3,00 m | 74 | 60 | 100 | 210 | 120 | yes | yes | 0 |
| Wien + Amsterdam/ Amsterdam + Brüssel/ Brüssel + Athen/ Athen + London/ London + Madrid | 7,20 m | 7,80 m | 56,20 m² | 3,00 m | 20 | 20 | 16 | 30 | 20 | yes | yes | 0 |
| Wien + Amsterdam + Brüssel/ Athen + London + Madrid | 10,80 m | 7,80 m | 84,20 m² | 3,00 m | 30 | 30 | 30 | 70 | 30 | yes | yes | 0 |
| Wien + Amsterdam + Brüssel + Athen | 14,40 m | 7,80 m | 112,30 m² | 3,00 m | 40 | 40 | 40 | 80 | 40 | yes | yes | 0 |
| Wien + Amsterdam + Brüssel + Athen + London | 18,00 m | 7,80 m | 140,40 m² | 3,00 m | 50 | 50 | 50 | 110 | 50 | yes | yes | 0 |
| Europasaal II (Wien - Madrid) | 21,60 m | 7,80 m | 168,50 m² | 3,00 m | 60 | 56 | 80 | 160 | 60 | yes | yes | 0 |
| Luxemburg + Bern | 14,40 m | 6,30 m | 90,70 m² | 3,00 m | 24 | 24 | 32 | 60 | 40 | yes | yes | 0 |
| Oslo | 5,45 m | 3,45 m | 18,80 m² | 2,50 m | 8 | - | - | - | - | yes | yes | 1 |