Fifteen rooms and a large foyer
The 15 multi-functional meeting rooms at the H4 Hotel Leipzig vary from 52 to 85 sqm. By combining various rooms, we can create an area covering 817 sqm, which can accommodate a film screening for up to 900 people, or a banquet for up to 650 people. Our meeting rooms have soundproofed walls, so you won't be disturbed by other events happening at the same time. Rooms can be individually designed thanks to variable partition walls, and modern presentation technology including integrated projection screens, floor-mounted electrical sockets, and DSL and WiFi Internet connection, enable you to concentrate on the task in hand.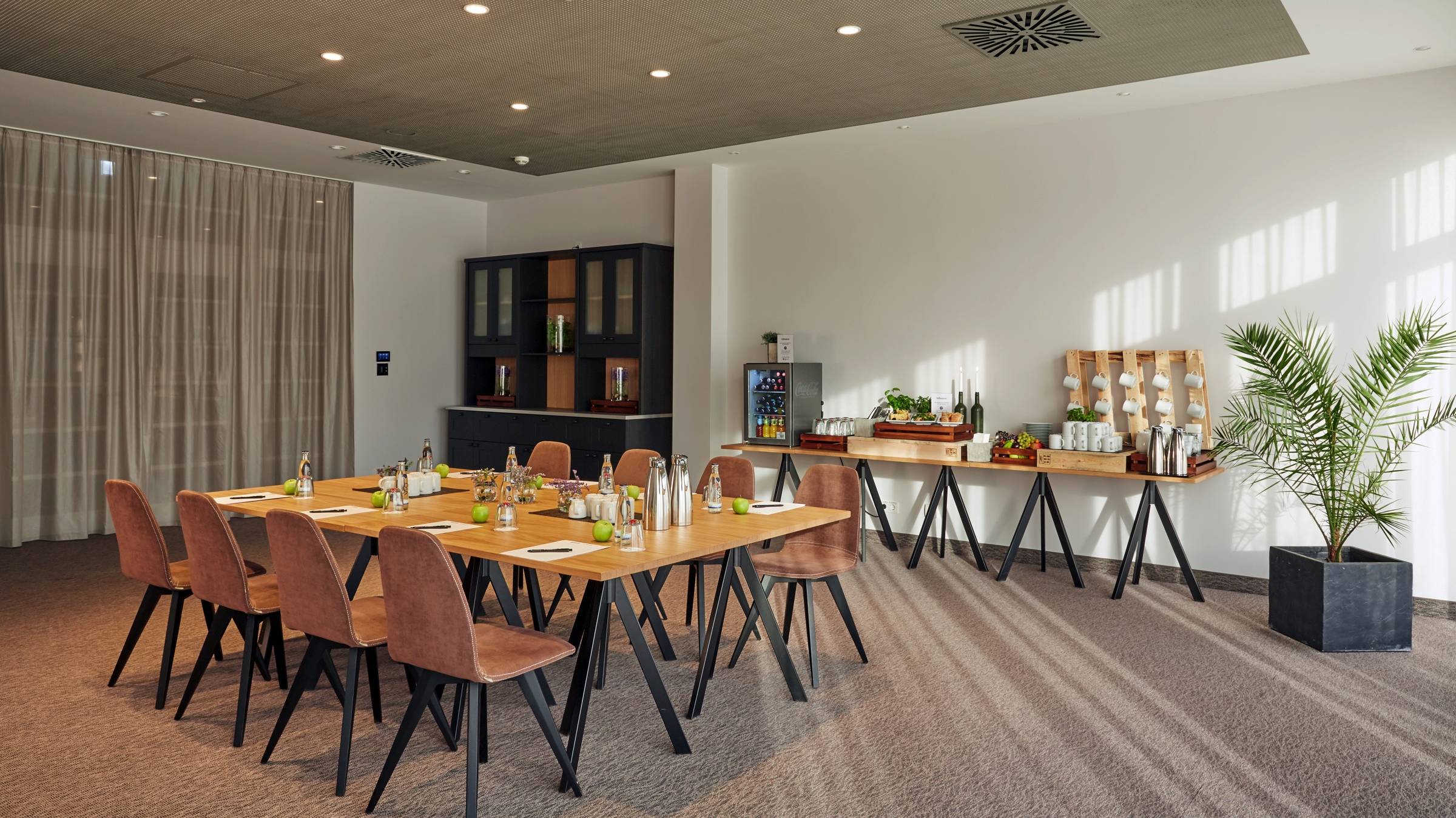 All rooms are equipped with air conditioning, have natural daylight, and can be darkened if required. They are located on the ground floor, offer garden access, and are accessible by car. Depending on your event, seating can be arranged in various layouts, for example parliament style, U-shaped, in block format, cinema style, or banquet style.
The foyer is located in front of the meeting rooms, and is also available for use. This spacious area equipped with floor-mounted electrical sockets is particularly suitable for exhibitions or receptions. The foyer's tables and seating booths also make it the ideal place to take a break. A Wii console, a mini table tennis table and a pool table help to provide variety.
Meeting request in the hotel
---
Meeting room plan from H4 Hotel Leipzig
---
Details of the meeting rooms
| | | | | | | |
| --- | --- | --- | --- | --- | --- | --- |
| BL = Block | U = U-shape | P = Parliament | C = Cinema | Ba = Banquet | DL = Daylight | DD = Darkening devices |
| | | | | | | | | | | | | |
| --- | --- | --- | --- | --- | --- | --- | --- | --- | --- | --- | --- | --- |
| Rooms | Length | Width | Area | Height | BL | U | P | C | Ba | DL | DD | Floor |
| Séparée | 7,97 m | 6,47 m | 51,00 m² | 3,00 m | 12 | 9 | 0 | 0 | 0 | yes | yes | 0 |
| Düsseldorf | 7,30 m | 7,00 m | 52,00 m² | 3,00 m | 18 | 12 | 12 | 20 | 10 | yes | yes | 0 |
| Frankfurt | 8,00 m | 7,00 m | 60,00 m² | 3,00 m | 18 | 15 | 15 | 25 | 20 | yes | yes | 0 |
| Nürnberg | 8,90 m | 7,00 m | 65,00 m² | 3,00 m | 18 | 15 | 18 | 30 | 20 | yes | yes | 0 |
| Hannover | 10,50 m | 7,00 m | 78,00 m² | 3,00 m | 24 | 18 | 24 | 40 | 30 | yes | yes | 0 |
| Rom | 14,70 m | 5,00 m | 81,00 m² | 3,00 m | 42 | 36 | 48 | 70 | 80 | yes | yes | 0 |
| Paris | 14,70 m | 5,00 m | 81,00 m² | 3,00 m | 42 | 36 | 48 | 70 | 80 | yes | yes | 0 |
| Straßburg | 14,70 m | 5,00 m | 81,00 m² | 3,00 m | 42 | 36 | 48 | 70 | 80 | yes | yes | 0 |
| Amsterdam | 14,70 m | 5,00 m | 81,00 m² | 3,00 m | 42 | 36 | 48 | 70 | 80 | yes | yes | 0 |
| Brüssel | 14,70 m | 5,00 m | 81,00 m² | 3,00 m | 42 | 36 | 48 | 70 | 80 | yes | yes | 0 |
| Basel | 14,70 m | 5,00 m | 81,00 m² | 3,00 m | 42 | 36 | 48 | 70 | 80 | yes | yes | 0 |
| Genf | 14,70 m | 5,00 m | 81,00 m² | 3,00 m | 42 | 36 | 48 | 70 | 80 | yes | yes | 0 |
| Istanbul | 14,70 m | 5,00 m | 81,00 m² | 3,00 m | 42 | 36 | 48 | 70 | 80 | yes | yes | 0 |
| Mailand | 14,70 m | 5,00 m | 85,00 m² | 3,00 m | 42 | 36 | 48 | 70 | 80 | yes | yes | 0 |
| London | 14,70 m | 5,00 m | 85,00 m² | 3,00 m | 42 | 36 | 48 | 70 | 80 | yes | yes | 0 |
| Berlin | 11,60 m | 7,00 m | 85,00 m² | 3,00 m | 42 | 30 | 36 | 65 | 40 | yes | yes | 0 |
| | | | | | | | | | | | | |
| --- | --- | --- | --- | --- | --- | --- | --- | --- | --- | --- | --- | --- |
| Combinations | Length | Width | Area | Height | BL | U | P | C | Ba | DL | DD | Floor |
| 2 Segmente | 14,70 m | 10,00 m | 162,00 m² | 3,00 m | 50 | 50 | 90 | 120 | 160 | yes | yes | 0 |
| 3 Segmente | 14,70 m | 15,00 m | 243,00 m² | 3,00 m | 100 | 100 | 158 | 220 | 240 | yes | yes | 0 |
| Kombi DD, F, H, B | 7,30 m | 11,00 m | 275,00 m² | 3,00 m | 91 | 85 | 120 | 200 | 150 | yes | yes | 0 |
| 4 Segmente | 14,70 m | 21,00 m | 324,00 m² | 3,00 m | 150 | 150 | 210 | 320 | 320 | yes | yes | 0 |
| 5 Segmente | 14,70 m | 26,00 m | 405,00 m² | 3,00 m | 0 | 0 | 280 | 420 | 400 | yes | yes | 0 |
| 6 Segmente | 14,70 m | 32,00 m | 486,00 m² | 3,00 m | 0 | 0 | 350 | 420 | 480 | yes | yes | 0 |
| 8 Segmente | 14,70 m | 43,00 m | 648,00 m² | 3,00 m | 0 | 0 | 490 | 620 | 640 | yes | yes | 0 |
| 10 Segmente | 14,70 m | 55,00 m | 817,00 m² | 3,00 m | 0 | 0 | 650 | 900 | 650 | yes | yes | 0 |