The H.ostel Münster
The right room for everyone
With its modern design and attractive prices, the new H.ostel Münster is targeting young people, families and groups. The central location is ideal for exploring the city on foot or by bike. The in-house meeting place is the open lounge, where you will also find the reception. You can either stay in a private room with bathroom or in one of the group rooms, where single beds can also be booked.
» Book now
Benefits at a glance:
- Central location near the Prinzipalmarkt central market
- Free high-speed internet (Wi-Fi)
- Air conditioned rooms
- Contemporary furnishing
- Bedding and towels included
Amenities
4 km from the motorway
42 non-smoking room
Free WiFi throughout the hotel
163 beds
27 km from the airport
100 m from local attractions
600 m from the central railway station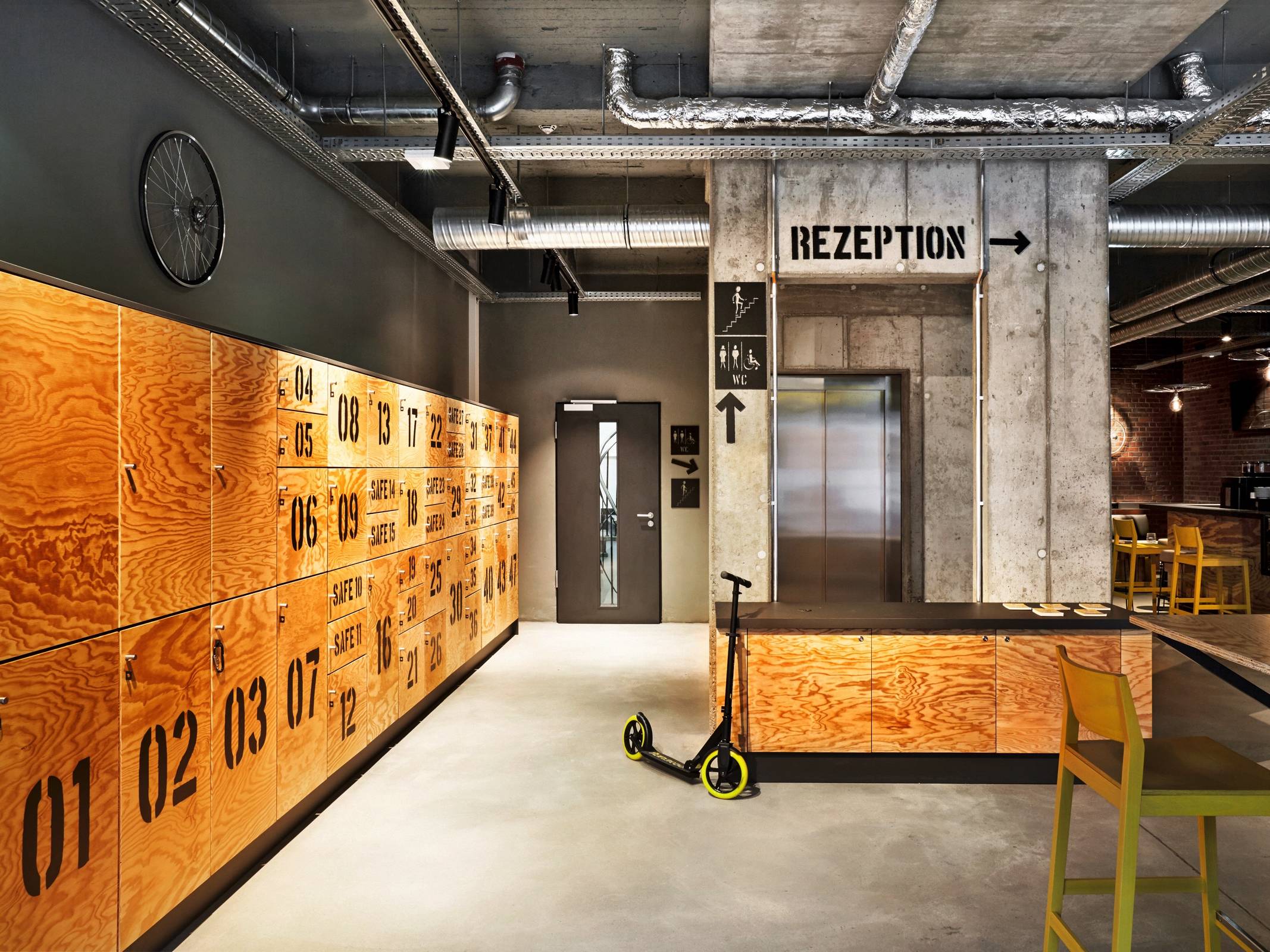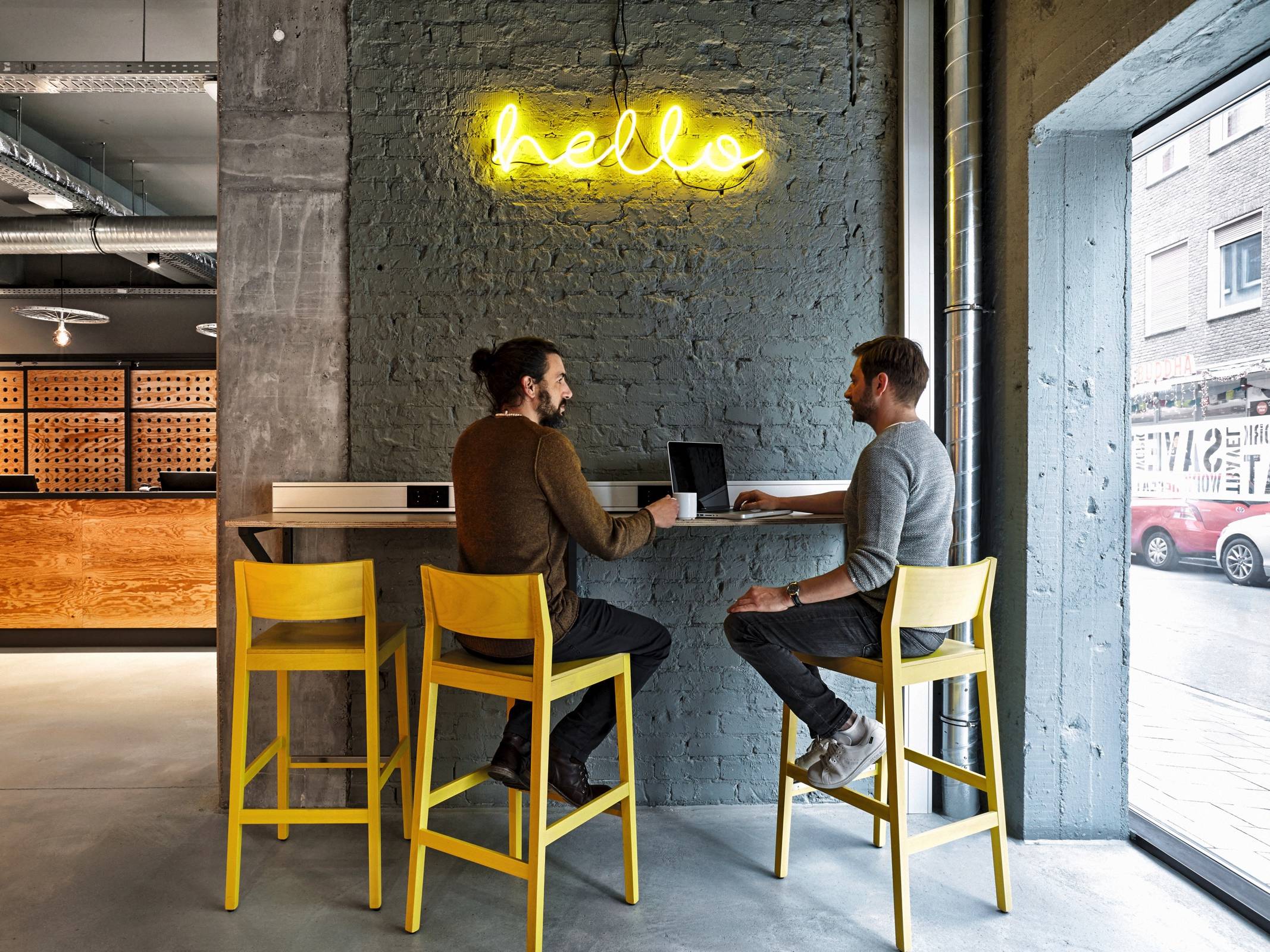 ---
Rooms at the H.ostel Münster
Our rooms
The guest rooms of the H.ostel Münster are on the upper floors. For couples and families there are two or four bed rooms with a private bathroom. Friends and groups travelling together will find comfortable accommodation in the group rooms with up to eight beds. Simply book the required number of sleeping places, people travelling alone are also more than welcome.

The communal bathrooms are located on the same floor. The stylishly designed rooms are easily accessible by lift and offer modern technical equipment with Wi-Fi and high-speed internet. Bedding and towels are included for all guests.
» Book now
---
Room:
Twin beds (80x200cm)

Bedding included

Air-conditioning

WiFi included

Seating facilities

Cloakroom
Bathroom:
Shower

Toilet

Towels included

Hairdriers available on request
---
Room:
Bunk beds

Closeable base on every bed (locks are also available to purchase)

Each bed has a lamp and electrical socket

Bedding included

Air-conditioning

WiFi included

Seating facilities

Cloakroom
Shared bathroom:
Shower

Toilet

Towels included

Hairdriers

Snacks and restaurants at the H.ostel Münster
Snacks and restaurants
The focal point and relaxed meeting point for guests is the spacious entrance area at H.ostel Münster. It is designed in the style of a lounge and also houses the reception.

Take a seat here, plan your daily program or exchange ideas with other guests. The lobby offers a selection of drinks and coffee specialties, and Wi-Fi is available throughout the building. For a hearty breakfast or a sociable dinner, there are numerous cafés and restaurants in the immediate vicinity.

Within fifteen minutes you can also walk to the popular Kuhviertel. Tips and hints are available at the reception.
Arrival & Contact – H.ostel Münster
Contact & directions
Enjoy a pleasant stay in our first H.ostel from autumn 2018! This includes careful planning and a comfortable journey. On these pages you can find out about our H.ostel, book your stay and plan your journey with just a few clicks. Immerse yourself in Münster's eventful history - A visit to the Friedensaal in the historic town hall and the Prinzipalmarkt with its gabled houses is a must. The many churches are another important part of the city, which have interesting stories to tell — such as the Lambertkirche, with its cages in which the Anabaptists were hanged, or the astronomical clock in St-Paulus-Dom, which shows all the dates of important religious festivals.

But even art enthusiasts will get their money's worth - this is where we recommend visiting the Picasso- and LWL- museum. If you already know Münster from previous visits, then we recommend its countless events to you. From the big "Tournament of Champions" horse race, to the Docklands Festival, to sculpture, Münster offers something to suit everyone.Discover the sights in Munster and stay overnight in a central, comfortable but also price-conscious location.
If you arrive by car, you can park it in one of the nearby parking garages. The car park Stubengasse and the car park Engelenschanze are just 400 meters away. The parking fees amount to about 15 Euro per 24 hours. Please note that parking is not guaranteed and as such it is not possible to reserve in advance.

You can check in to your hotel room from 3 p.m. onwards. You can check out until 11 a.m. If you have any further questions concerning your stay, your arrival or other topics, please do not hesitate to contact us by e-mail or in person on the phone.

We look forward to your visit!
» Book now
H.ostel Münster
Verspoel 1
48143 Münster, DE
phone: +49 251 49093269
fax: +49 251 98110-635
mail: [email protected]
Frequently asked questions and answers about H.ostel Münster
How much does a room at H.ostel Münster cost?
See current prices at www.h-hotels.com. Many additional extras can be found here.
Does the H.ostel Münster have free WLAN?
You can log in to the H.ostel Münster WLAN any time you choose.
Is parking available at the H.ostel Münster?
Two parking areas are available for use near the H.ostel Münster. The charge is approx. €15.00 per night.
When can I check in to H.ostel Münster on my day of arrival?
Rooms and beds can be used from 15:00 hours at the H.ostel Münster.
When is the latest check-out time on my day of departure at H.ostel Münster?
Rooms and beds must be vacated by 11:00 hours.
Which room categories does the H.ostel Münster offer?
Double room
Multi-bed room
Can I bring my dog to the H.ostel Münster?
Due to the many shared rooms, we cannot accommodate your dog.
Where is the H.ostel Münster located?
Here is the address of the H.ostel Münster:
Verspoel 1
48143 Muenster
Germany
How do I contact the H.ostel Münster?
---