Variable, modern seminar and meeting rooms in Basel
The Hyperion Hotel Basel has 8 meeting rooms varying in size from 24 to 115 square metres which can be booked for events, seminars, and meetings. The rooms can be partially combined, allowing for the creation of a maximum area covering 405 square metres with capacity for up to 450 people. All rooms enjoy natural daylight, and can be darkened if required. The furnishings can be adapted according to your wishes. This applies to the decoration of the rooms, as well as the seating layout. For example, row and U-shaped seating, or conference and banquet tables can be provided.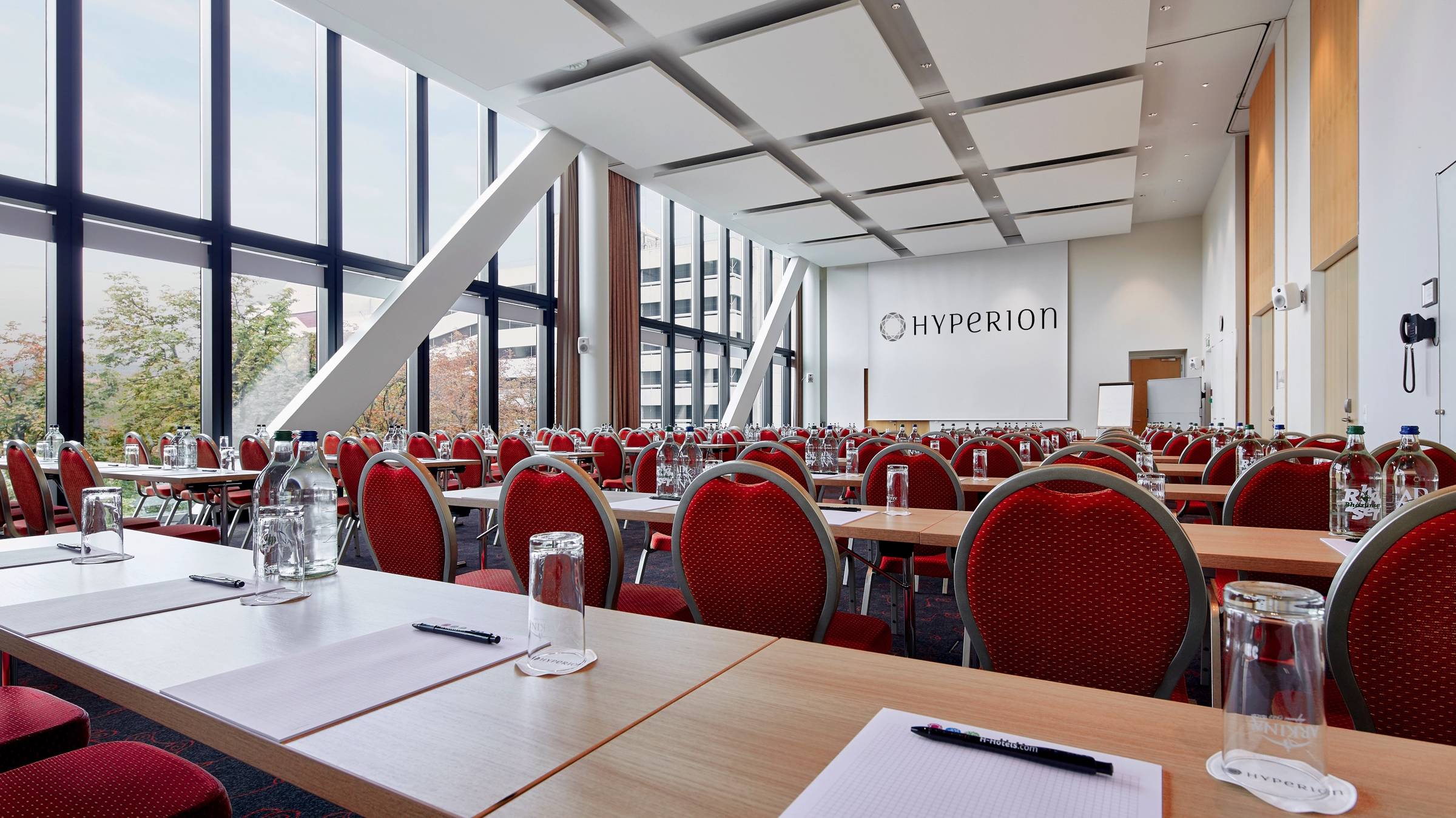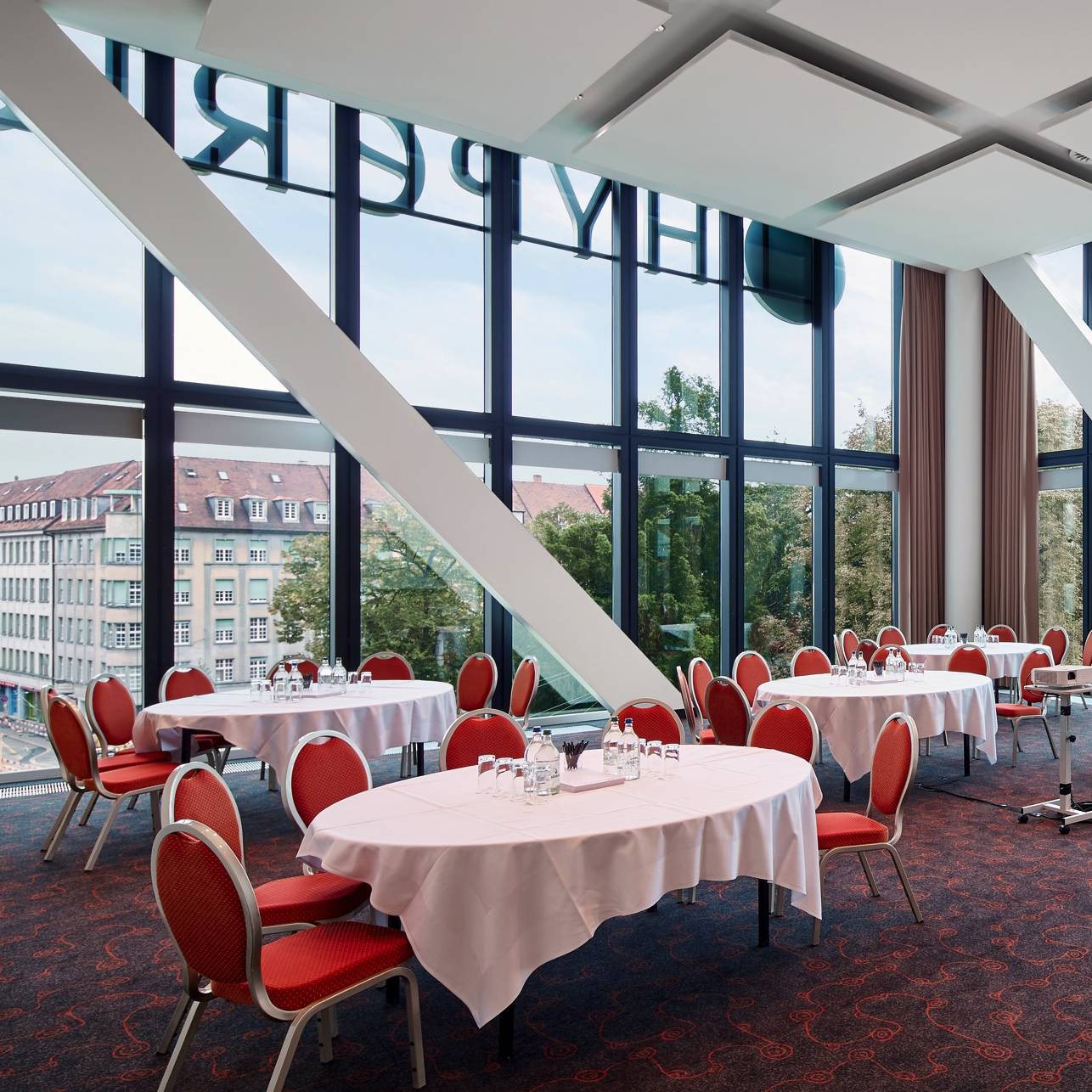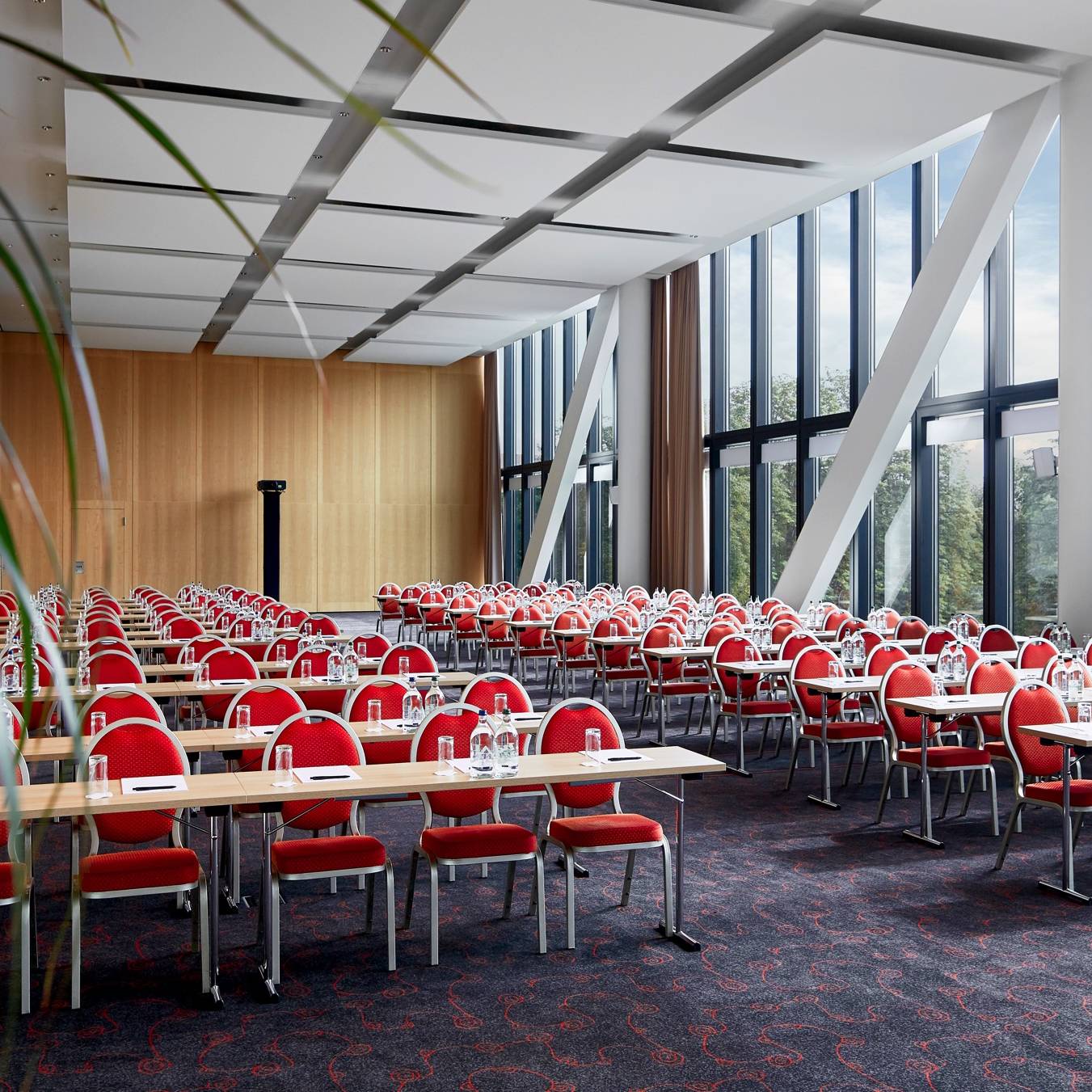 Technical equipment ranges from projectors, screens, and overhead projectors, through moderator's toolkits, video recorders and DVD players, to laptops and a telephone conferencing system. If required, the Hyperion Hotel Basel can also set up a podium, or even a dance floor for a ball. WiFi Internet access inclusive is provided in all rooms.
In addition to the meeting rooms, you can also include the foyer, the "Checkpoint bar", the "Timeless" cocktail bar, and the hotel's restaurant in your event planning.
Meeting request in the hotel
---
Meeting room plan of the Hyperion Hotel Basel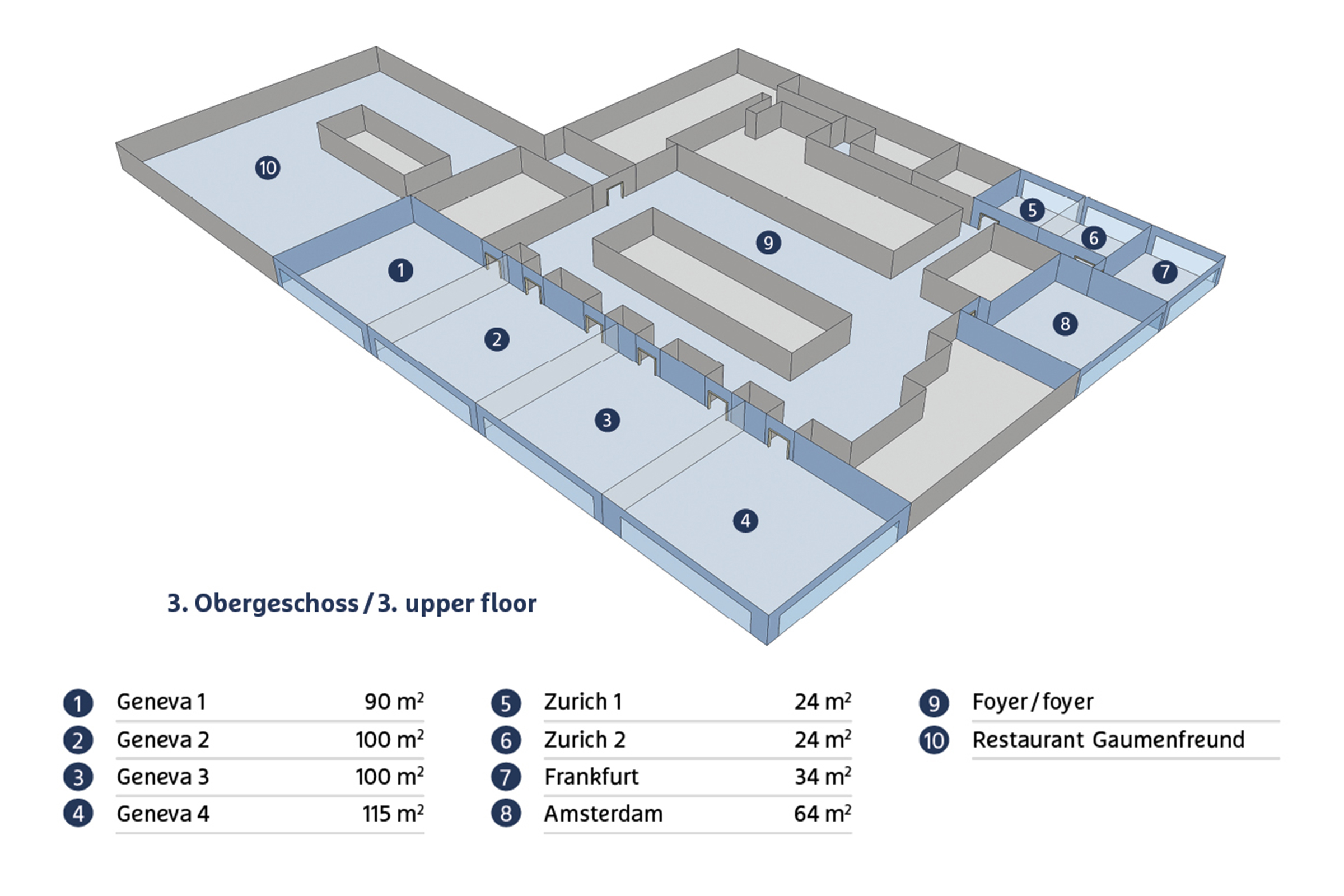 ---
Details of the meeting rooms
| | | | | | | |
| --- | --- | --- | --- | --- | --- | --- |
| BL = Block | U = U-shape | P = Parliament | C = Cinema | Ba = Banquet | DL = Daylight | DD = Darkening devices |
| | | | | | | | | | | | | |
| --- | --- | --- | --- | --- | --- | --- | --- | --- | --- | --- | --- | --- |
| Rooms | Length | Width | Area | Height | BL | U | P | C | Ba | DL | DD | Floor |
| Zurich 1 | 6,00 m | 4,00 m | 24,00 m² | 2,60 m | 12 | 9 | 9 | 15 | 10 | yes | yes | 3 |
| Zurich 2 | 6,00 m | 4,00 m | 24,00 m² | 2,60 m | 12 | 9 | 9 | 15 | 10 | yes | yes | 3 |
| Frankfurt | 4,80 m | 6,50 m | 34,00 m² | 2,60 m | 15 | 15 | 15 | 24 | 20 | yes | yes | 3 |
| Amsterdam | 7,50 m | 8,30 m | 64,00 m² | 2,60 m | 20 | 21 | 27 | 50 | 40 | yes | yes | 3 |
| Geneva 1 | 10,00 m | 9,00 m | 90,00 m² | 5,50 m | 28 | 30 | 45 | 100 | 60 | yes | yes | 3 |
| Geneva 2 | 10,00 m | 10,00 m | 100,00 m² | 5,50 m | 28 | 30 | 50 | 100 | 60 | yes | yes | 3 |
| Geneva 3 | 10,00 m | 10,00 m | 100,00 m² | 5,50 m | 28 | 30 | 50 | 100 | 60 | yes | yes | 3 |
| Geneva 4 | 10,00 m | 11,50 m | 115,00 m² | 5,50 m | 36 | 32 | 50 | 110 | 60 | yes | yes | 3 |
| | | | | | | | | | | | | |
| --- | --- | --- | --- | --- | --- | --- | --- | --- | --- | --- | --- | --- |
| Combinations | Length | Width | Area | Height | BL | U | P | C | Ba | DL | DD | Floor |
| Zurich 1-2 | 4,00 m | 12,00 m | 48,00 m² | 2,60 m | 25 | 18 | 21 | 30 | 30 | yes | yes | 3 |
| Geneva 1-4 | 10,00 m | 40,00 m | 405,00 m² | 5,50 m | - | - | 190 | 450 | 250 | yes | yes | 3 |