With parquet flooring and a view of the castle - exclusive days
The seven conference rooms at the Hyperion Hotel Dresden am Schloss are different sizes, ranging between 20 and 255 square metres and can accommodate up to 300 guests altogether. The rooms can also be combined to a certain extent to create a 255-square-metre ballroom. Daylight and clear views of the castle as well as fine wooden floors make the rooms an attractive setting for your event. The technical equipment with LED lighting, air conditioning, Wi-Fi, a modern sound system, projector, retractable screens, touch panels, and video conferencing leaves nothing to be desired.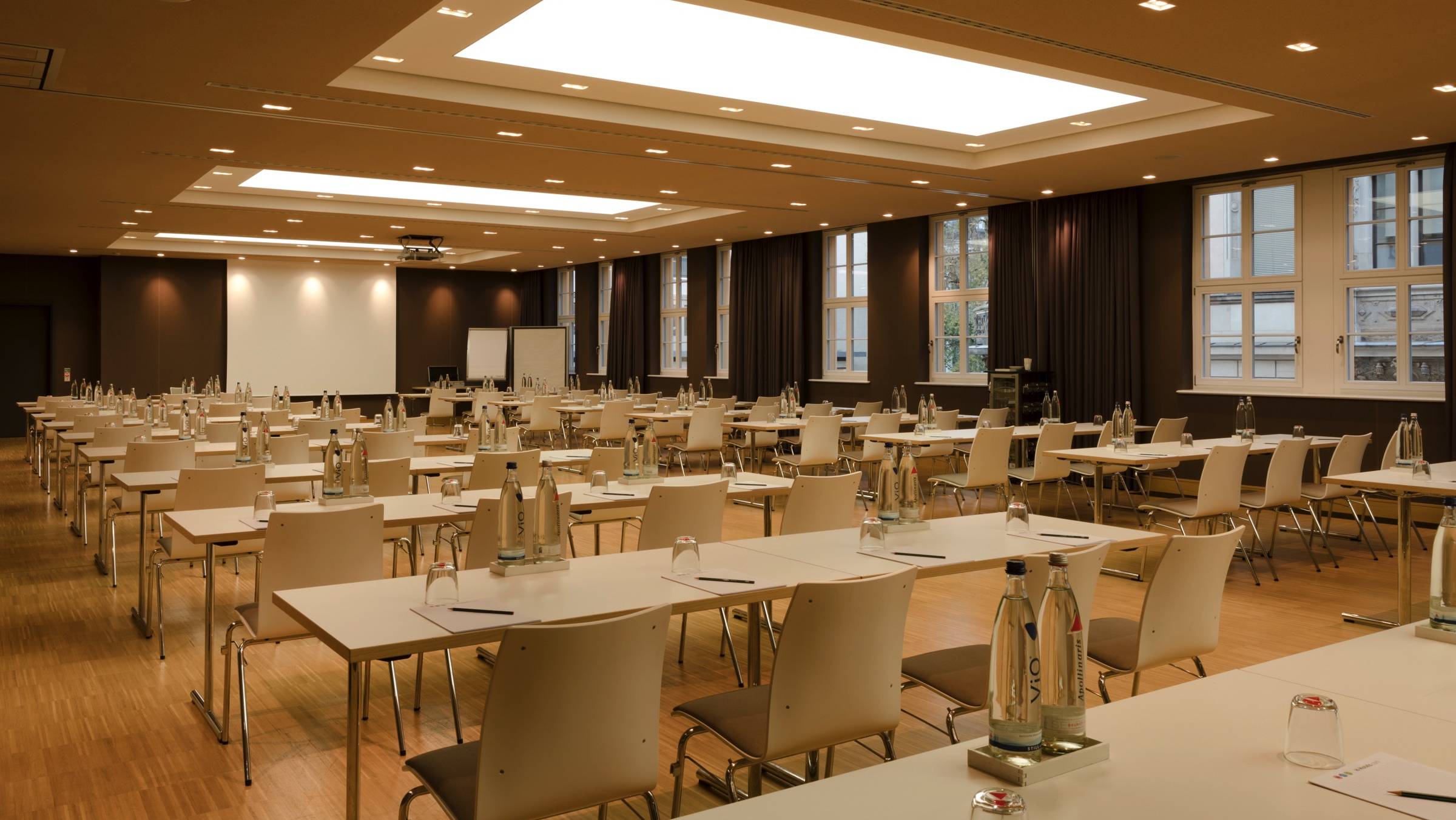 The 162-square-metre large Wohnstube lounge, whose modern comfortable furnishing provides the perfect setting for a reception or an unforgettable feast can be booked for larger events.
Whether for a cocktail reception in the summer, as a special location for a birthday party or for relaxed breaks during a business event: Enjoy the views and the very special atmosphere on the rooftop terrace at the Hyperion Hotel Dresden am Schloss!
Meeting request in the hotel
---
Meeting room plan from Hyperion Hotel Dresden am Schloss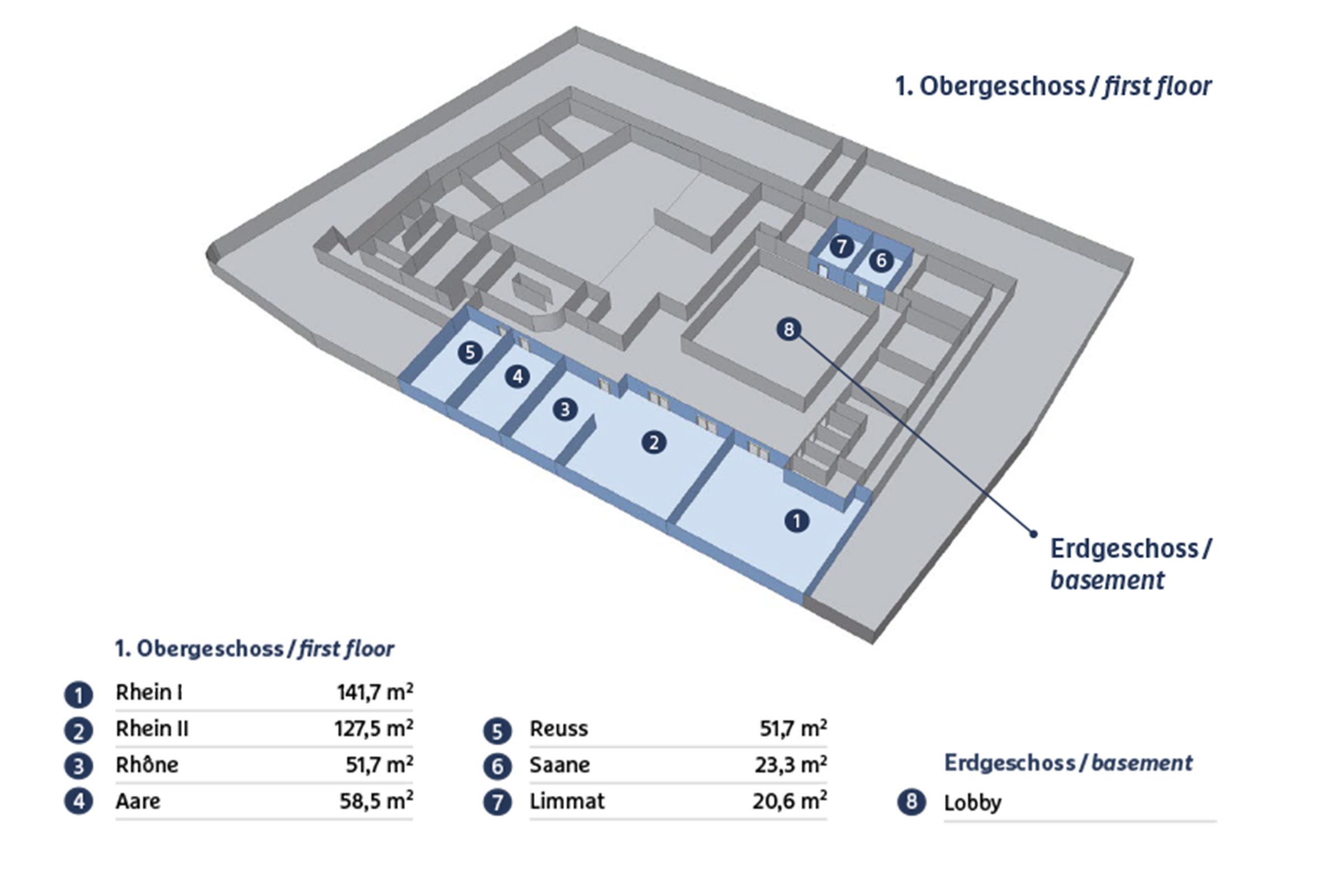 ---
Details of the meeting rooms
| | | | | | | |
| --- | --- | --- | --- | --- | --- | --- |
| BL = Block | U = U-shape | P = Parliament | C = Cinema | Ba = Banquet | DL = Daylight | DD = Darkening devices |
| | | | | | | | | | | | | |
| --- | --- | --- | --- | --- | --- | --- | --- | --- | --- | --- | --- | --- |
| Rooms | Length | Width | Area | Height | BL | U | P | C | Ba | DL | DD | Floor |
| Rhein I | 13,00 m | 10,90 m | 141,70 m² | 3,00 m | 25 | 35 | 70 | 120 | 70 | yes | yes | 1 |
| Rhein II | 10,90 m | 11,70 m | 127,50 m² | 3,00 m | 25 | 35 | 70 | 120 | 70 | yes | yes | 1 |
| Rhône | 5,50 m | 9,40 m | 51,70 m² | 3,00 m | 10 | 15 | 20 | 25 | 20 | yes | yes | 1 |
| Aare | 6,30 m | 9,30 m | 58,50 m² | 3,00 m | 15 | 15 | 24 | 30 | 20 | yes | yes | 1 |
| Reuss | 5,50 m | 9,40 m | 51,70 m² | 3,00 m | 10 | 15 | 20 | 25 | 20 | yes | yes | 1 |
| Saane | 5,30 m | 4,40 m | 23,30 m² | 3,00 m | 10 | - | 5 | 10 | - | no | ja | 1 |
| Limmat | 5,30 m | 3,90 m | 20,60 m² | 3,00 m | 10 | - | 5 | 10 | - | no | yes | 1 |
| Wohnstube Lounge | 9,00 m | 18,00 m | 162,00 m² | 2,60 m | - | - | - | - | 80 | yes | yes | 0 |
| Dachterrasse | 3,50 m | 17,50 m | 68,00 m² | - | - | - | - | - | - | yes | yes | 1 |
| | | | | | | | | | | | | |
| --- | --- | --- | --- | --- | --- | --- | --- | --- | --- | --- | --- | --- |
| Combinations | Length | Width | Area | Height | BL | U | P | C | Ba | DL | DD | Floor |
| Rhein I + II | 21,80 m | 11,70 m | 255,00 m² | 3,00 m | - | 50 | 140 | 240 | 180 | yes | yes | 1 |
| Rhône + Aare | 11,70 m | 9,30 m | 108,80 m² | 3,00 m | 25 | 35 | 40 | 70 | 40 | yes | yes | 1 |
| Aare + Reuss | 11,70 m | 9,30 m | 108,80 m² | 3,00 m | 25 | 35 | 40 | 70 | 40 | yes | yes | 1 |
| Rhône + Aare + Reuss | 17,30 m | 9,40 m | 154,50 m² | 3,00 m | 25 | 30 | 70 | 120 | 70 | yes | yes | 1 |
| Saane + Limmat | 5,20 m | 8,50 m | 44,20 m² | 3,00 m | 15 | 10 | 10 | 20 | - | no | yes | 1 |