Modern conference and seminar rooms in Leipzig
Thanks to the flexible room concept, the meeting and conference area can be adapted to your ideas – depending on what you need for your event. On the first floor of the Hyperion Hotel Leipzig there are a total of 8 conference rooms on 600 sqm of space. 2 rooms with 40 and 60 sqm respectively as well as four rooms with 100 sqm each are available. For particularly large groups of people, several rooms can be combined for the conference so that your event can take place on an area of up to 413 sqm.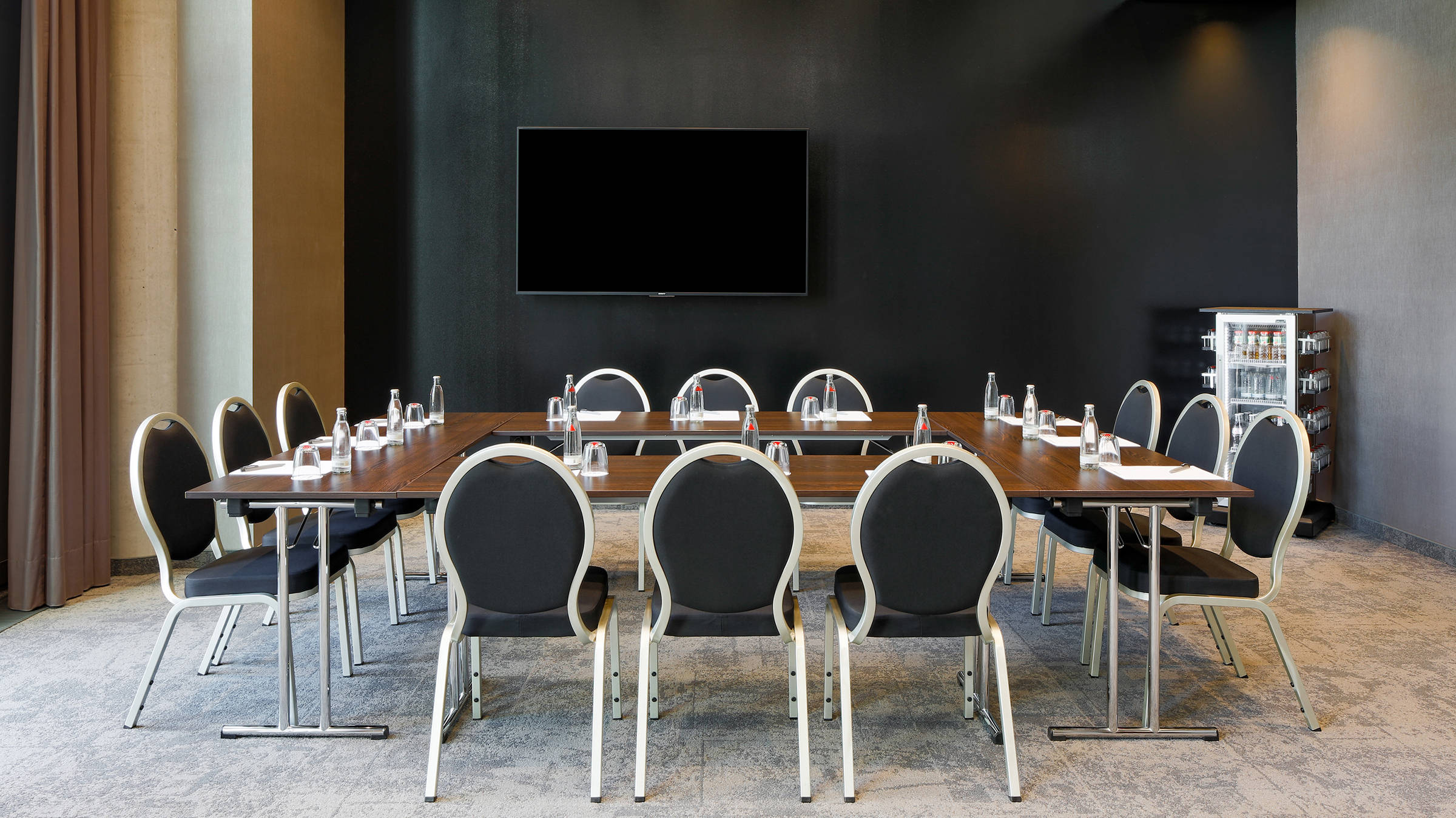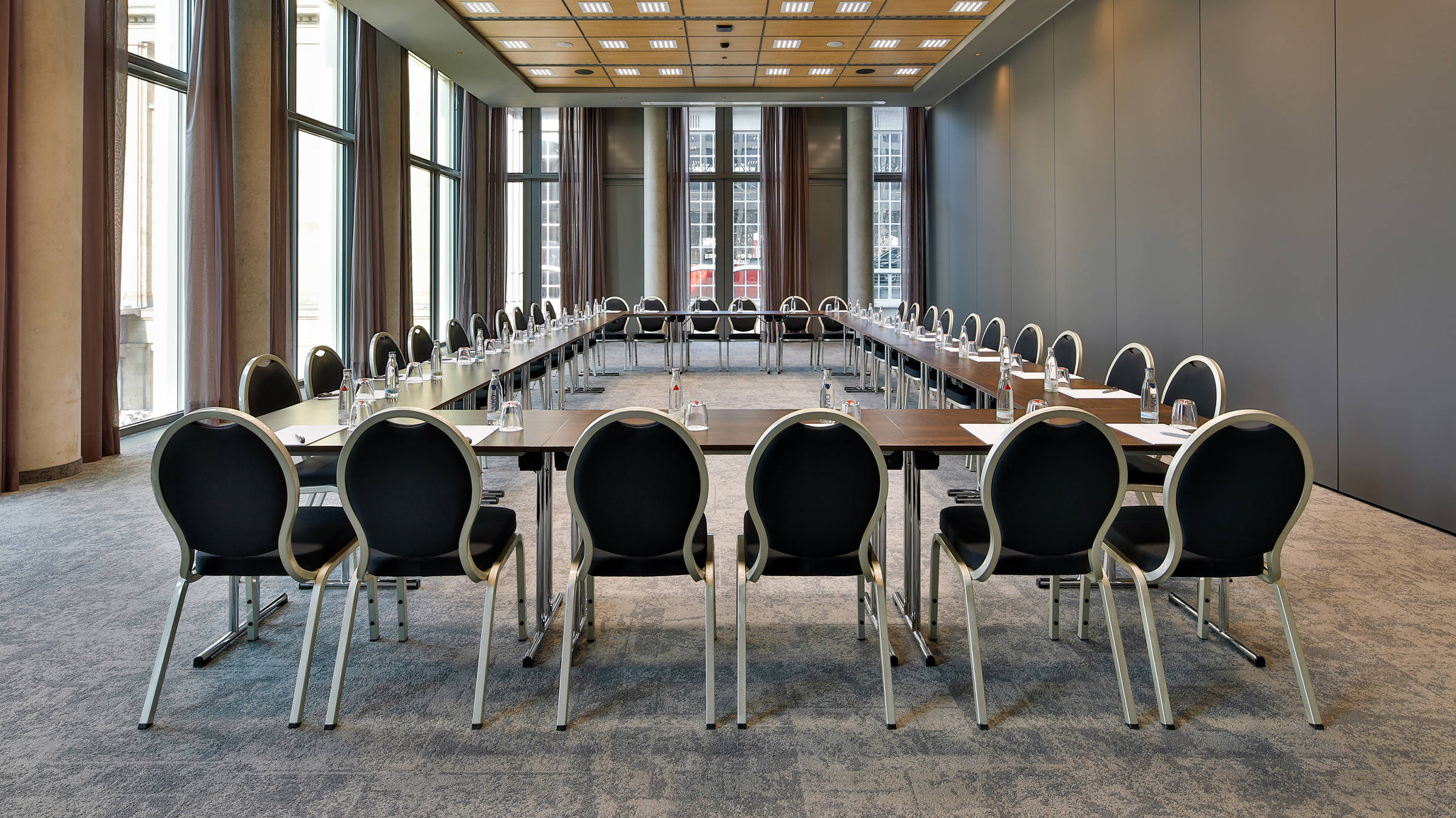 All seminar and conference rooms are equipped with state-of-the-art conference technology, have free high-speed Wi-Fi, can be completely darkened and are equipped with individually adjustable air conditioning.
Depending on the occasion, there are various variants of table and chair arrangements, such as block or U-shaped for meetings, in parliamentary rows for seminars or for private parties with round banquet tables. You are welcome to express your wishes and ideas at our central conference service or directly in the hotel.
Meeting request in the hotel
---
Meeting room plan from Hyperion Hotel Leipzig
---
Details of the meeting rooms
| | | | | | | |
| --- | --- | --- | --- | --- | --- | --- |
| BL = Block | U = U-shape | P = Parliament | C = Cinema | Ba = Banquet | DL = Daylight | DD = Darkening devices |
| | | | | | | | | | | | | |
| --- | --- | --- | --- | --- | --- | --- | --- | --- | --- | --- | --- | --- |
| Rooms | Length | Width | Area | Height | BL | U | P | C | Ba | DL | DD | Floor |
| Wahlverwandschaften | 6,50 m | 4,70 m | 30,00 m² | 4,00 m | 12 | 9 | 12 | 18 | - | yes | yes | 1 |
| Werther | 6,50 m | 5,60 m | 46,00 m² | 4,00 m | 24 | 21 | 24 | 36 | - | yes | yes | 1 |
| Wilhelm Meister | 6,50 m | 5,60 m | 45,00 m² | 4,00 m | 24 | 21 | 24 | 36 | - | yes | yes | 1 |
| Götz von Berlichingen | 6,50 m | 4,70 m | 30,00 m² | 4,00 m | 12 | 9 | 12 | 18 | - | yes | yes | 1 |
| Prometheus | 14,00 m | 7,00 m | 99,00 m² | 4,00 m | 42 | 36 | 60 | 100 | 48 | yes | yes | 1 |
| Torquato Tasso | 14,00 m | 7,00 m | 97,00 m² | 4,00 m | 42 | 36 | 60 | 100 | 48 | yes | yes | 1 |
| Egmont | 14,00 m | 7,00 m | 98,00 m² | 4,00 m | 42 | 36 | 60 | 100 | 48 | yes | yes | 1 |
| Iphigenie | 14,00 m | 7,00 m | 113,00 m² | 4,00 m | 42 | 36 | 60 | 100 | 48 | yes | yes | 1 |
| | | | | | | | | | | | | |
| --- | --- | --- | --- | --- | --- | --- | --- | --- | --- | --- | --- | --- |
| Combinations | Length | Width | Area | Height | BL | U | P | C | Ba | DL | DD | Floor |
| Combination 1+2 | 6,50 m | 11,70 m | 75,00 m² | 4,00 m | 36 | 33 | 42 | 60 | - | yes | yes | 1 |
| Combination 1+2+3 | 6,50 m | 18,80 m | 120,00 m² | 4,00 m | 60 | 57 | 66 | 103 | - | yes | yes | 1 |
| Combination 3+4 | 6,50 m | 11,80 m | 75,00 m² | 4,00 m | 36 | 33 | 42 | 60 | - | yes | yes | 1 |
| Combination 2+3+4 | 6,50 m | 13,80 m | 120,00 m² | 4,00 m | 60 | 57 | 66 | 103 | - | yes | yes | 1 |
| Combination 2+3 | 6,50 m | 18,80 m | 90,00 m² | 4,00 m | 48 | 45 | 54 | 84 | - | yes | yes | 1 |
| Combination 1+2+3+4 | 6,50 m | 23,50 m | 150,00 m² | 4,00 m | 72 | 69 | 84 | 127 | - | yes | yes | 1 |
| Combination 5+6 | 14,00 m | 14,00 m | 193,00 m² | 4,00 m | 60 | 45 | 119 | 210 | 112 | yes | yes | 1 |
| Combination 5+6+7 | 14,00 m | 22,60 m | 290,00 m² | 4,00 m | 84 | 69 | 221 | 342 | 160 | yes | yes | 1 |
| Combination 7+8 | 14,00 m | 14,20 m | 211,00 m² | 4,00 m | 60 | 45 | 119 | 210 | - | yes | yes | 1 |
| Combination 6+7+8 | 14,00 m | 21,10 m | 308,00 m² | 4,00 m | 84 | 69 | 221 | 342 | - | yes | yes | 1 |
| Combination 6+7 | 14,00 m | 14,50 m | 197,00 m² | 4,00 m | - | - | - | - | - | yes | yes | 1 |
| Combination 5+6+7+8 | 14,00 m | 29,20 m | 404,00 m² | 4,00 m | 108 | 93 | 289 | 476 | 224 | yes | yes | 1 |