« back to overview
19.07.2023
H-Hotels.com celebrates opening of new hotel in Eschborn
On the occasion of the opening of the H+ Hotel Frankfurt Eschborn, H-Hotels.com hosted an event with numerous guests on site on 13 July 2023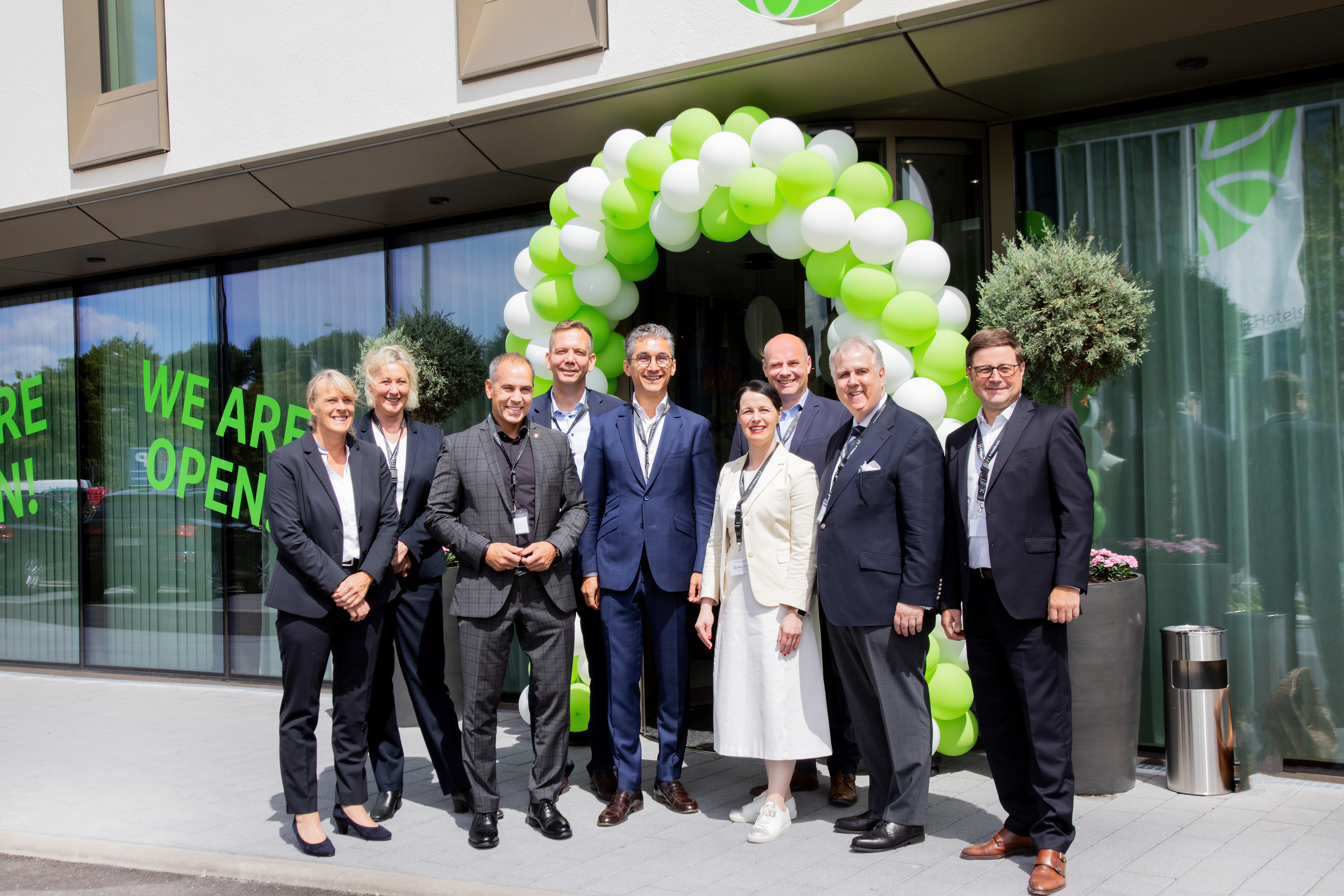 Bad Arolsen, 19 July 2023 – On the occasion of the opening of the H+ Hotel Frankfurt Eschborn, H-Hotels.com hosted an event with numerous guests on site on 13 July 2023, celebrating the 63rd hotel of the hotel group. Thomas Haas, CEO of H-Hotels GmbH, Nicole Freifrau von Wiedersperg, Operations Manager of the hotel and Christian Hoebbel, Area Manager Region Rhine/Main H-Hotels.com, accompanied the guests through the programme. They welcomed Adnan Shaikh, Mayor of the City of Eschborn, as well as representatives of OFB Projektentwicklung GmbH, the Frankfurt-based project developer Groß & Partner and the architectural firm KSP Engel, who each gave a short speech of thanks. "We are delighted about the opening of the H+ Hotel Frankfurt Eschborn. My special thanks go to everyone who has been involved in the creation of this hotel since the initial contact for the construction in June 2017. This shows how long it actually takes for such a project to be realised. Now it's done, we're celebrating today," says Thomas Haas. In his speech, Haas also presented the new culinary concept of H-Hotels.com, which will soon be implemented for the first time at the H+ Hotel Frankfurt Eschborn. "With our new F&B- concept, which focuses on the schnitzel, we have a unique selling point in the area, which should of course appeal to our hotel guests in particular, but also to office workers and weekend tourists." Afterwards, there was a flying buffet to experience the menu for the first time, accompanied by musical accompaniment. Interested parties were also given insights into the premises during guided tours of the hotel. Further information on the H+ Hotel Frankfurt Eschborn can be found at www.h-hotels.com/en/hplus/hotels/hplus-hotel-eschborn.
Between the Main metropolis Frankfurt and the idyllic Taunus mountains, the H+ Hotel Frankfurt Eschborn has been the address for business travellers and those seeking relaxation since 1 June 2023. The eight-storey hotel in the small Hessian town welcomes guests in 215 modern and partly barrier-free comfort and superior rooms with stylish bathrooms. A bar and a restaurant where, in addition to the breakfast buffet, a variety of à la carte meals are served until evening, free high-speed internet and 150 parking spaces in the hotel's own car park round off the facilities.
The superior rooms are particularly recommended: a booking includes not only parking, but also the first filling of the minibar. For a workout after the meeting or early morning exercise, there is a fitness room in the basement with around 90 square metres of equipment for endurance and strength training. Thanks to the good S-Bahn connection, Frankfurt, ten kilometres away, can be reached quickly and easily for business or sightseeing. The Taunus recreation area is also not far from the hotel and lures holidaymakers into the countryside in just ten minutes by car. The H+ Hotel Frankfurt Eschborn also welcomes four-legged guests.
nachbericht-eroeffnung-hplus-hotel-frankfurt-eschborn-en.pdf