Meeting rooms in the H4 Hotel Berlin Alexanderplatz
The light, bright conference area has a total of 13 rooms. The largest room, "Alexander der Große" (Alexander the Great) measures over 600 square metres and can accommodate up to 736 people.
All of our conference rooms are named after famous Berlin personalities, enjoy natural daylight, and can be darkened if required. They are equipped with state-of-the-art conference technology, and of course sub-floor electricity and high-current sockets.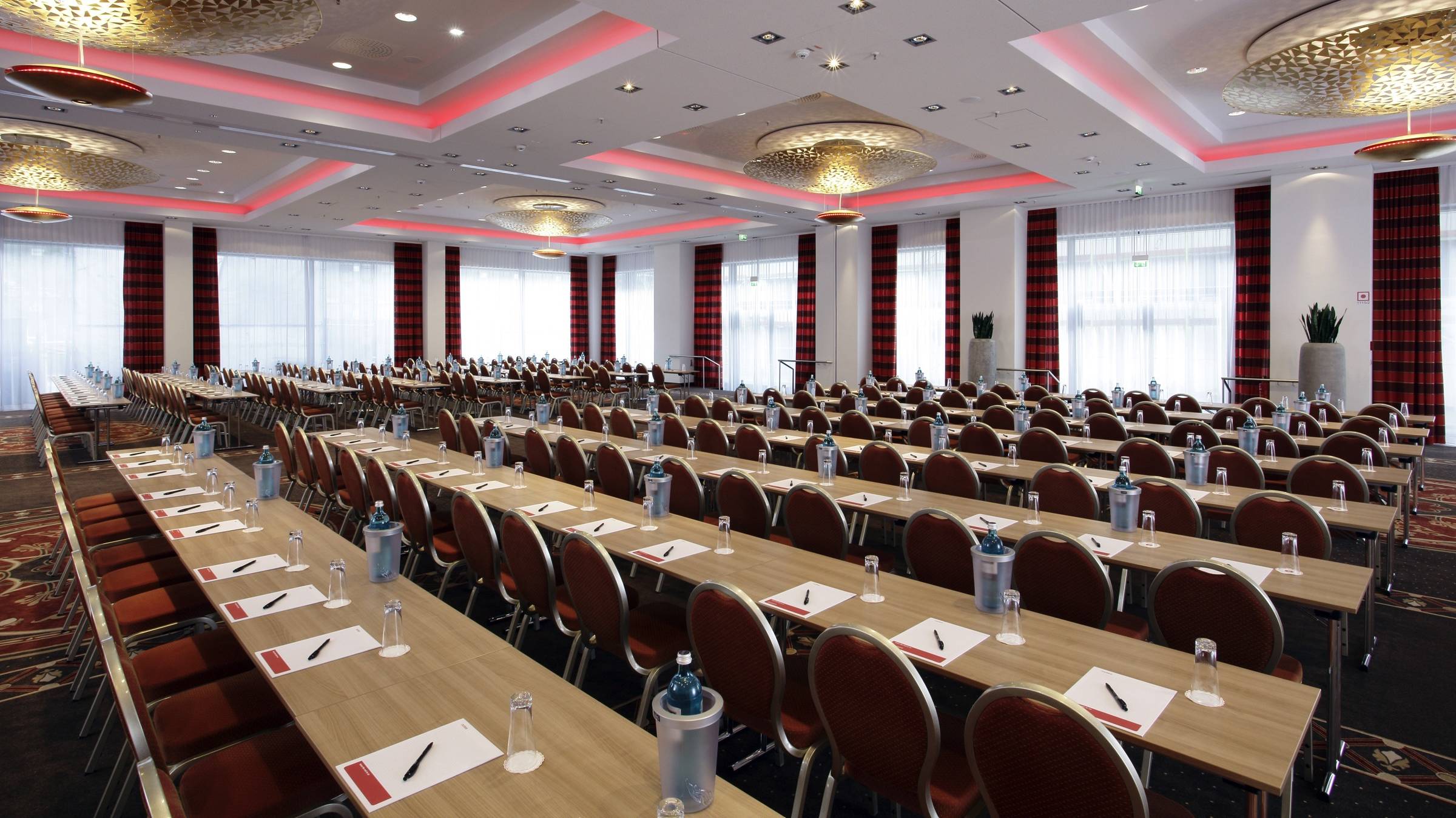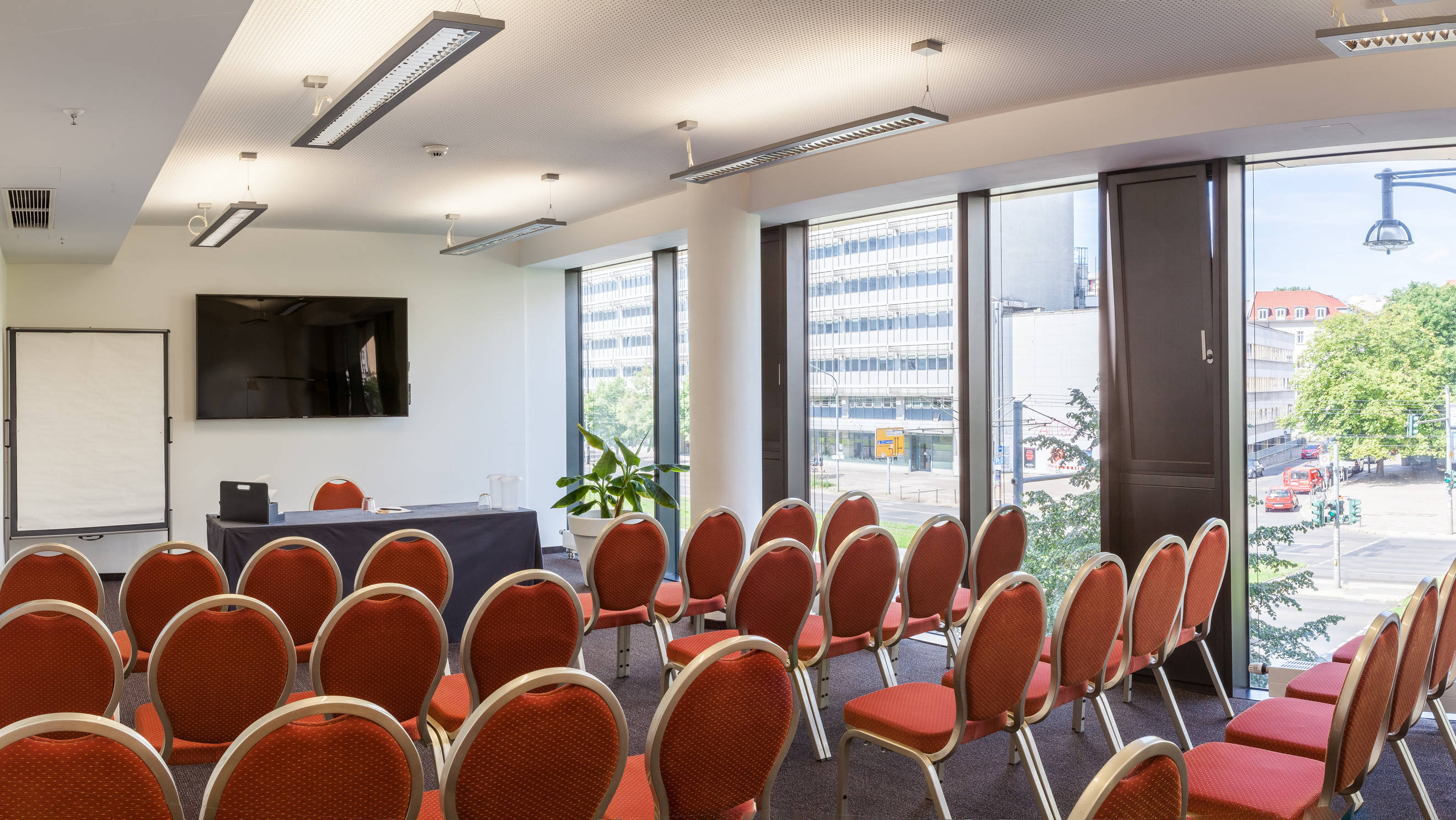 Depending on your event's number of participants, the rooms can be combined in a variety of manners. All the rooms are pillar-free and have a ceiling height of up to 4.6 metres, making them ideal for car presentations. They are also equipped with the latest conference and lighting technology, as well as WiFi Internet access.
For out-of-the-ordinary meetings, we aim to fulfil every wish. Naturally, this also includes the exclusive congress centre and boardrooms, or a business lunch in the separate restaurant area.
Meeting request in the hotel
---
360° tour - meeting rooms
---
Meeting room plan from H4 Hotel Berlin Alexanderplatz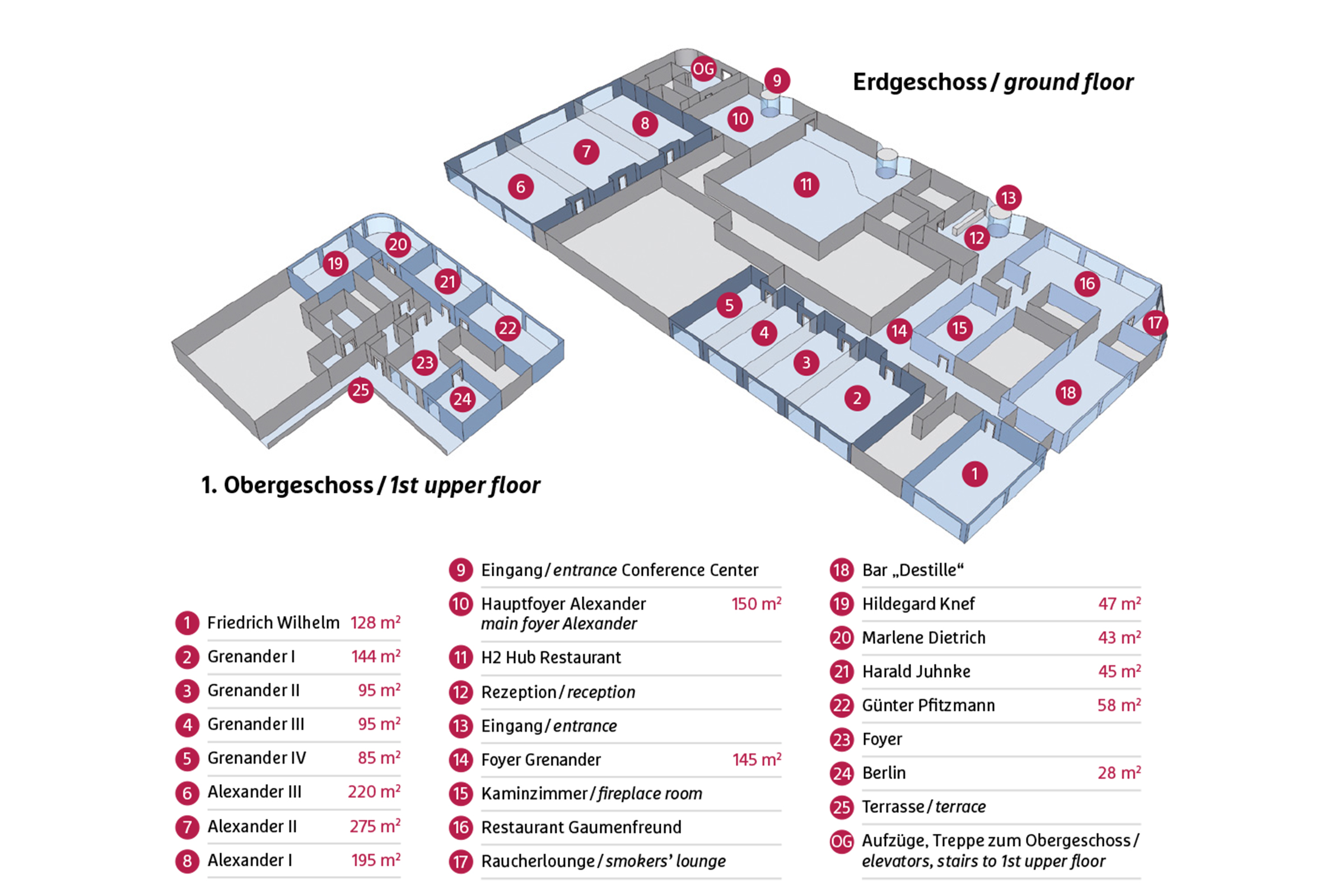 ---
Details of the meeting rooms
| | | | | | | |
| --- | --- | --- | --- | --- | --- | --- |
| BL = Block | U = U-shape | P = Parliament | C = Cinema | Ba = Banquet | DL = Daylight | DD = Darkening devices |
| | | | | | | | | | | | | |
| --- | --- | --- | --- | --- | --- | --- | --- | --- | --- | --- | --- | --- |
| Rooms | Length | Width | Area | Height | BL | U | P | C | Ba | DL | DD | Floor |
| Grenander I | 13,50 m | 10,70 m | 144,00 m² | 4,30 m | 42 | 33 | 75 | 135 | 84 | yes | yes | 0 |
| Grenander II | 13,50 m | 7,00 m | 95,00 m² | 4,30 m | 36 | 30 | 45 | 90 | 60 | yes | yes | 0 |
| Grenander III | 13,50 m | 7,00 m | 95,00 m² | 4,30 m | 36 | 30 | 45 | 90 | 60 | yes | yes | 0 |
| Grenander IV | 13,50 m | 6,30 m | 85,00 m² | 4,30 m | 36 | 30 | 45 | 80 | 60 | yes | yes | 0 |
| Friedrich Wilhelm | 13,50 m | 9,50 m | 128,00 m² | 4,30 m | 42 | 33 | 70 | 100 | 60 | yes | yes | 0 |
| Alexander I | 21,00 m | 9,30 m | 195,00 m² | 4,60 m | 66 | 51 | 110 | 210 | 120 | yes | yes | 0 |
| Alexander II | 21,00 m | 13,10 m | 275,00 m² | 4,60 m | 78 | 57 | 180 | 336 | 168 | yes | yes | 0 |
| Alexander III | 21,00 m | 10,50 m | 220,00 m² | 4,60 m | 72 | 51 | 120 | 220 | 120 | yes | yes | 0 |
| Hildegard Knef | 5,50 m | 8,50 m | 47,00 m² | 2,50 m | 22 | 20 | 20 | 35 | 30 | yes | yes | 1 |
| Marlene Dietrich | 5,00 m | 8,50 m | 43,00 m² | 2,50 m | 22 | 15 | 15 | 30 | 20 | yes | yes | 1 |
| Harald Juhnke | 5,00 m | 9,00 m | 45,00 m² | 2,50 m | 22 | 15 | 15 | 30 | 20 | yes | yes | 1 |
| Günter Pfitzmann | 5,00 m | 11,50 m | 58,00 m² | 2,50 m | 30 | 20 | 20 | 40 | 30 | yes | yes | 1 |
| Berlin | 5,00 m | 5,50 m | 28,00 m² | 2,50 m | 12 | 10 | 14 | 20 | 10 | yes | yes | 1 |
| Foyer | - | - | - | 2,50 m | - | - | - | - | - | yes | yes | 1 |
| Foyer Grenander | - | - | - | 4,30 m | - | - | - | - | - | no | no | 0 |
| Main foyer Alexander | - | - | - | 4,60 m | - | - | - | - | - | yes | no | 0 |
| | | | | | | | | | | | | |
| --- | --- | --- | --- | --- | --- | --- | --- | --- | --- | --- | --- | --- |
| Combinations | Length | Width | Area | Height | BL | U | P | C | Ba | DL | DD | Floor |
| Grenander I+II | 13,50 m | 17,70 m | 239,00 m² | 4,30 m | 72 | 57 | 108 | 220 | 156 | yes | yes | 0 |
| Grenander I+II+III | 13,50 m | 24,70 m | 333,00 m² | 4,30 m | 96 | 81 | 135 | 320 | 216 | yes | yes | 0 |
| Grenander I+II+III+IV | 13,50 m | 31,00 m | 419,00 m² | 4,30 m | - | - | 187 | 430 | 276 | yes | yes | 0 |
| Grenander II+III | 13,50 m | 14,00 m | 189,00 m² | 4,30 m | 60 | 50 | 93 | 170 | 120 | yes | yes | 0 |
| Grenander II+III+IV | 13,50 m | 20,30 m | 274,00 m² | 4,30 m | 78 | 60 | 136 | 255 | 180 | yes | yes | 0 |
| Grenander III+IV | 13,50 m | 13,30 m | 180,00 m² | 4,30 m | 54 | 40 | 93 | 155 | 120 | yes | yes | 0 |
| Alexander I+II | 21,00 m | 22,40 m | 470,00 m² | 4,60 m | - | - | 240 | 480 | 288 | yes | yes | 0 |
| Alexander I+II+III | 21,00 m | 32,90 m | 691,00 m² | 4,60 m | - | - | 384 | 736 | 480 | yes | yes | 0 |
| Alexander II+III | 21,00 m | 23,60 m | 496,00 m² | 4,60 m | - | - | 240 | 448 | 336 | yes | yes | 0 |