Active holiday in Allgäu - hiking & more
The Oberstaufen region draws many active holidaymakers to Allgäu. The mountains of the Nagelfluhkette are a popular travel destination. Here, visitors can enjoy around 1,000km of hiking trails that extend as far as Austria. The town of Steibis is the ideal destination for hiking in Oberstaufen, and sits at an altitude of 861m. Depending on your fitness level, you can hike through picturesque mountain valleys and across high plateaus with lush Alpine meadows, or even challenge yourself to reaching a summit. Experienced Alpinists can summit the 1,834m Hochgrat or reach the peak of the Imberg or Hündle. Alternatively, you can enjoy the comfort of the mountain railway. It takes around fifteen minutes to reach the Hochgrat railway by car from H+ Hotel Oberstaufen.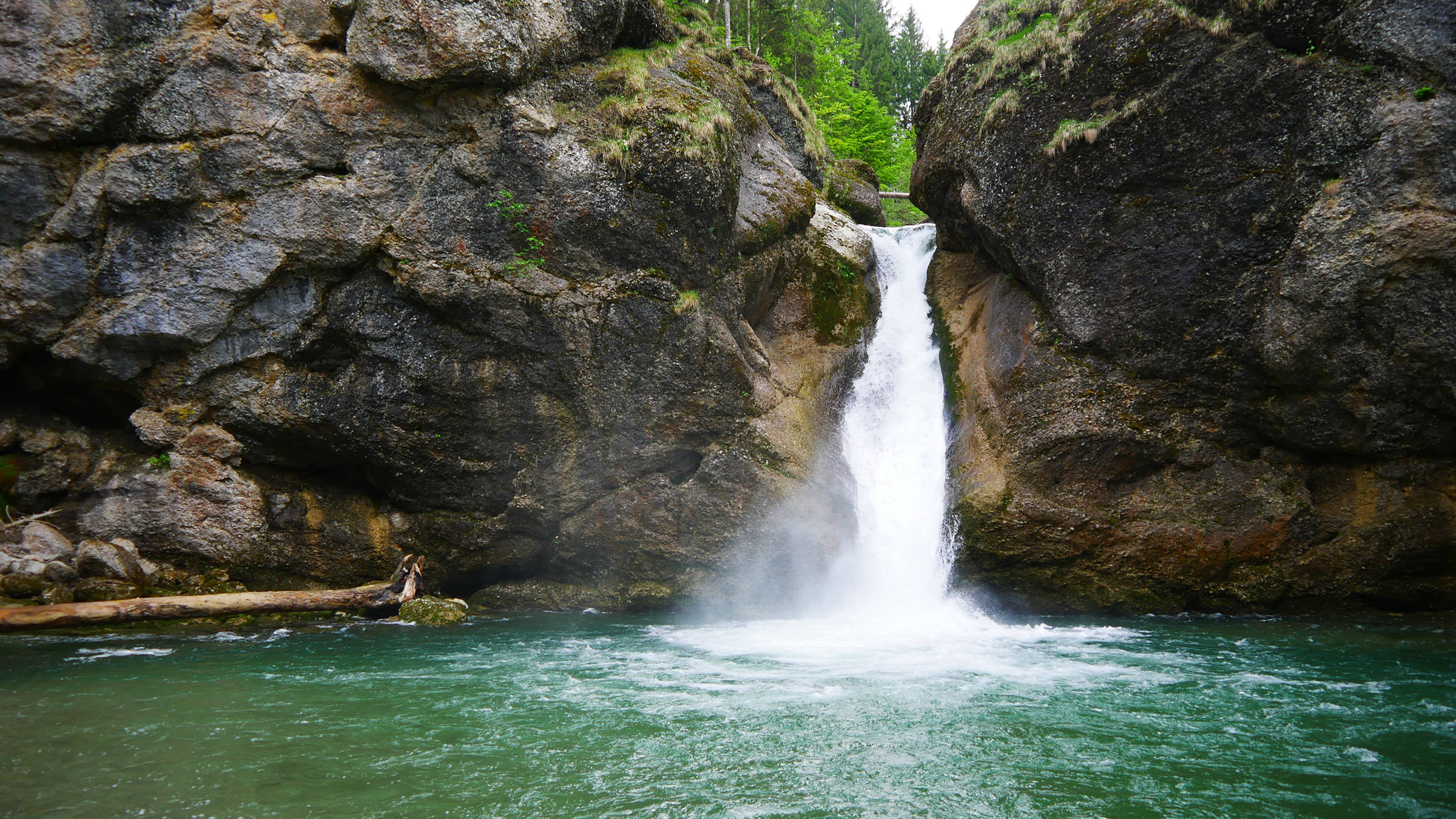 The Buchenegger waterfalls offer another beautiful destination for hikers. Begin your walk in Oberstaufen-Steibis, which can be reached from H+ Hotel Oberstaufen in just six to seven minutes by car. Here you can choose between two hiking routes. The lower route follows an educational forest trail over Alpe Neugreuth - perfect if you are planning a family holiday in Allgäu with smaller children. The upper route is more challenging but will reward you with extensive views over the mountains of Allgäu.
Once you reach your destination, you will encounter two impressive waterfalls that plummet 18m into the depths of the earth in some places. During summer the 18°C water offers wonderful refreshment, and during winter bizarre icicle formations create a picturesque sight.
Fancy walking above the tree tops and enjoying some spectacular views? The Skywalk at the nature adventure park near Scheidegg allows you to do just this, and can be reached from H+ Hotel Oberstaufen in around half an hour by car. The name 'Skywalk' is no coincidence: here you can walk through the tree tops at a height of 15-30m. The route is 540m in length and offers stunning views of Allgäu's mountainous and wooded landscapes.
From the observation tower, at a height of 40m, you can see as far as Lake Constance. The Skywalk is the main attraction of this nature adventure park, which covers an area of 6 hectares. If you prefer to keep your feet firmly on the ground, explore the bare-foot path or the educational path. Children can let off steam in the many playgrounds on offer.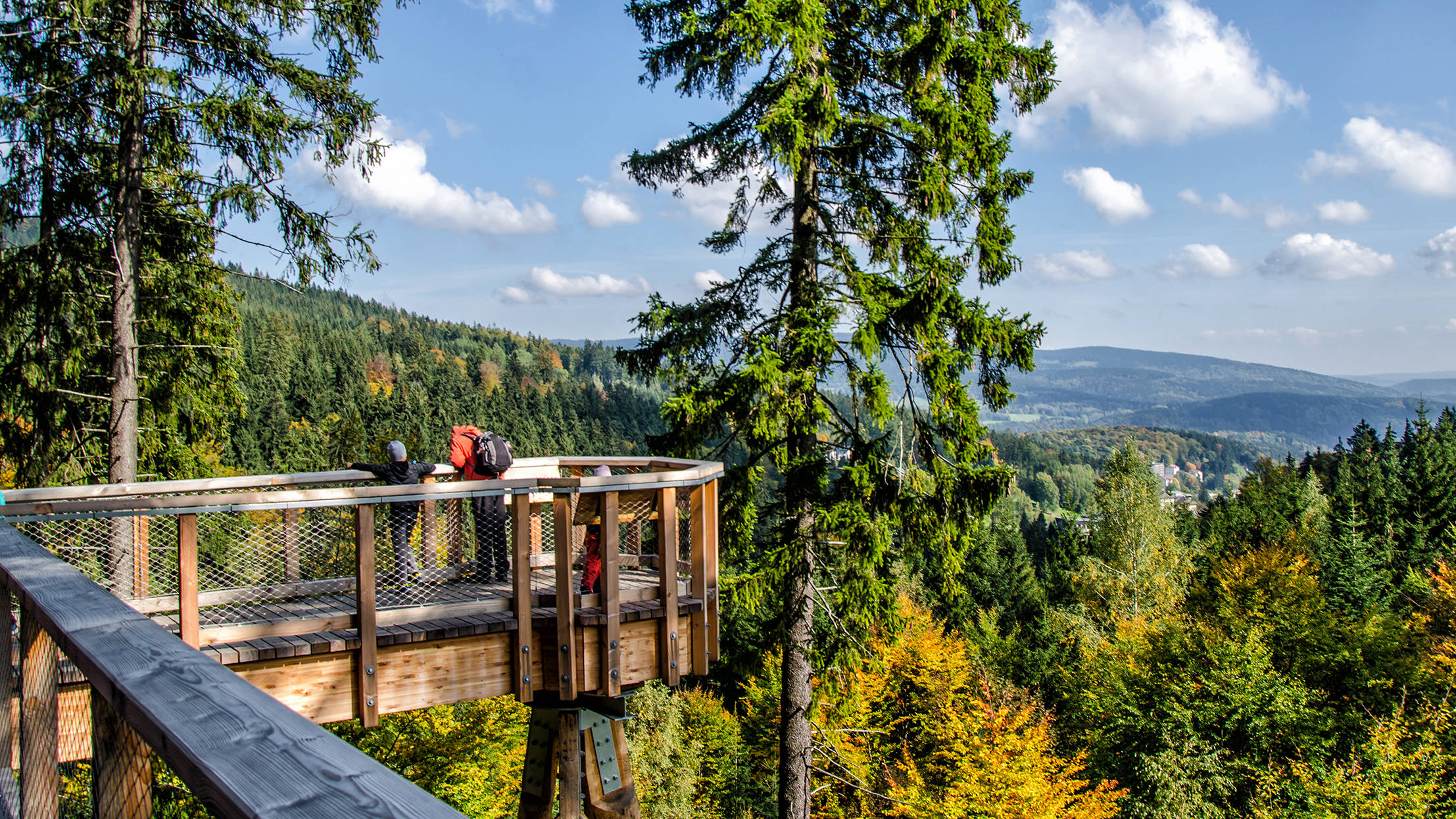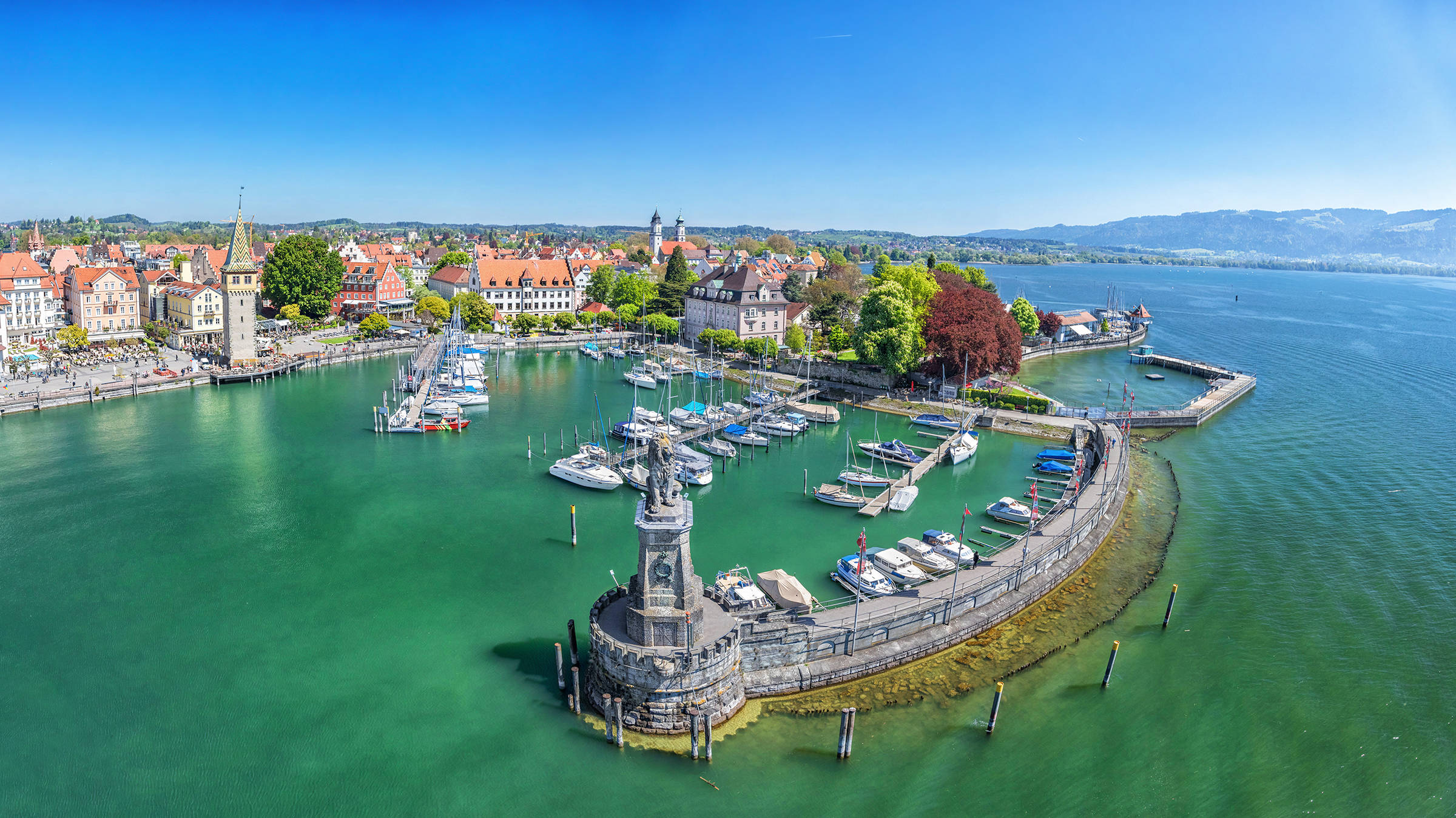 As you are so close to Lake Constance, you may as well complete the journey. It's worth it: Lake Constance borders Germany, Austria and Switzerland, and, with an area of 570km², is Central Europe's third largest lake. Come and experience this fascinating place, where Alpine mountains meet the almost Mediterranean feel of the lake's shores. Pretty towns such as Meersburg, Konstanz and Überlingen invite you to take a stroll along their promenades.
If you love boating and blooms, a trip to the island of Mainau is a must. During summer, visitors are drawn to the many lidos and unspoilt bays to enjoy swimming and water sports. It takes around three quarters of an hour to reach Lindau or Bregenz by car from H+ Hotel Oberstaufen.
Enjoy an autumn holiday in Allgäu, and experience Oberstaufen's centuries-old traditions. September marks the start of 'Almabtrieb' in this region. At this time of year, the cows that have spent the summer in the pastures return to their stalls. The Viehscheid festival in Oberstaufen also has a long tradition. More than 2,000 cows are garlanded with flower wreaths and driven down from the mountain pastures to return to their stalls in the town. The sound of cow bells signals their arrival for miles around.
Alongside a bell raffle, this event also includes a traditional gathering with food, drink and live music in a marquee. Get a taste of Bavaria's historic culture: walk from H+ Hotel Oberstaufen to Oberstaufen station, which takes roughly fifteen minutes, and take a shuttle bus to the festival.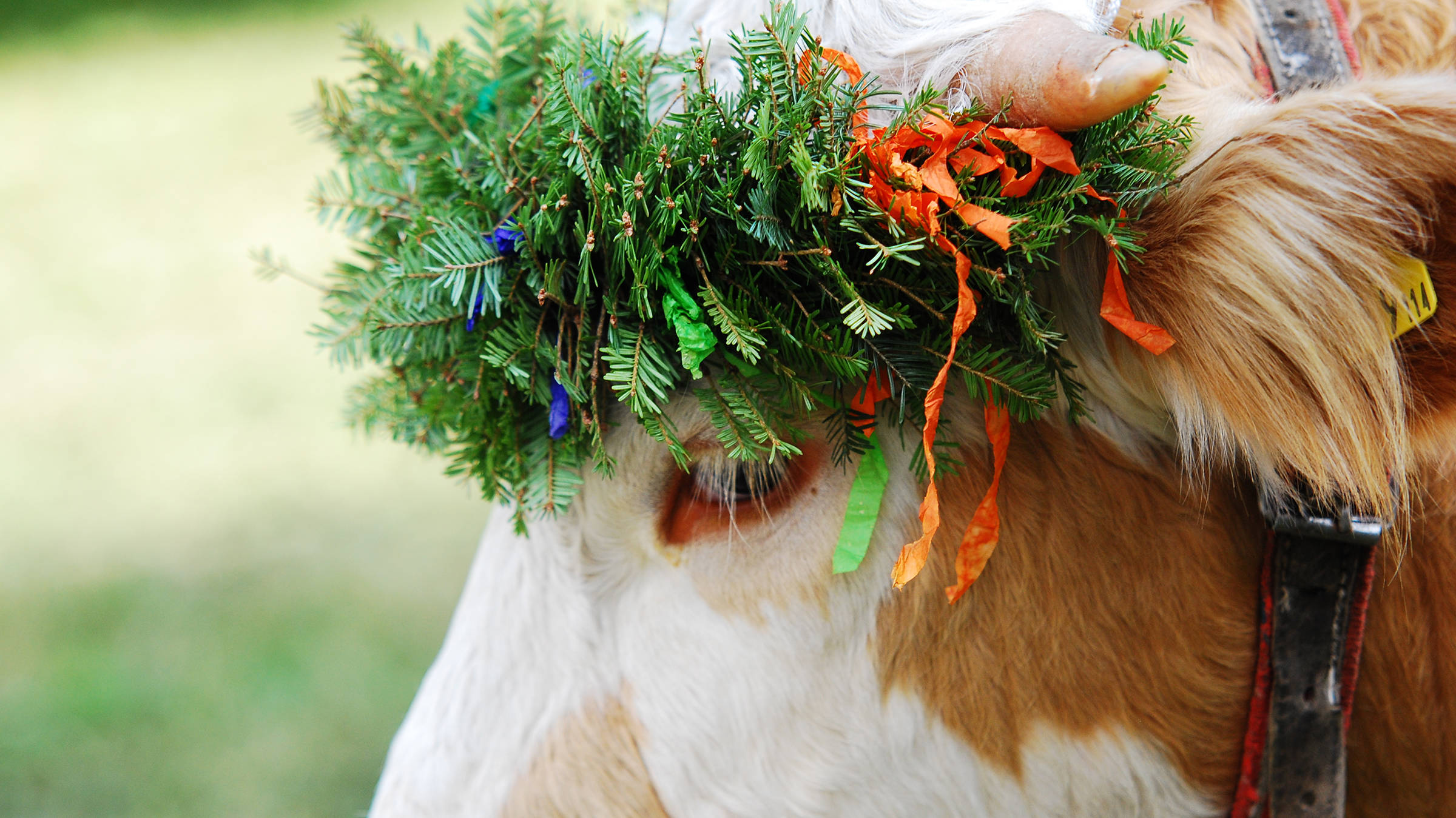 ---
As a guest in our hotels in Oberstaufen, you will receive the Allgäu Walser Card upon arrival. Thus, you receive numerous discounts and benefits, such as reduced admission to about 200 recreational facilities or discounted parking. Long waiting times at the mountain railroads are also bypassed. Look forward to a vacation full of discounts and attractions.
---
Places of interest near the H+ Hotel Oberstaufen
Skywalk in the Natural Adventure Park
Fun and leisure for the whole family

For a great day trip for the whole family, we recommend the versatile nature adventure park near Scheidegg, with its Skywalk among the treetops. Located around half an hour's drive from H+ Hotel Oberstaufen, you are sure to get your money's worth: explore the many playgrounds, bare-foot path, and the main attraction - the Skywalk, with a length of more than 500m. The Skywalk allows visitors to wander through the treetops and admire Allgäu from a completely different perspective.
» Continue to Location & surroundings
Viehscheid in Oberstaufen
Traditional festivals in Allgäu

Experience a uniquely and quintessentially Bavarian atmosphere during the traditional Viehscheid festival in Oberstaufen. Plan your holiday in Allgäu with H+ Hotel Oberstaufen around this annual spectacle, and admire the cows adorned with flower wreaths and bells as they are driven from the lush Alpine meadows back to their stalls during autumn. Following the ceremonial 'Almabtrieb' (the driving of the cattle from the pastures), there is a traditional gathering with food, drink and live music.
The Eistobel conservation area
Experience unspoilt nature

The Eistobel gorge is located between Oberstaufen and Isny and can be crossed via a secured path. Visitors can see a unique geotope with rare animal and plant species, waterfalls and whirlpools. The impressive rocks of the Eistobel gorge, up to 130m in height, offer a unique insight into the history of the earth. There are many hiking routes around the Eistobel gorge, which can be reached in just 20 minutes by car from H+ Hotel Oberstaufen.
Alpsee Bergwelt in Allgäu
The adventure mountain near Oberstaufen

Above the Alpsee lake sits Alpsee Berwelt - where fun is guaranteed for adventurous holidaymakers and families with children. Once you have arrived at the top of the adventure mountain, which you can reach by chairlift or by foot, you can speed downhill on the Alpsee Coaster. This long toboggan run is unique, as it operates during both summer and winter. Here at Alpsee Bergwelt, you will also find the Bärenfalle climbing forest, Bavaria's largest high ropes course. Little ones can let off steam in the Alpine adventure playground. Alpsee Bergwelt can be reached in around 10 minutes by car from H+ Hotel Oberstaufen.
Fun and leisure in Hündle
Skiing, tobogganing, and more

The Hündle is a skiing and leisure area near Oberstaufen, offering its visitors many varied opportunities during both summer and winter - making it perfect for families and couples alike. The Thalkirchdorf/Hündle skiing area is located on the northern slope. After exploring the piste, take the gondola lift to the mountain restaurant, located at an altitude of more than 1,000m. There is also plenty to discover in the valley: a mini golf course as well as a toboggan run offer plenty of opportunities for fun.
» Continue to Location & surroundings