Modern conference and seminar rooms in Berlin
In the Hyperion Hotel Berlin Conference Centre, 9 conference rooms of 23-100m² await you. We would be delighted to place our Conference Centre at your disposal for events such as meetings, conferences, and seminars. Some of the rooms can be flexibly combined to create space for up to 140 people.
You can also enjoy the utmost flexibility in terms of equipment. All rooms are filled with natural light but can also easily be darkened as required. Decorations and seating can be adapted to meet your personal requirements. Whether you opt for parlament-style, banquet-style, or U-shaped seating, the choice is yours.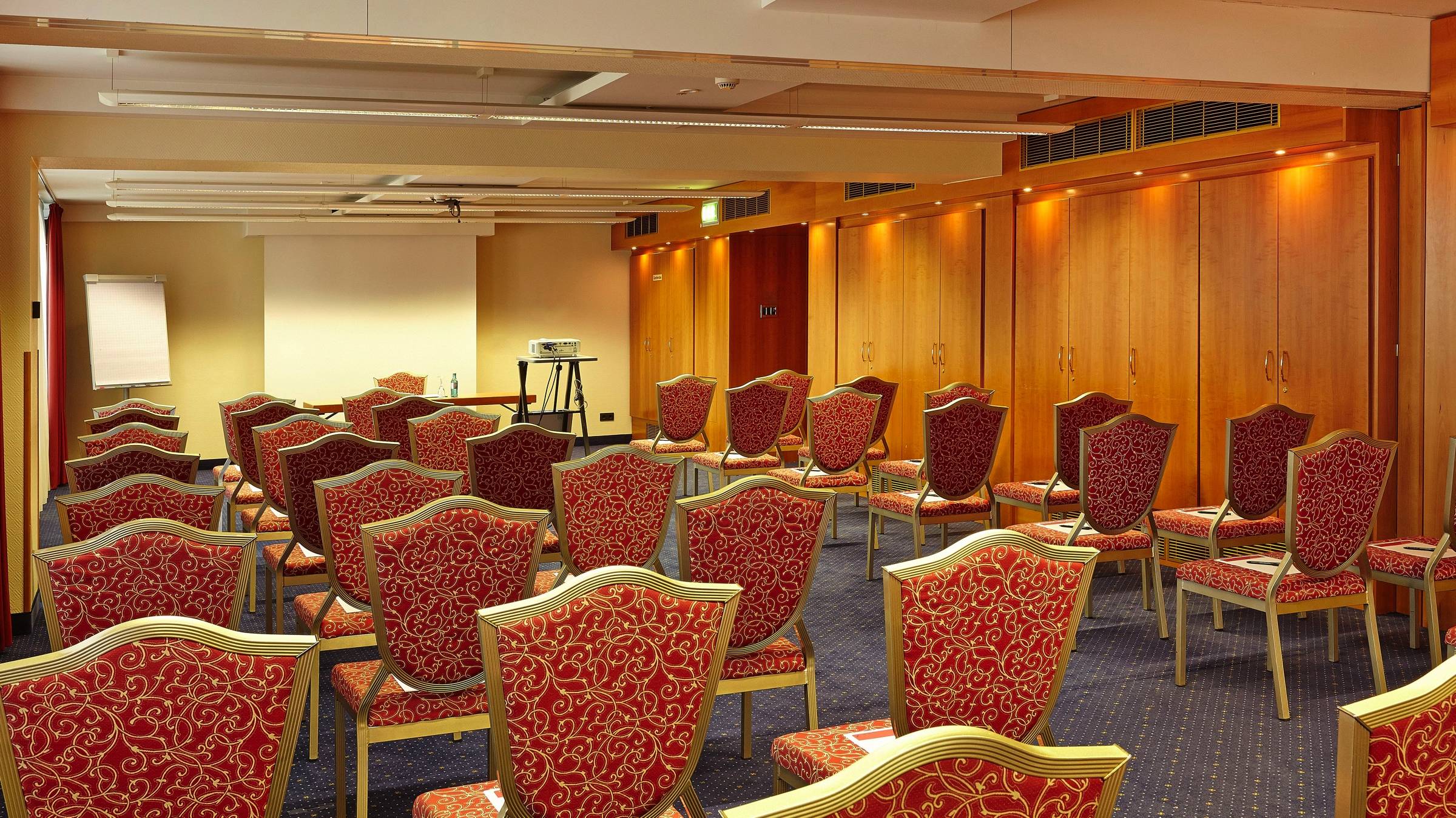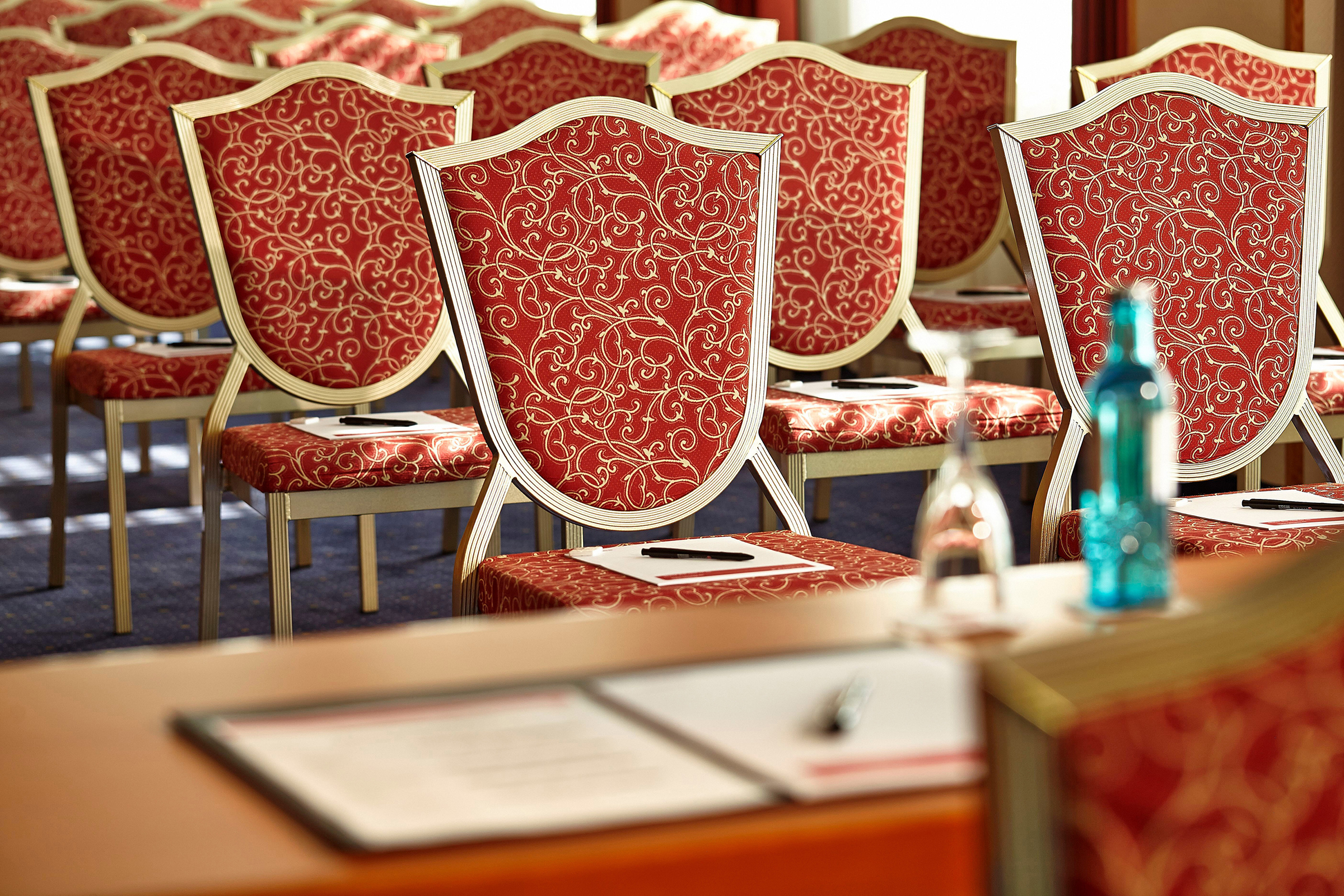 All rooms feature free high-speed wi-fi and are equipped with cutting-edge event technologies. The equipment ranges from projectors to video equipment, and loudspeakers to computer connections. The use of flipcharts, equipment cases for moderators, and pin boards is possible at any time. We are happy to build a stage or podium for you.
One of the highlights of our Conference Centre is the roof terrace, which offers you and your guests an impressive view over Berlin. Don't forget to include our Bar Bistro and Gaumenfreund restaurant on the ground floor of the HYPERION Hotel Berlin in your event! The kitchen team will be delighted to bring your catering ideas to life. Our events team would be happy to help you in the organisation and execution of your event.
Meeting request in the hotel
---
Meeting room plan of HYPERION Hotel Berlin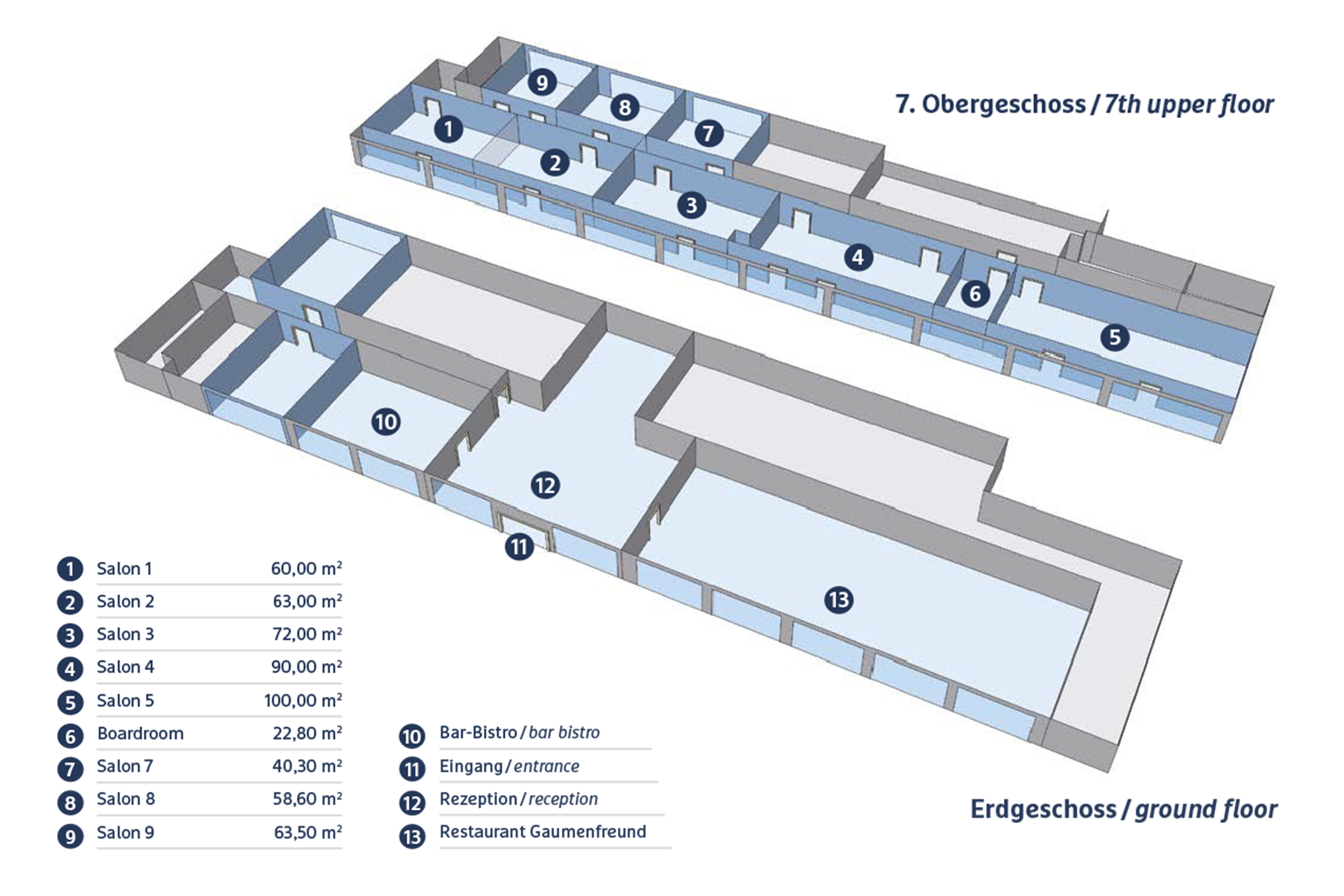 ---
Details of the meeting rooms
| | | | | | | |
| --- | --- | --- | --- | --- | --- | --- |
| BL = Block | U = U-shape | P = Parliament | C = Cinema | Ba = Banquet | DL = Daylight | DD = Darkening devices |
| | | | | | | | | | | | | |
| --- | --- | --- | --- | --- | --- | --- | --- | --- | --- | --- | --- | --- |
| Rooms | Length | Width | Area | Height | BL | U | P | C | Ba | DL | DD | Floor |
| Salon 1 | 10,00 m | 6,00 m | 60,00 m² | 2,50 m | 16 | 18 | 31 | 42 | 30 | yes | yes | 7 |
| Salon 2 | 10,50 m | 6,00 m | 63,00 m² | 2,50 m | 18 | 18 | 24 | 42 | 32 | yes | yes | 7 |
| Salon 3 | 12,00 m | 6,00 m | 72,00 m² | 2,50 m | 25 | 30 | 30 | 54 | 40 | yes | yes | 7 |
| Salon 4 | 15,00 m | 6,00 m | 90,00 m² | 2,50 m | 30 | 34 | 39 | 65 | 50 | yes | yes | 7 |
| Boardroom | 3,80 m | 6,00 m | 22,80 m² | 2,50 m | 8 | - | - | 12 | - | yes | yes | 7 |
| Salon 5 | 16,60 m | 6,00 m | 100,00 m² | 2,50 m | 40 | 36 | 57 | 80 | 50 | yes | yes | 7 |
| Salon 7 | 6,72 m | 6,00 m | 40,30 m² | 3,50 m | 13 | 15 | 18 | 30 | 20 | yes | yes | 7 |
| Salon 8 | 9,77 m | 6,00 m | 58,60 m² | 3,50 m | 30 | 25 | 25 | 58 | 30 | yes | yes | 7 |
| Salon 9 | 10,58 m | 6,00 m | 63,50 m² | 3,50 m | 21 | 21 | 30 | 40 | 48 | yes | yes | 7 |
| | | | | | | | | | | | | |
| --- | --- | --- | --- | --- | --- | --- | --- | --- | --- | --- | --- | --- |
| Combinations | Length | Width | Area | Height | BL | U | P | C | Ba | DL | DD | Floor |
| Salon 1+2 | 20,50 m | 6,00 m | 123,00 m² | 2,50 m | 42 | 40 | 60 | 90 | 80 | yes | yes | 7 |
| Salon 7+8 | 16,49 m | 6,00 m | 98,90 m² | 3,50 m | 46 | 40 | 45 | 90 | 60 | yes | yes | 7 |
| Salon 8+9 | 20,35 m | 6,00 m | 122,10 m² | 3,50 m | 45 | 40 | 60 | 100 | 78 | yes | yes | 7 |
| Salon 7+8+9 | 27,07 m | 6,00 m | 162,40 m² | 3,50 m | 60 | 60 | 100 | 140 | 100 | yes | yes | 7 |