Modern event venues for up to 200 people
The 3 events rooms located on the ground floor at the H4 Hotel Solothurn measure 65, 75 and 100 square metres, and are suitable for events of 50 to 90 people. They can also be combined to create an event space covering 240 square metres with capacity for up to 200 people (depending on seating). Possible seating designs include row seating, banquet seating, and block or U-shaped tables.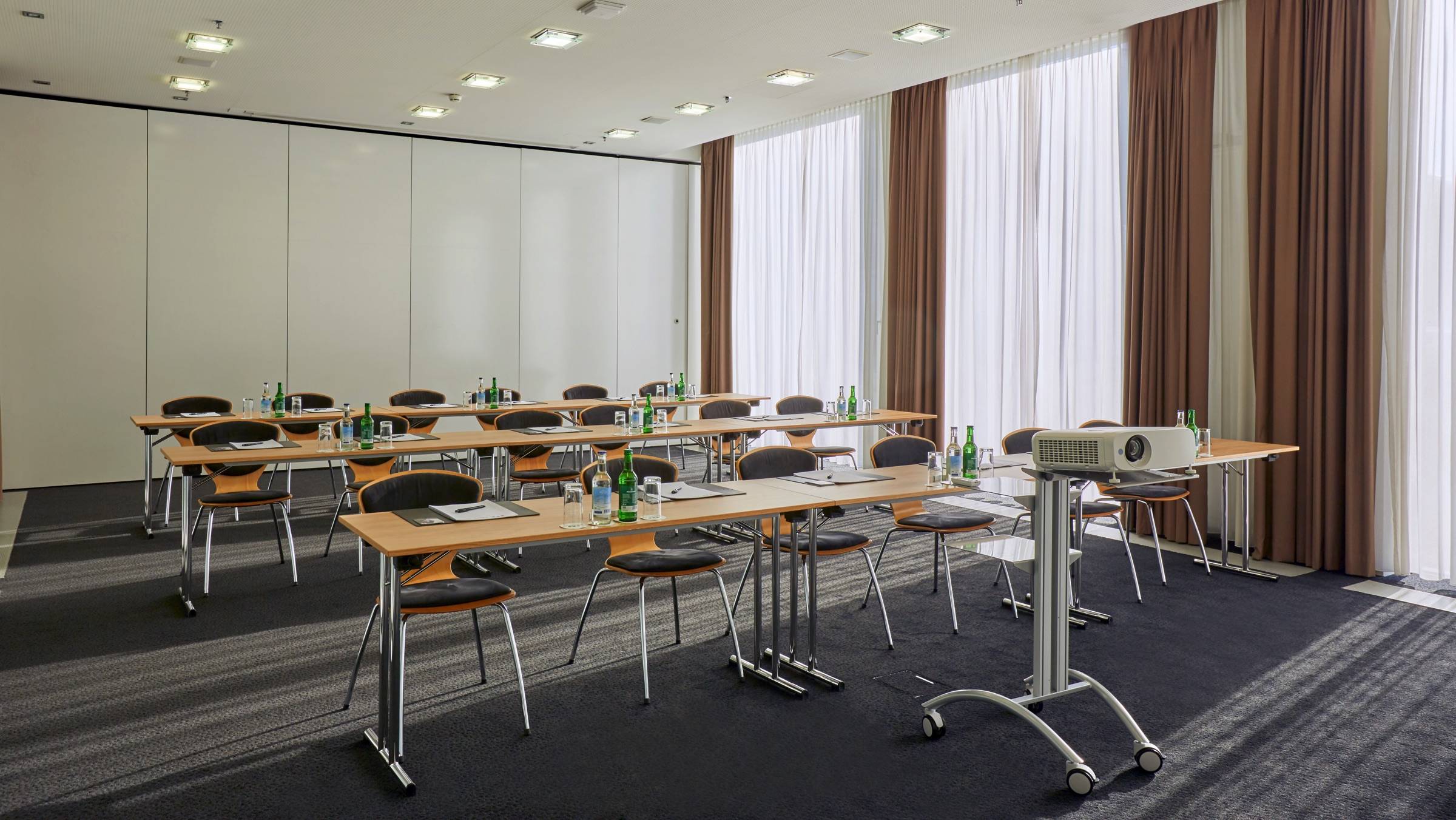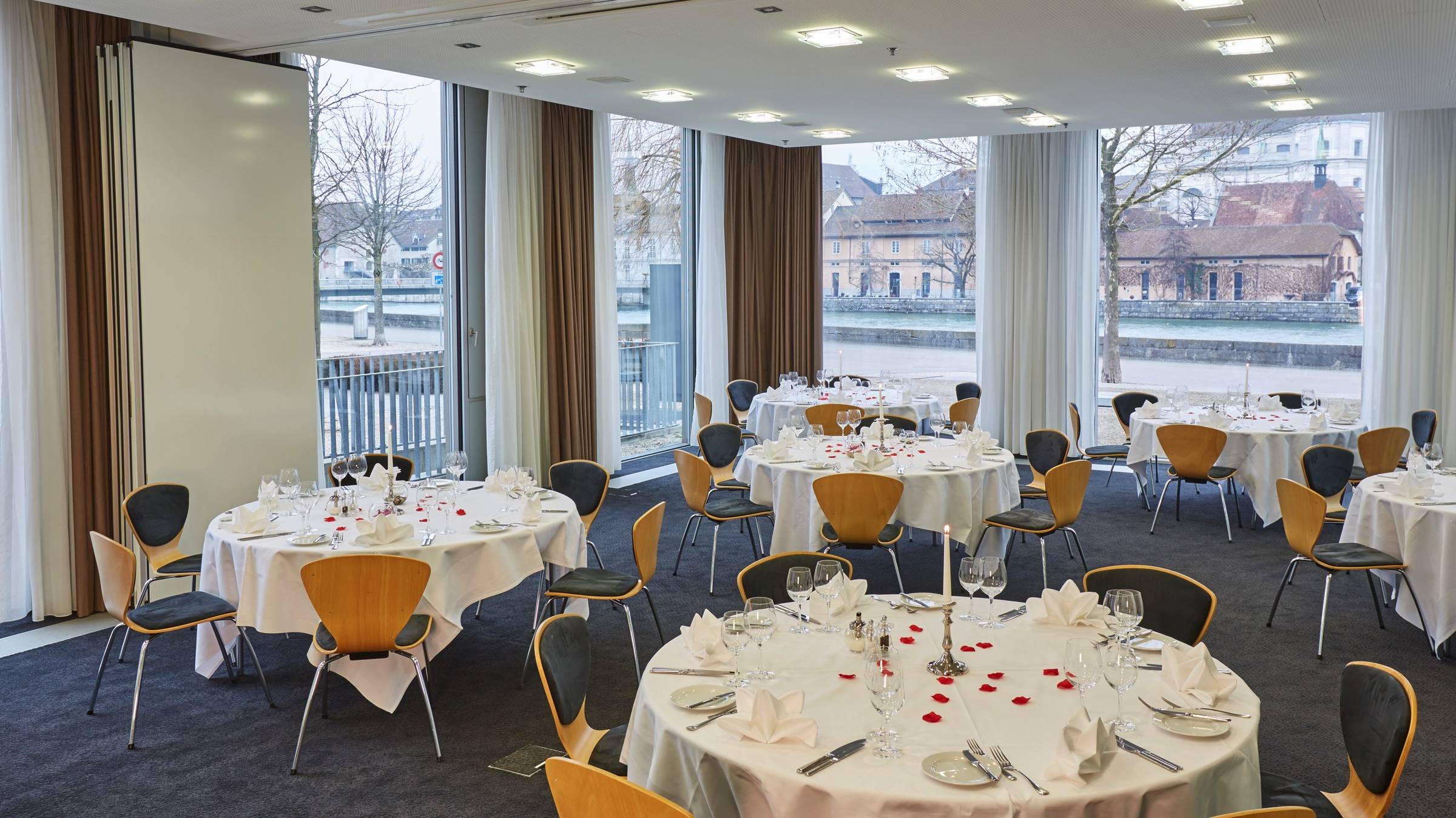 All rooms enjoy natural daylight, and can be darkened for film screenings and presentations if required. Naturally, retractable sockets, high-current connections, and state-of-the-art presentation and conference technology are also provided. You can also reserve network connections, projectors, moderators' toolkits, speakers' lecterns and DVD players. On request, secretarial and conference services can also be arranged.
The conference room offers direct access to the terrace on the banks of the Aare. There is also a fixed "break station" in front of each room, where a tea bar provides guests with hot drinks throughout the day.
Meeting request in the hotel
---
Meeting room plan from H4 Hotel Solothurn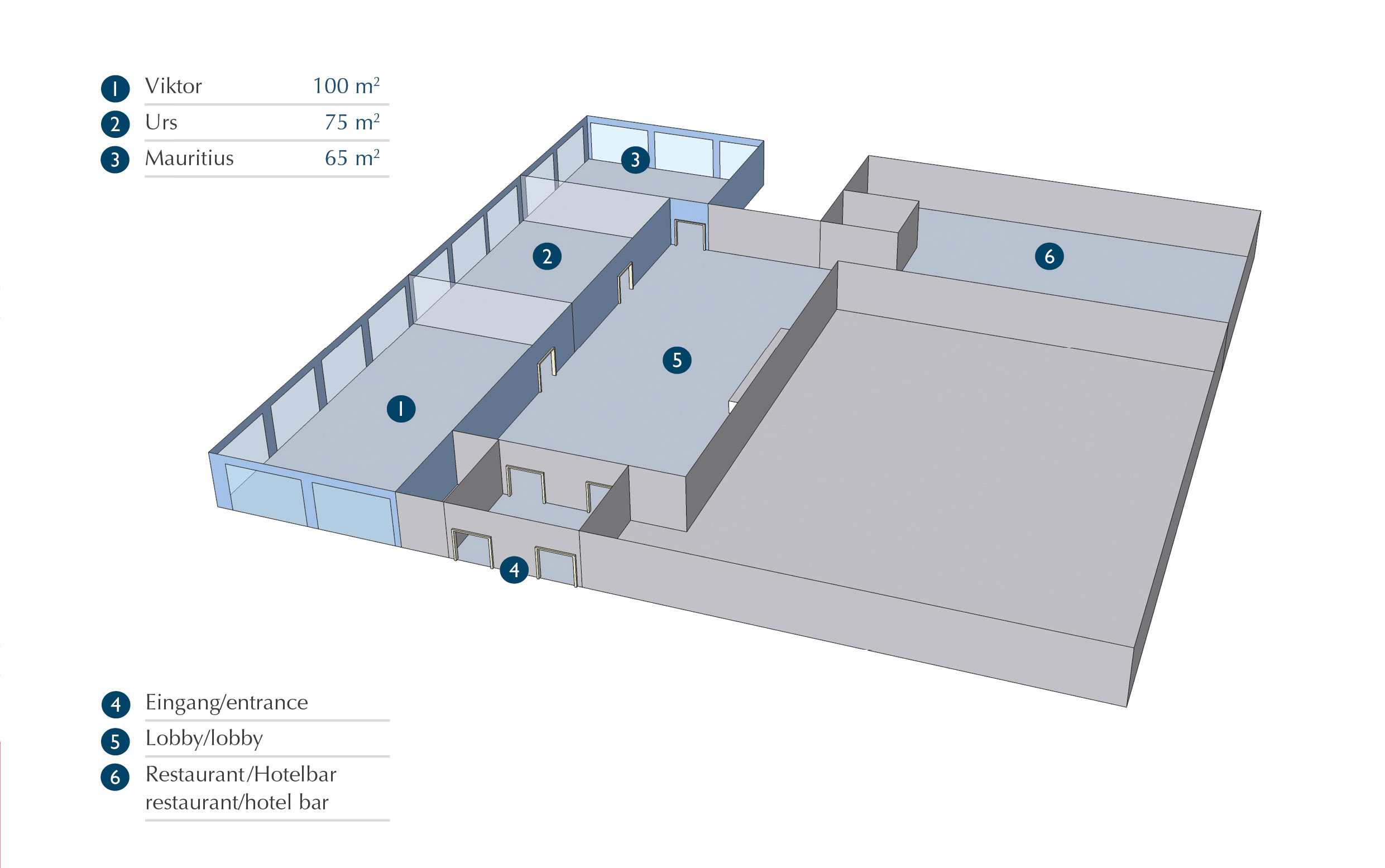 ---
Details of the meeting rooms
| | | | | | | |
| --- | --- | --- | --- | --- | --- | --- |
| BL = Block | U = U-shape | P = Parliament | C = Cinema | Ba = Banquet | DL = Daylight | DD = Darkening devices |
| | | | | | | | | | | | | |
| --- | --- | --- | --- | --- | --- | --- | --- | --- | --- | --- | --- | --- |
| Rooms | Length | Width | Area | Height | BL | U | P | C | Ba | DL | DD | Floor |
| Nidlenloch, Palais Besenval | 5,95 m | 5,35 m | 31,00 m² | 3,95 m | 8 | 6 | 10 | 15 | 8 | yes | yes | 1 |
| Jura, Palais Besenval | 6,70 m | 8,00 m | 40,00 m² | 3,95 m | 16 | 12 | 18 | 24 | 16 | yes | yes | 1 |
| Aare, Palais Besenval | 11,95 m | 4,95 m | 60,00 m² | 3,95 m | 24 | 18 | 25 | 40 | 24 | yes | yes | 1 |
| Balmberg, Palais Besenval | 13,20 m | 4,95 m | 64,00 m² | 3,95 m | 24 | 20 | 25 | 50 | 24 | yes | yes | 1 |
| Altreu, Palais Besenval | 8,70 m | 7,45 m | 65,00 m² | 3,95 m | 28 | 26 | 32 | 60 | 32 | yes | yes | 1 |
| Mauritius, H4 Hotel Solothurn | 7,05 m | 8,95 m | 65,00 m² | 3,20 m | 20 | 20 | 32 | 60 | 32 | yes | yes | 0 |
| Urs, H4 Hotel Solothurn | 10,50 m | 7,00 m | 75,00 m² | 3,20 m | 30 | 30 | 40 | 80 | 40 | yes | yes | 0 |
| Seminarraum, Landhaus | 9,30 m | 9,00 m | 80,00 m² | 2,50 m | 20 | 20 | 40 | 50 | 30 | yes | yes | 2 |
| Weissenstein, Palais Besenval | 10,50 m | 10,20 m | 100,00 m² | 5,00 m | 32 | 32 | 50 | 60 | 48 | yes | yes | 2 |
| Viktor, H4 Hotel Solothurn | 14,10 m | 7,00 m | 100,00 m² | 3,20 m | 40 | 40 | 64 | 100 | 48 | yes | yes | 0 |
| Säulenhalle, Landhaus | 16,50 m | 15,40 m | 250,00 m² | 4,60 m | 42 | 42 | 120 | 250 | 120 | yes | yes | 0 |
| Grosser Saal, Landhaus | 24,70 m | 16,30 m | 400,00 m² | 6,00 m | 108 | 90 | 220 | 600 | 240 | yes | yes | 1 |
| | | | | | | | | | | | | |
| --- | --- | --- | --- | --- | --- | --- | --- | --- | --- | --- | --- | --- |
| Combinations | Length | Width | Area | Height | BL | U | P | C | Ba | DL | DD | Floor |
| Mauritius & Urs, H4 Hotel Solothurn | 17,55 m | 7,00 m | 140,00 m² | 3,20 m | 50 | 50 | 70 | 140 | 80 | yes | yes | 0 |
| Urs & Viktor, H4 Hotel Solothurn | 24,60 m | 7,00 m | 175,00 m² | 3,20 m | 80 | 60 | 80 | 160 | 96 | yes | yes | 0 |
| Mauritius & Urs & Viktor, H4 Hotel S | 31,65 m | 7,00 m | 240,00 m² | 3,20 m | 100 | 70 | 120 | 200 | 168 | yes | yes | 0 |