"Skyline" room for special occasions
The H4 Hotel Frankfurt Messe has 9 fully air conditioned rooms for events. The rooms vary in size from 21 to 151 square metres, and can be partially combined to create larger spaces. The largest available space is the Ballroom measuring 370 square metres and with capacity for up to 350 people. Depending on your event, a variety of seating options are available.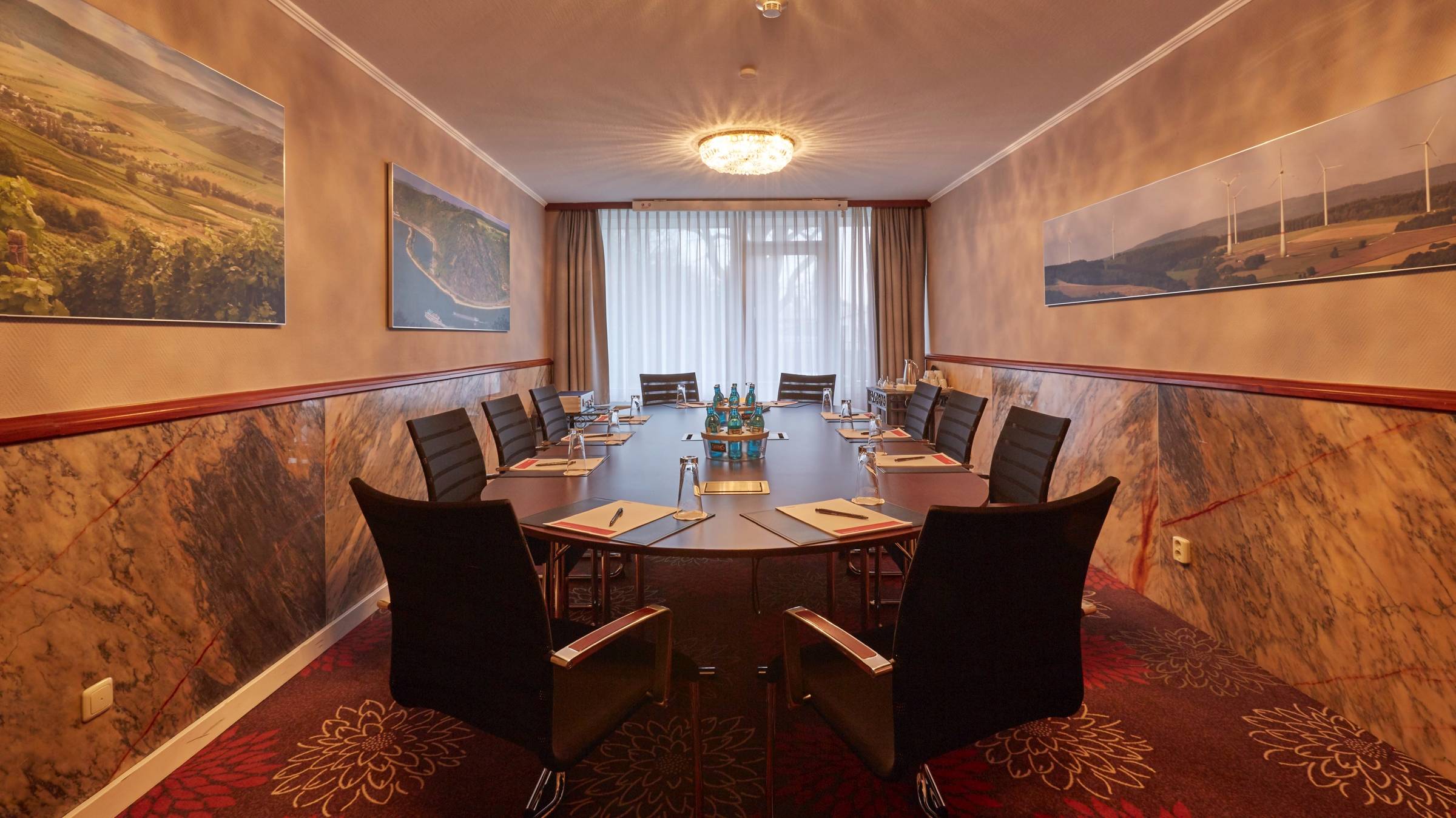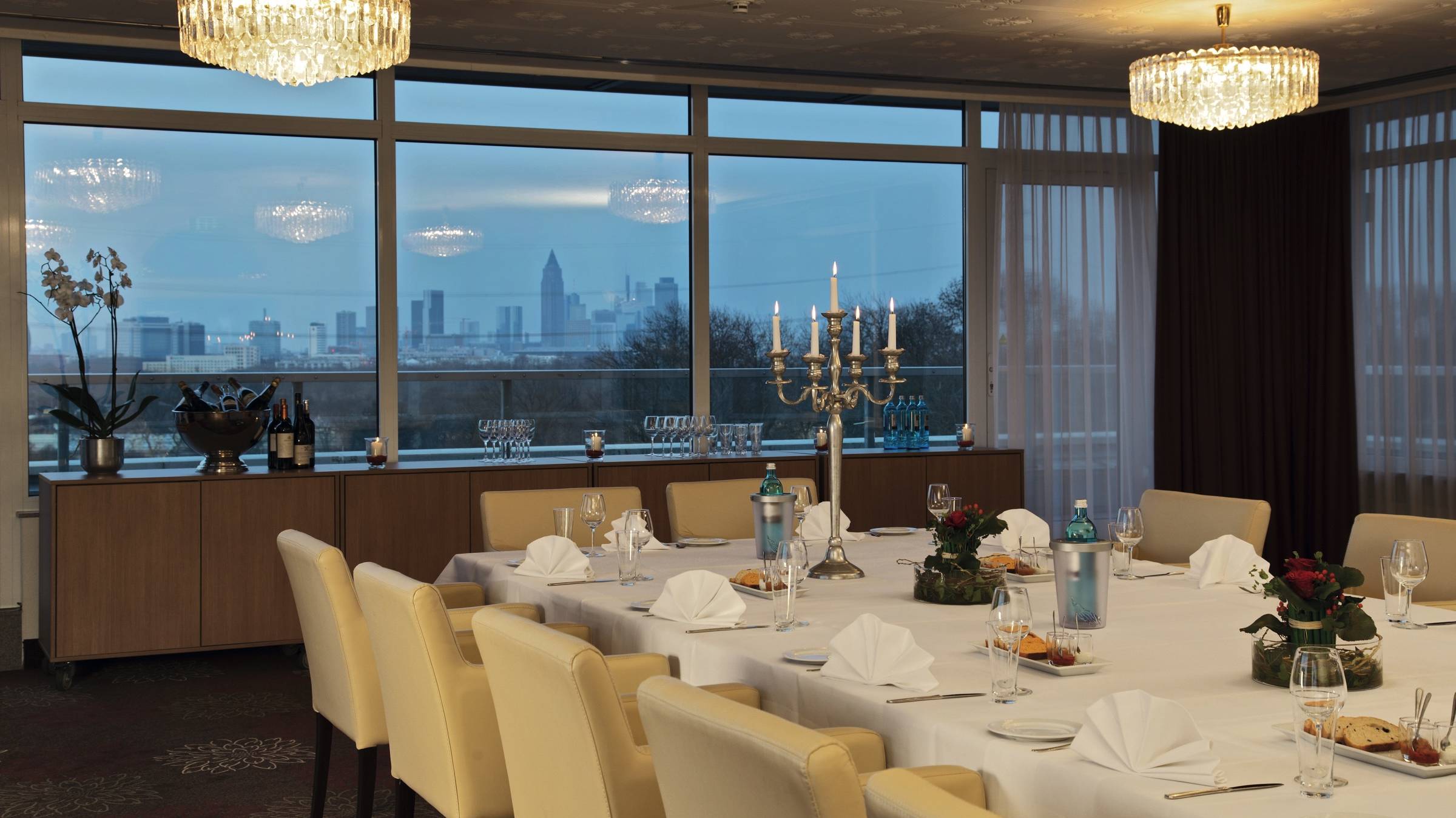 All the conference rooms are equipped with soundproofed walls and the latest conference technology, as well as enjoying natural daylight. Of course, rooms can also be darkened if required. If you are planning an exhibition or a large presentation, the conference foyer is also available. It can be expanded to cover an area of 371 square metres by opening all the partition walls.
For special occasions, the "Skyline" room on the 9th floor provides the perfect setting. The 360-degree panoramic terrace and the room's large windows offer fantastic views over the Frankfurt skyline and the river Taunus.
Meeting request in the hotel
---
Meeting room plan from H4 Hotel Frankfurt Messe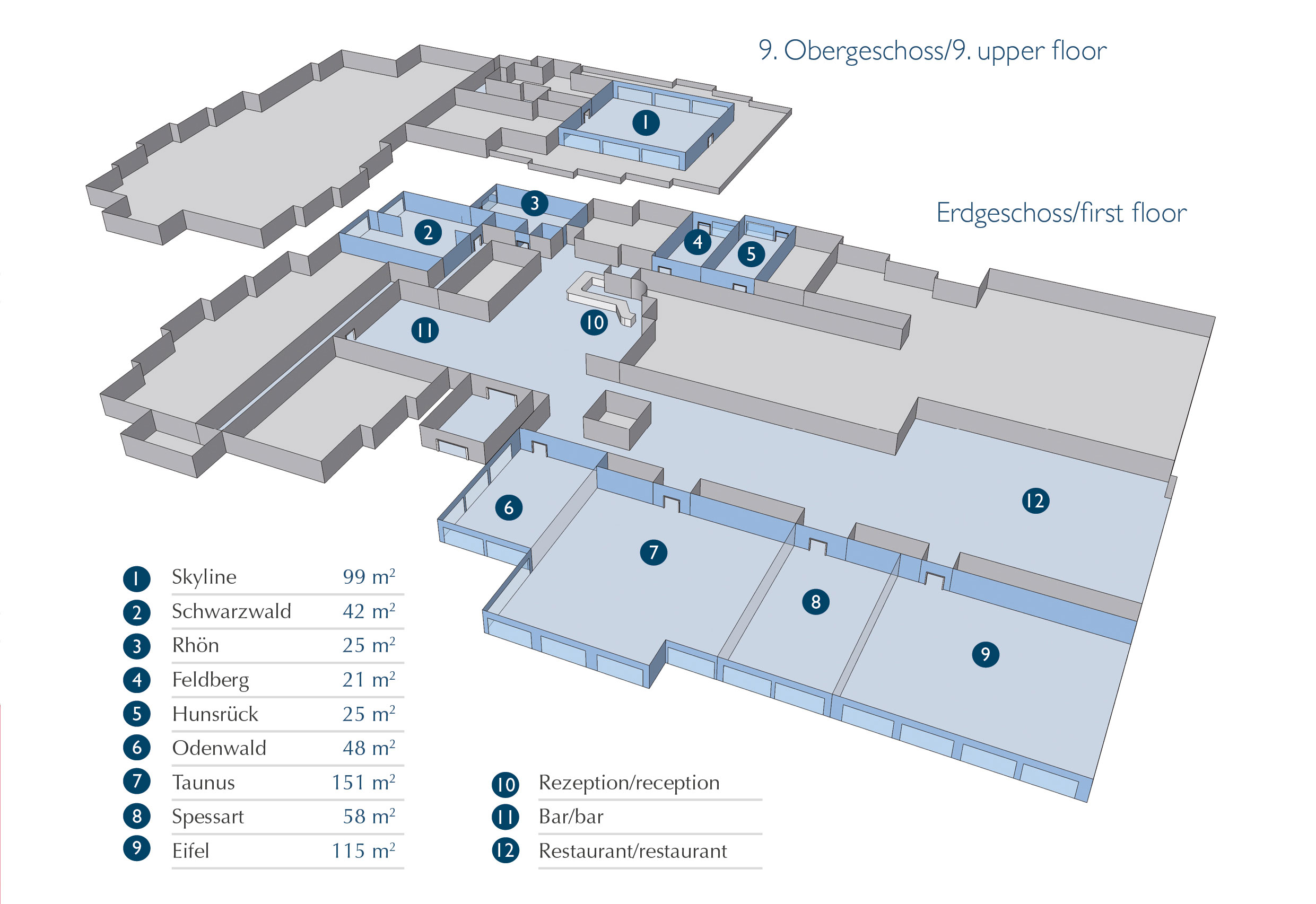 ---
Details of the meeting rooms
| | | | | | | |
| --- | --- | --- | --- | --- | --- | --- |
| BL = Block | U = U-shape | P = Parliament | C = Cinema | Ba = Banquet | DL = Daylight | DD = Darkening devices |
| | | | | | | | | | | | | |
| --- | --- | --- | --- | --- | --- | --- | --- | --- | --- | --- | --- | --- |
| Rooms | Length | Width | Area | Height | BL | U | P | C | Ba | DL | DD | Floor |
| Feldberg | 6,00 m | 3,55 m | 21,00 m² | 2,45 m | 8 | 8 | 10 | 15 | 10 | yes | yes | 0 |
| Hunsrück | 3,55 m | 7,10 m | 25,00 m² | 2,45 m | 8 | 8 | 10 | 15 | 10 | yes | yes | 0 |
| Rhön | 3,50 m | 7,00 m | 24,00 m² | 2,45 m | 8 | 8 | 10 | 15 | 10 | yes | yes | 0 |
| Schwarzwald | 7,00 m | 6,00 m | 42,00 m² | 2,45 m | 15 | 12 | 20 | 30 | 20 | yes | yes | 0 |
| Odenwald | 8,00 m | 6,00 m | 48,00 m² | 3,00 m | 28 | 20 | 30 | 40 | 30 | yes | yes | 0 |
| Spessart | 5,80 m | 10,00 m | 58,00 m² | 3,00 m | 25 | 25 | 35 | 50 | 40 | yes | yes | 0 |
| Skyline | 9,20 m | 10,90 m | 99,00 m² | 3,00 m | 35 | 30 | 45 | 80 | 60 | yes | yes | 9 |
| Eifel | 11,50 m | 10,00 m | 115,00 m² | 3,00 m | 45 | 35 | 60 | 100 | 70 | yes | yes | 0 |
| Taunus | 12,63 m | 12,00 m | 151,00 m² | 3,00 m | 40 | 30 | 50 | 110 | 70 | yes | yes | 0 |
| | | | | | | | | | | | | |
| --- | --- | --- | --- | --- | --- | --- | --- | --- | --- | --- | --- | --- |
| Combinations | Length | Width | Area | Height | BL | U | P | C | Ba | DL | DD | Floor |
| Ballsaal (Odenwald + Eifel) | 37,20 m | 10,00 m | 372,00 m² | 3,00 m | 145 | 120 | 220 | 350 | 240 | yes | yes | 0 |
| Eifel + Spessart | 17,30 m | 10,00 m | 173,00 m² | 3,00 m | 60 | 60 | 100 | 150 | 90 | yes | yes | 0 |
| Eifel + Spessart + Taunus | 32,40 m | 10,00 m | 324,00 m² | 3,00 m | 100 | 100 | 180 | 250 | 160 | yes | yes | 0 |
| Spessart + Taunus | 20,90 m | 10,00 m | 209,00 m² | 3,00 m | 60 | 60 | 100 | 150 | 80 | yes | yes | 0 |
| Spessart + Taunus + Odenwald | 25,70 m | 10,00 m | 257,00 m² | 3,00 m | 70 | 70 | 130 | 200 | 110 | yes | yes | 0 |
| Taunus + Odenwald | 19,90 m | 10,00 m | 199,00 m² | 3,00 m | 50 | 50 | 90 | 140 | 90 | yes | yes | 0 |